I spent a total of $262.91 dollars in Bing Ads to make $2,000 in revenue. Here are some things that I learned from the test!
Quick Numbers
Ran Bing Ads test from January 1st, 2015 – March 31st, 2015
Overall Bing Ads test spend came out to $262.91
8 unique form fill conversions came in through all traffic out of 153 visits to the page. The conversion rate came out to 5.23%
3 out of the 8 leads took only one visit to come to the site to become a lead for me. 37.5%
2 unique form fill conversion came in through (Bing PPC traffic) out of 55 visits. The conversion rate came out to 3.63%
1 out of 8 (12.5%) actual leads converted at $2,000 from PPC.
The cost per acquisition simply is broken down to $7.60. In simple terms, I spent a total of $262.91 in marketing to make $2,000 in revenue.
In profit, I made $1,737.09 using Bing Ads during this experiment for 3 months.
The Path of the User
Here, I am looking at the path of all users to this page. I highlighted the path just to show the thank you page. I want to note that there are more then 3 conversions, but I just wanted to show when they first converted in this path. The same can be said with the PPC picture below.


Here is the data that strictly looks at paid search. Again, I am highlighting the data to the thank you page.


Here, I am looking at the amount of visits it actually took for someone to finally convert on this site. You will notice that 3 out of the 8  visitors only took one visit to convert. 2 leads came from an organic visit and one lead came straight from a paid search visit.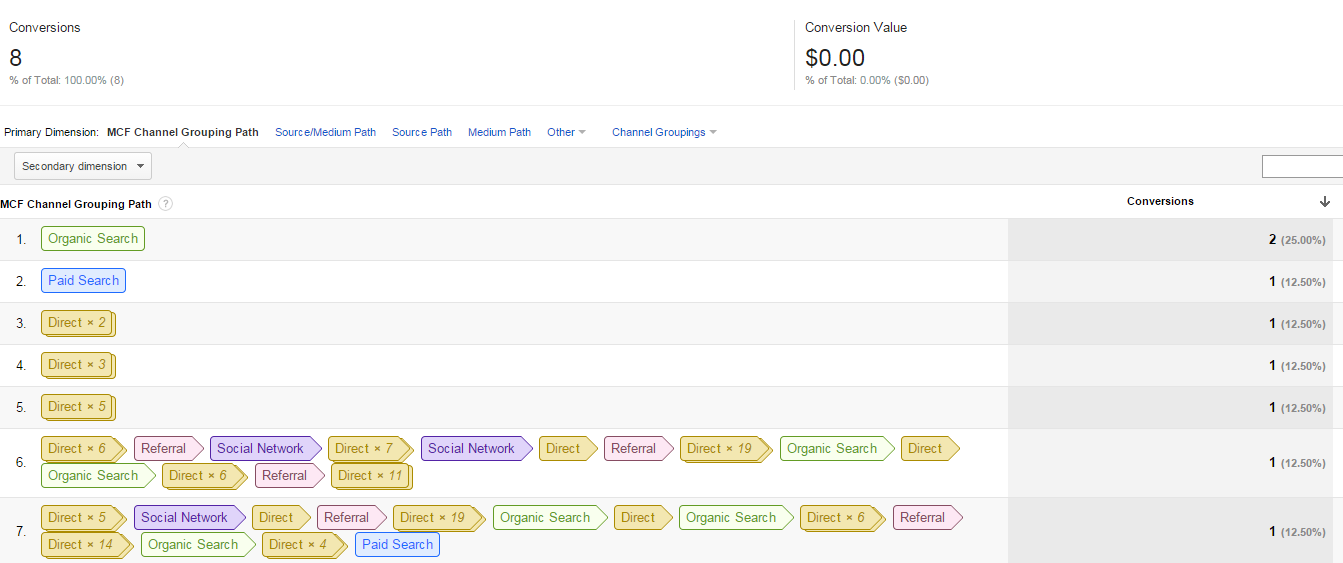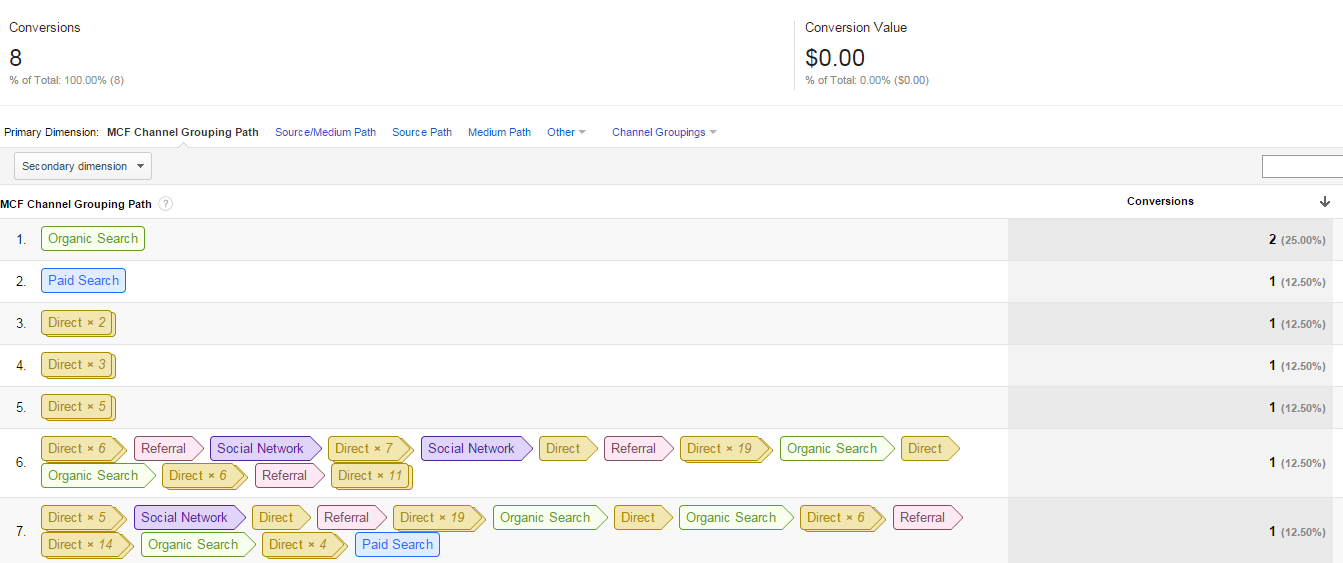 Heat Map Insight
One thing I wanted to see was the activity that a user had on my landing page. Here are some snapshots of the activity. If anyone is interested in this, I used a fantastic heat mapping tool called Crazy Egg.
Here is a very limited view of the click activity that users performed on this page. The data does not exactly align with Google Analytics, but it is close enough.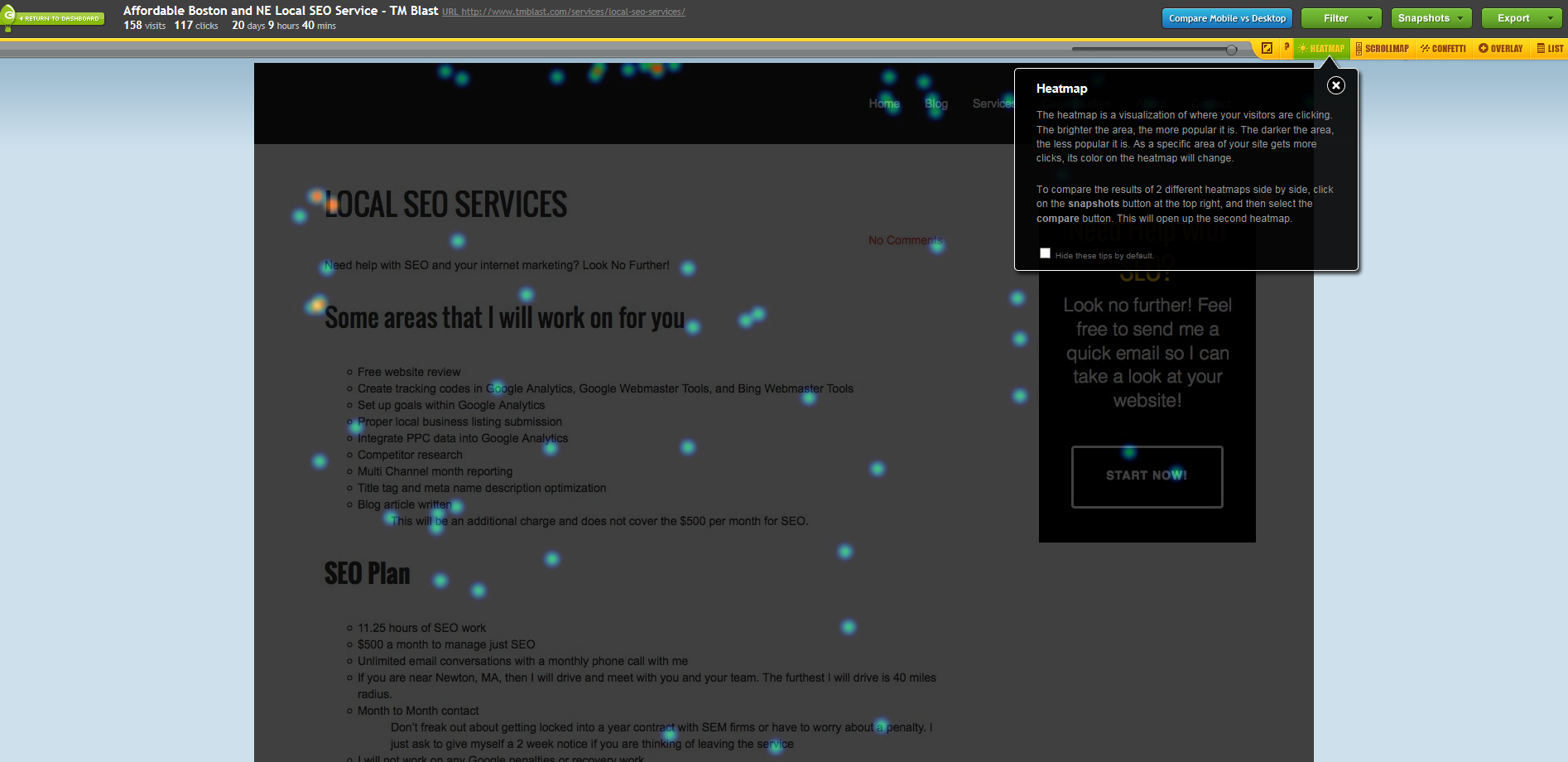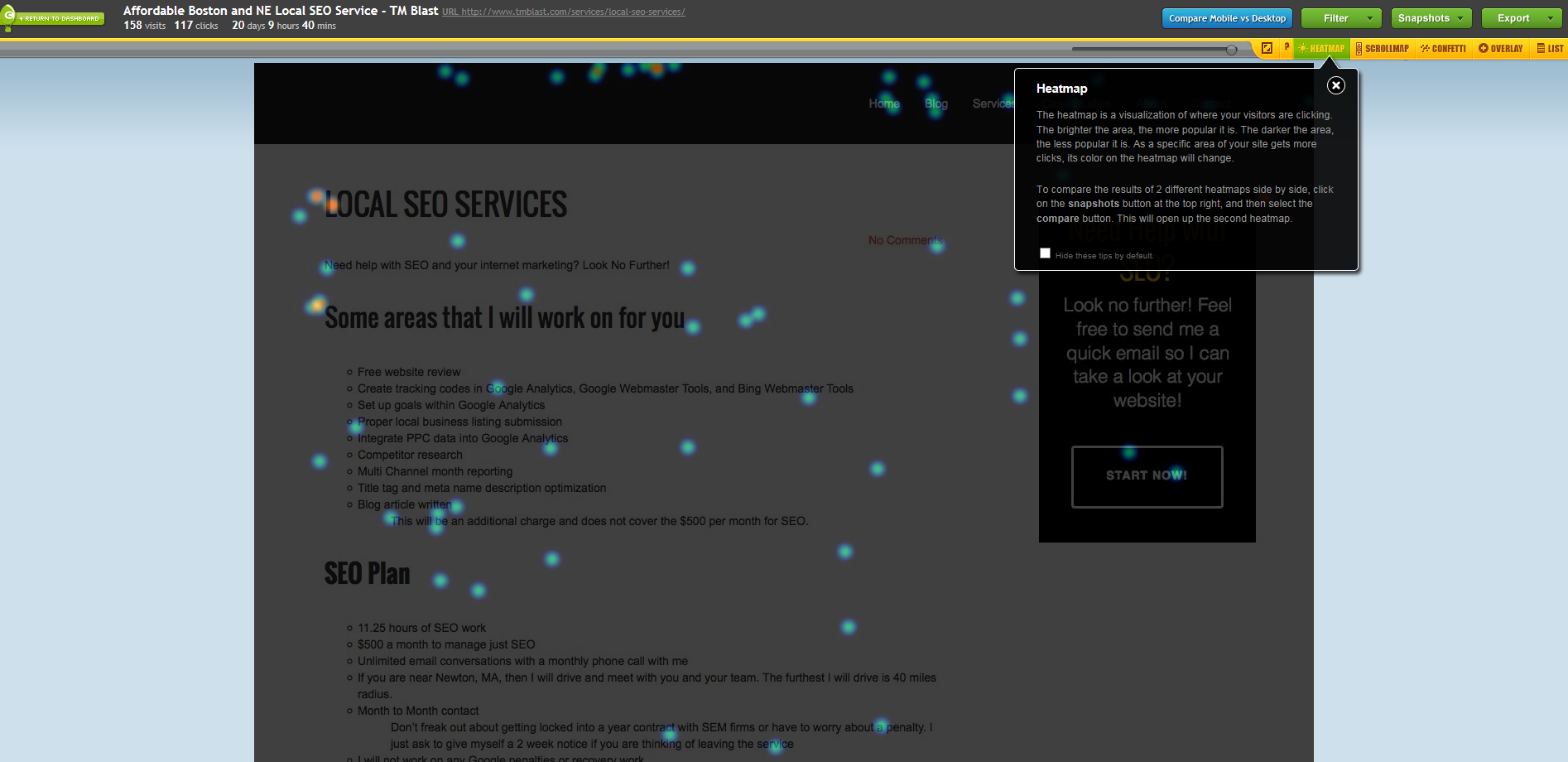 Here is a brief look at the scroll map for this page. Basically, I was tracking mouse movement with scroll features on desktop users. I made sure to keep the call to action on the right above the fold on the page. You want to do that because you will see that a bit further down the page, I only had half my visitors make it down there.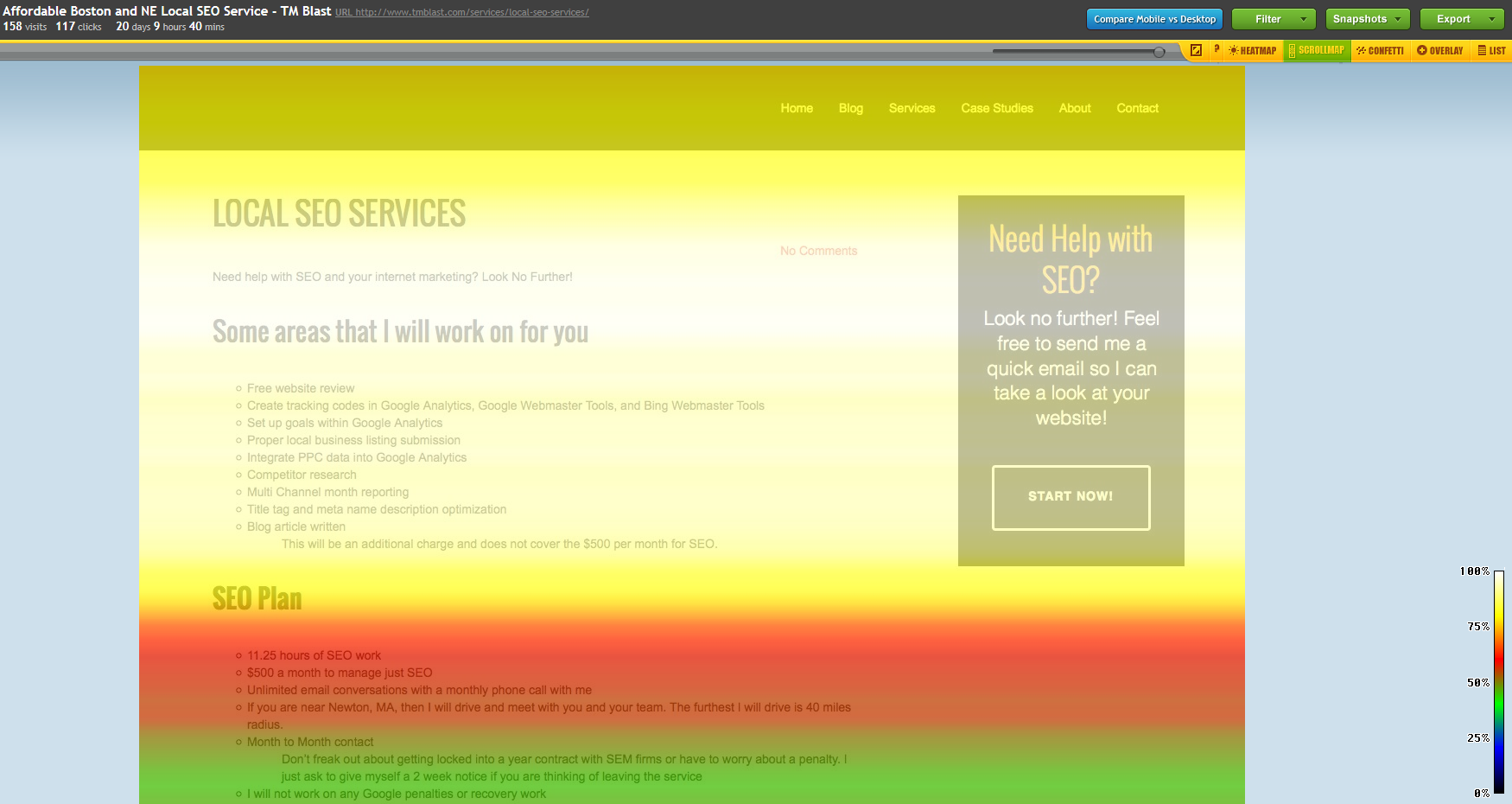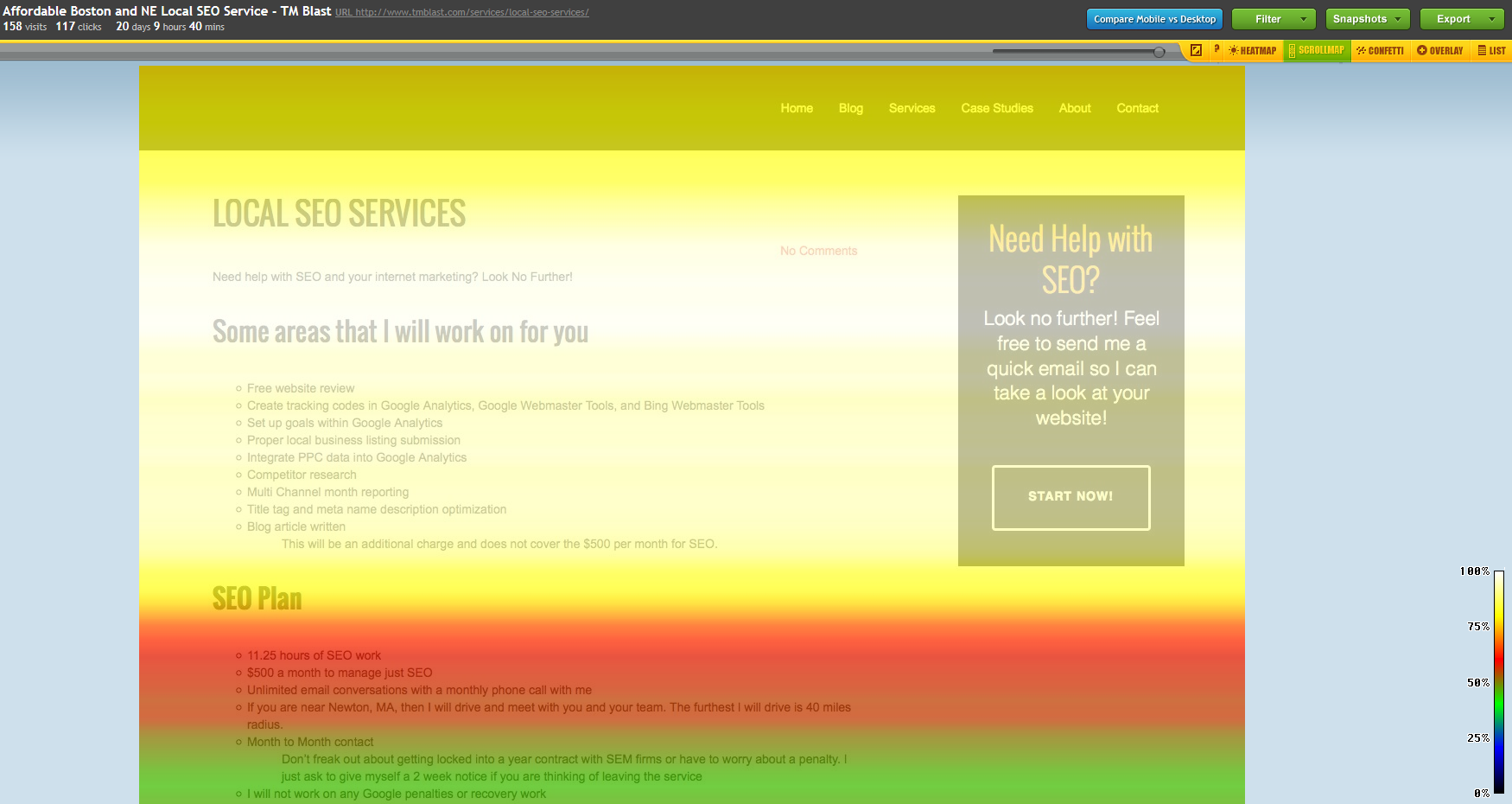 The Problem with this Page?
I left the navigation links at the top of the page! You can see that there was a good amount of click activity on the home and blog tab at the top. This was more of an issue when I was paying per click for a user to land here. I did not want them to go anywhere else, but I instead gave them many doors to go through before converting.
Second, I really did not like the call to action on the right. I really wanted to have a simple form fill where the user can just finish everything on that page. The start now call to action was not really a start now. It was start now by going to this pretty crappy looking contact page to then get in touch with me. I had a lot of drop offs there when I looked at the data from Google Analytics.
What Did I Learn and Where am I Going Next?
This is why I absolutely love my job. I love breaking down the data and trying to get a read on what just happened. Here are a few things that I am going to take away from this experiment that I did in Bing Ads.
First, I am going to create a few different A.B tests with different landing pages and experiences for the user. I will use Crazy Egg to break down their activity so I can learn what I can do to truly maximize the conversions.
Second, I want to run the next test with Google AdWords squarely against Bing Ads. I want to break out the cost per click for both platforms and the amount of leads that both brought in for me. I will use the same exact keyword match types, ads, and budgets per day for the experiment. While I know that Google will be much more expensive compared to Bing, I would be very fine with getting more conversions if I had to spend more.
Third, I want to test a simple form fill on the right hand side for users. I am not happy to see some many users give up when it came to the contact page. My guess is that they where ready to start, but then needed to complete another step in the funnel. Therefore, I lost out on the lead.
Fourth, I know that 5 out of 8 users needed at least a second visit to finally convert as a lead on my site. This tells me that I should test out something called re marketing to have an ad that follows the user to other websites once they leave mine. I have never personally done a re marketing ad, but that is what this blog is all about. It is about testing out different things and reporting on them later on.
[social_share style="circle" align="horizontal" heading_align="inline" facebook="1″ twitter="1″ google_plus="1″ linkedin="1″ pinterest="0″ /]