Below are some of the case studies I would like to share on the SEO work I've done in my career. You will find a brief explanation about what was worked on along with some snapshots that give color into what the results were. When it comes to SEO success, you need to have a lot patience. The results are ultimately what I put here, but there was an incredible amount of work, trial and error, success and failure, and pivots along the way to do the best results. If you have any questions, feel free to contact me!
Non Brand Keyword Improvements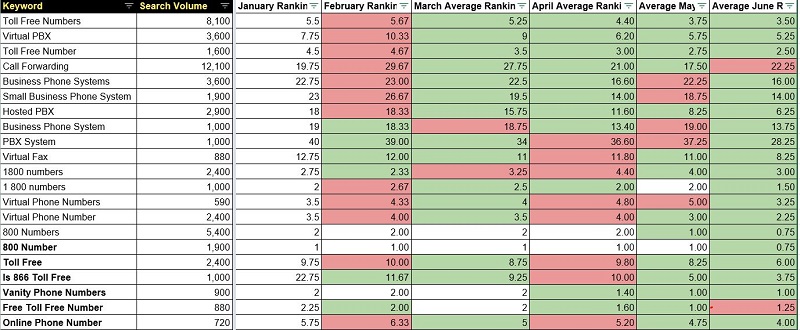 I worked at Grasshopper for one year as an in-house SEO Specialist. Grasshopper provides toll-free and 800 numbers to their clients that allow them to handle their business anywhere while they are on the go. One of my tasks while I worked there was to work on improving the ranks for non brand keywords in Google and Bing. The task went on for 6 months that required myself to fix internal links, build links to external pages, change title tags and meta name descriptions, redirect content to the proper page, and much more. There was a lot of trial and error that went into this, but the outcome of ranking improvements were especially important as we did not have a huge budget to bid on non brand terms in Google AdWords.
The way to read this chart is to go from left to right. The term under the keyword section was the term that I focused on. I took the average search volume from Google Keyword planner and took daily keyword checks to get an average weekly ranking for the keywords. That is why you will see decimals next to the numbers. As you can see here, I was able to improve the majority of the terms from when I started in January to the end of June. I like to show this chart to people to show that SEO is such a long game when it comes to implementing a strategy. Another key thing to show was after I started to work on the keyword targets, we actually saw some decreases in rankings, but when things were able to optimize correctly, we saw that we surpassed where we started back in January.
Local SEO Case Study (Increase in Conversions)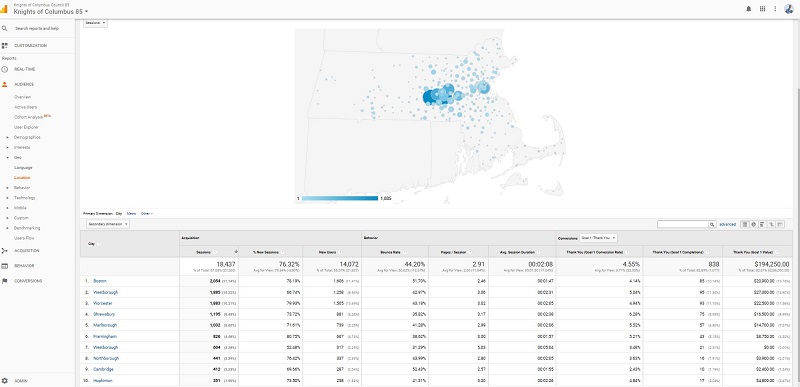 The Knights of Columbus Council 85 was interested in increasing hall rental inquires for their site. The organization is located in Westborough, Massachusetts, so the ideal customer would be someone in a 10 to 20 mile radius of Westborough. There was no Google Analytics set up on the site, so I had to set up the tracking to properly show the results that were driven. The website was also rebuilt by me in Dreamweaver (I am not a developer) and I had to fix all the technical issues on the site including fixing canonical issues, fixing duplicate content, fixing sitemap issues, and much more. One of the big things that I worked on was centralizing our local listings across the web. Once I was able to fix the broken links from referral sites and update our business hours on Google and Bing, we started to see an increase in organic and referral traffic. The key takeaways of this project were an increase in sessions and an increase in hall rentals that came through the website. All of this was done without any paid search listings, so we were able to take advantage of driving highly relevant searches in a given proximity.
Increase in the Organic Traffic
When I worked at Wakefly to start my career as an SEO Specialist, I got the only two case studies that still live on the website today. The clients were both Safe Systems and LightFigther. If you are interested in learning more about their success, you can check out the case study link here that lives on Wakefly. For Safe Systems, I worked on fixing the technical issues on their site while working with their content guy to push content out on the web. I also worked on cleaning up bad links that lived on their site to comply with Google's updated policies for their Google Penguin updates.
LightFighter was the second case study that I got while working at Wakefly. LightFighter is a military run family business that sells tents and bags that were designed for the military. This project was something that I was very passionate about since I loved how it was a family business. I was able to launch their brand new website with all the keyword research set up for them to see success. I worked with the development team to make sure we were going to be technically sound when we launched and even acquired some great PR links for their story.
Link Building Success
In addition to the organic non bran keywords I worked at while at Grasshopper, I also worked on building links to their Jump Guide that was about how to start your own business. Working on building links to something is incredibly difficult, but Grasshopper was a special case. I worked with the Ambassador of Buzz, Taylor Aldredge, on spreading the word of what our culture was about. I also worked with the content team to come up with test templates and worked with tools like BuzzSumo and more. One of the best parts of building links was how much it was about building relationships with influencers. Even if was unable to get a link, we actually were able to set up other programs like ways to expand our affiliate reach or get a social share. Here is a screenshot from AHREFS that shows the increase in links acquired. The orange line represents the amount of referring domains that give a link back and the blue line represents the amount of referring pages. Basically, I could get one domain to give me 3 links on 3 different pages