Best SEO Case Studies
Since 2017, TM Blast has been helping local companies and big brands increase traffic to their site through search engines. Below are some metrics that my SEO Company has been able to produce for clients. Search Engine Optimization takes time to see results, but staying patient and working with me can make you successful via additional web traffic.
+265% Increase in Non-Brand Traffic after Six Months
The majority of my client's traffic coming to their site was brand search-related. That meant that users coming to their site had to know their name before performing a Google search. In six short months, I was able to increase the non-brand traffic by 265% from high search volume keywords. Non-brand organic search traffic keeps growing for them each month, which is precisely where you should be after six months working with TM Blast. Here is the summary of how I grew the non-brand traffic from 272 to 994.
800% Growth in Traffic for a Client in 2020

My client is out in New York City, and they were looking for NY local SEO help. They were having difficulty driving people to their site since their rankings were not on page 1 of Google. My primary optimization came from a clear content strategy by writing quality content. Not only did their traffic grow, but their conversion rate improved as well to get new patients.  You can read more on what I did for their site with this link.
600+ Daily Organic Sessions

The Stadium Reviews is a personal website that I'm building. The website keeps growing in search traffic by target keywords earning top positions in the SERP. Over the past year, I've written new content via keyword research that should rank on the first page of Google along with updating existing content. During the World Series in 2020, my site drove over 600 organic visits in one day. In addition to that traffic milestone, my website continues getting higher search rankings along with traffic increases.
Ranking a Target Blog Post as Position 2 of Google in 3 Months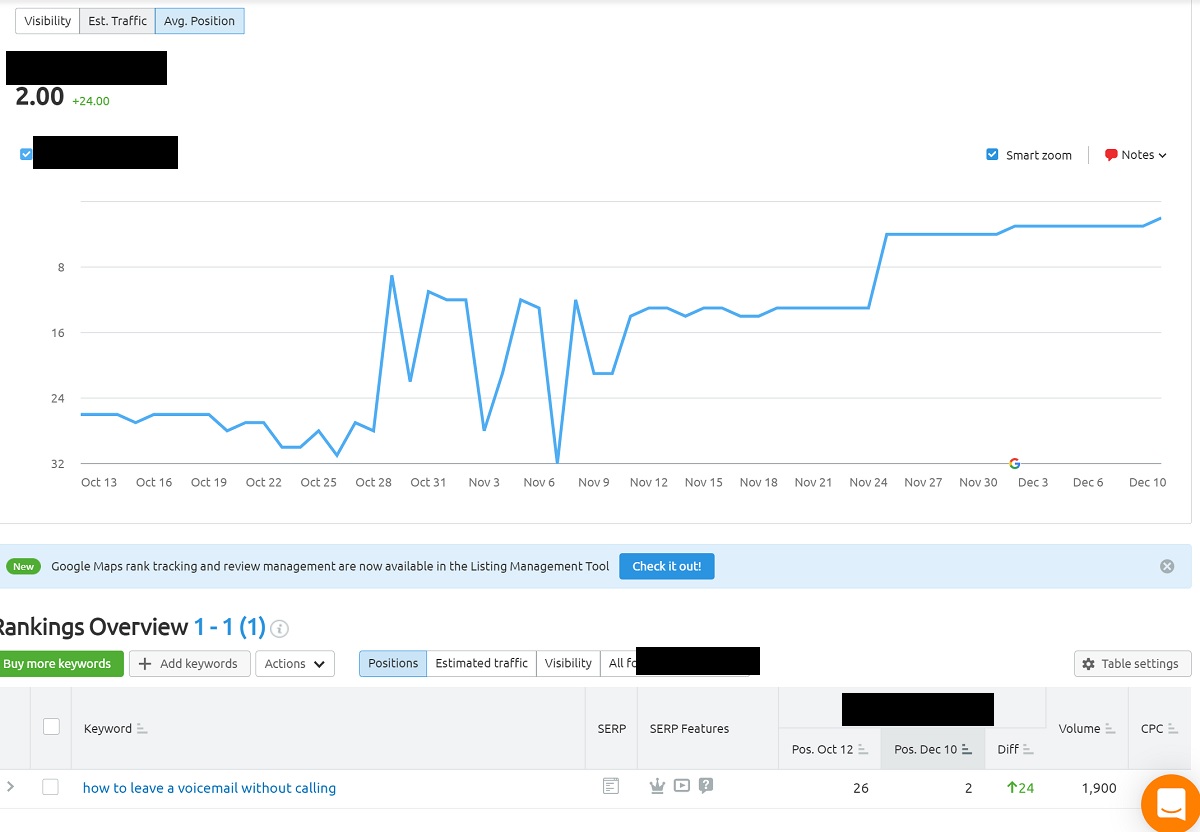 Ranking a piece of content high in Google and Bing takes a lot of work. My client wants content creation to increase traffic to their site in 2020. With close to 2k monthly searches for this keyword alone, they drive new traffic to their site from this blog post. This blog post also ranks for more long-tail keywords, so their daily traffic from this blog post is even more.
Ranking a Local Small Business Client in 2 Months

A local client out in Boston, Massachusetts, had me work on their WordPress account for two months via their PPP loan. With only two months to work, I wrote great content that would rank well in Google. My content team and I spent time performing keyword research, looking at low competition in the SERP, and built internal links throughout the site. One metric that meant the most to my client was increasing keyword ranks in Google, which is what I did. In addition to increasing their ranks, they saw a 537% increase in traffic to their catering page.
Spanish Traffic Growth from 0 to 70k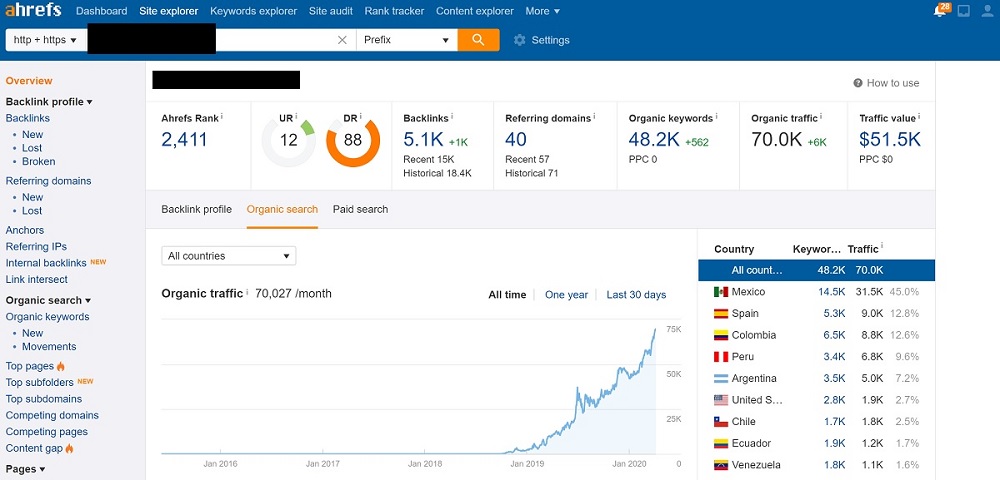 The Spanish version of an education website was having a difficult time ranking. After running a Free SEO Audit of their account, I spotted a few technical SEO issues hurting the performance. Here is the recap on what I did to fix the account and grow the traffic.
12% Growth in SEO Traffic YoY

My client is a national telecom provider, and SEO is a crucial way to drive people to their site. In 2019, they had 12% more organic traffic compared to 2018. In addition to the digital marketing growth in 2019, they are up 10% in 2020 as well.  You can read more about their success with this link.
TM Blast Services
If you are looking for a New York SEO Expert to grow your traffic through content marketing, you've come to the right place. TM Blast has been in business since 2017, and has helped countless websites grow their presence on search engines. TM Blast builds a clear SEO strategy based on the Free SEO Audit I perform for every potential client. While I don't specialize in link building via backlinks in any of these case studies, I have experience building high-quality links for various projects.
Have Someone You Want to Refer for Commission Earnings?
Referrals are one way TM Blast has grown their SEO Campaign clientele over the past three years. For anyone who refers a client over to TM Blast, we give a 10% recurring commission to that individual for each month they pay. As you can see above, I have SEO case studies that typically are six moths or longer. Having  clients for over six months can mean hundreds of dollars in earnings for you!  Check out the SEO Affiliate Program that we have on our site to learn more!