The NY SEO Expert
TM Blast LLC is a NY SEO Services Digital Marketing Company run by Greg Kristan. Greg Kristan helps clients obtain high-quality traffic from search engines to their website. Over the past nine years, Greg has ranked local businesses, national companies, and international corporations higher within search engines, which results in more business for them from the increased web traffic. Even though TM Blast is in Upstate New York, we work with clients all around the United States.
Sample Case Studies
Answer Box Wins in Google + Bing 
The Stadium Reviews is a personal website that Greg Kristan works on for fun. This website competes directly against large websites like Bleacher Report, ESPN, Stadium Parking Guides, and more, and continues gaining market share with organic traffic. The website competes by ranking at the top of search engines like Google and Bing, which brings in thousands of pageviews each month. Below is an examples of my website, The Stadium Reviews, owning the Answer Box in Google for a query. If you are looking for how to get into the answer box, you can visit that link.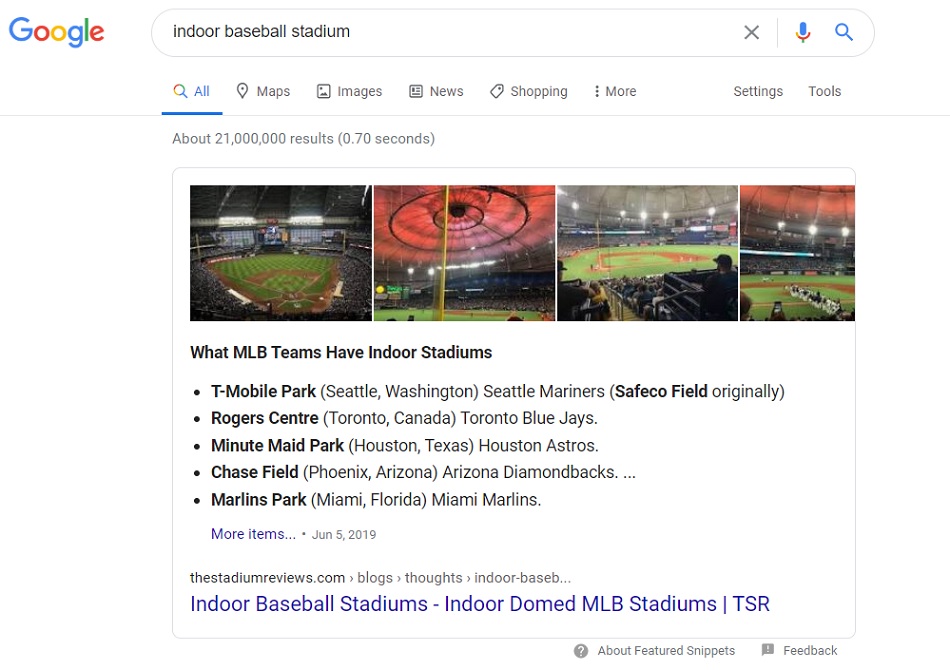 800% Increase in Traffic for a Client
Above is a video detailing the SEO success one of my clients in New York City is seeing. Their traffic is up over 800% from when we began working together in March 2020. In addition to that traffic increase, they receive more leads and appointments through their website now!
SEO Hockey Stick Effect: 400% Increase in Daily Sessions
Below is a video illustrating the 400% increase in SEO traffic to my website, The Stadium Reviews. The Stadium Reviews went from 120 organic daily visits to 600, which is a 400% increase in traffic. This Hockey Stick Effect is what successful SEO looks like, but it takes time to achieve!
How Do SEO Services Work for Clients?
Now that I've gotten your attention via the case studies above, you may be wondering what I do for clients.
When it comes to internet marketing, TM Blast initiates a 5-step process for all SEO clients. Starting from a technical audit, I fix significant technical errors on the website, restricting future growth. Next, competitor researching discovers keyword gaps and transitions into keyword research. Once the analysis is complete, Greg optimizes specific keywords and intent for core theme pages. In addition to the keyword research, Greg works with his content team to either create new content or update existing pages with new words. Finally, we review the weekly / monthly results and look for trends and or dips in the strategy. Most clients see positive results by month three with this strategy, but some see results sooner.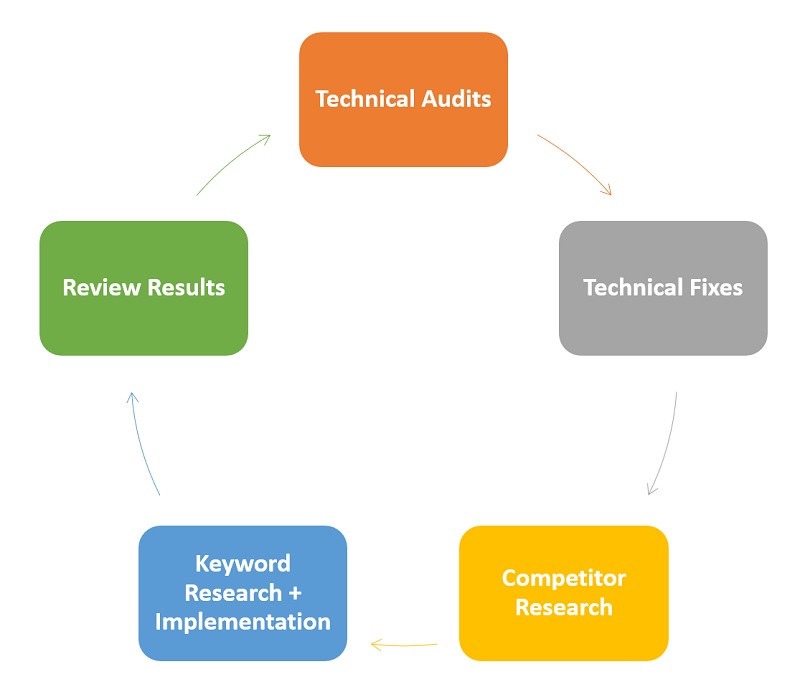 What SEO Work Do I Do Monthly?
Most businesses and business owners can witness organic search traffic growth after a few months of SEO work with TM Blast. Moving keywords from page 5 of Google to page 2 looks great on a report but does not generate new web traffic. Having keywords, with thousands of monthly searches or more, moving to page 1 of Google, Yahoo, and Bing's search results will increase your web traffic. Below is what I do each month for my clients.
On-Page Optimization Including Title Tags, Meta Name Descriptions, ALT Tags, Header Tags, Internal Links, and More changes
Monthly SEO Report Detailing Your Traffic Growth, Leads, Conversions, Keyword Rankings, Next Steps, and More
Technical Fixes Including Broken Links, Incorrect Canonical Tags, and Robots.txt File optimizations, and More
Up to Three (800-Word) Blog Posts Per Month / And or Updates to Existing Content via Content Marketing
Competitor Research via New Keywords to Optimize, Backlink Opportunities, and More
Shared Excel Document with you and Your Team Detailing What I'm Working on For Your Account. 
Daily Keyword Tracking, Keyword Research, and Weekly Technical Crawls
Easy Access to reach me via Email, Phone, Microsoft Teams, Slack, and Skype
Google My Business and Bing Places for Business Optimization
All SEO Work is Done by Myself, Greg Kristan.
No Long-Term Contract
And More!
Hiring an SEO Expert is difficult because there is no guarantee that it will work for you. To help alleviate this concern, I built a Free SEO Workshop for you to watch. Within these courses, you will  learn SEO, and more importantly, what I do to rank websites higher in Google and Bing. I give this away for free because there is no mystery about what I'll be doing to grow your business through SEO. Since I have over nine years of experience, I can spot opportunities and act on them faster than others, but there is no secret sauce on what I'll be doing.

A Bit about TM Blast LLC
While TM Blast offers local SEO Services in Saratoga Springs, NY, I provide SEO nation-wide to clients. Originally, TM Blast was out in Boston, Massachusetts, but moved to New York in September 2020. The only difference I provide to clients in upstate New York to other states is that I can meet with you in person if you prefer. In addition to upstate NY, I can meet with clients out in New York City. Otherwise, I meet with my clients on a semi-regular basis on Zoom, which I can record the video for your own records.
A Bit About Greg
My name is Greg Kristan, and I exclusively run TM Blast LLC and the daily operations. My SEO Company helps businesses throughout the United States drive more traffic to their website from search engines. I also provide Free SEO Audits, PPC Consulting, and the SEO Workshop in addition to Monthly SEO. Finally, I have over nine years of experience improving the online presence via local SEO projects and large international e-commerce websites.
Being new to Saratoga Springs, NY, I look forward to getting involved with the community over the next few months. I hope to bring more digital marketing awareness to the city and help more businesses grow through search!
How to Get in Touch?
Finally, you can request a Free SEO Audit or become a client by heading over to the contact page. When you head over to the contact page, you can let me know what you are looking for.
Additional Content
Client Position 1 Ranking in Google Case Study
DuckDuckGo in Google Analytics
Image and Gif Reverse Search in Bing
Broad Match Modifier
Microsoft Rewards Guide
How to Fix a Traffic Drop
How I Share SEO Reports with Clients