Boston SEO Expert
TM Blast is a white hat Boston SEO services consulting agency located in Cambridge, Massachusetts. This search marketing operation is run by myself, Greg Kristan. I provide ethical and holistic search engine optimization consulting to businesses throughout the United States. All work, strategy, meetings, and reporting are done by myself. In addition to SEO Consulting, TM Blast also offers these two services below.
Professional SEO Services Results
Providing exceptional results for my clients is my goal. I believe that organic search can help grow your business by driving more high-quality visitors to your site for free. TM Blast is a professional SEO company that works on improving your search results in Google and Bing.  Below is an example of results I'm providing for one of my newest clients in their first month working together. Already in one month, I'm providing fantastic results through technical and on page SEO. You will see that their total keywords grew from 468 to 1.1k just in one month of working on their web pages.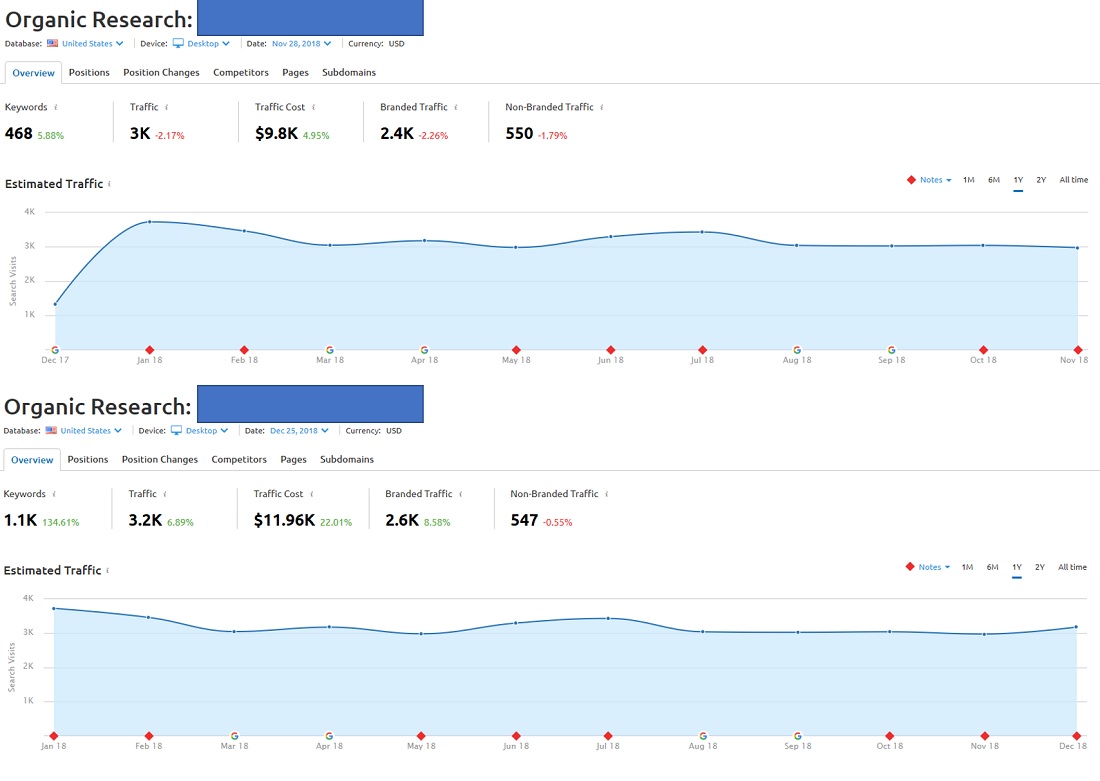 Below is a sample SEO report that I send over to my clients. Each report is custom made, so I do take type making this report personal. This report is redacted, so I share this document with potential customers on what I'm able to achieve in the first month of working together.
Boston SEO Company at Work Example
In this video below, I'll share how I reversed a traffic decline for one of my target pages on my website. This type of professional SEO service is a taste on how I'm able to discover a problem and fix it. If you've been looking for top SEO services to grow your website traffic, you've come to the right place because I'm an experienced SEO consultant.
The first two pictures below are the organic keywords and traffic summary for this Boston SEO firm. TM Blast is a Massachusetts SEO marketing company where transparency is at the core of its service. I practice what I preach, so showing clients search engine rankings and results on what I work on is important to gain trust. These keyword ranks are from SEMRush which is a primary tool I use for clients as well. Here are some of my results that I've been able to achieve as a professional SEO specialist.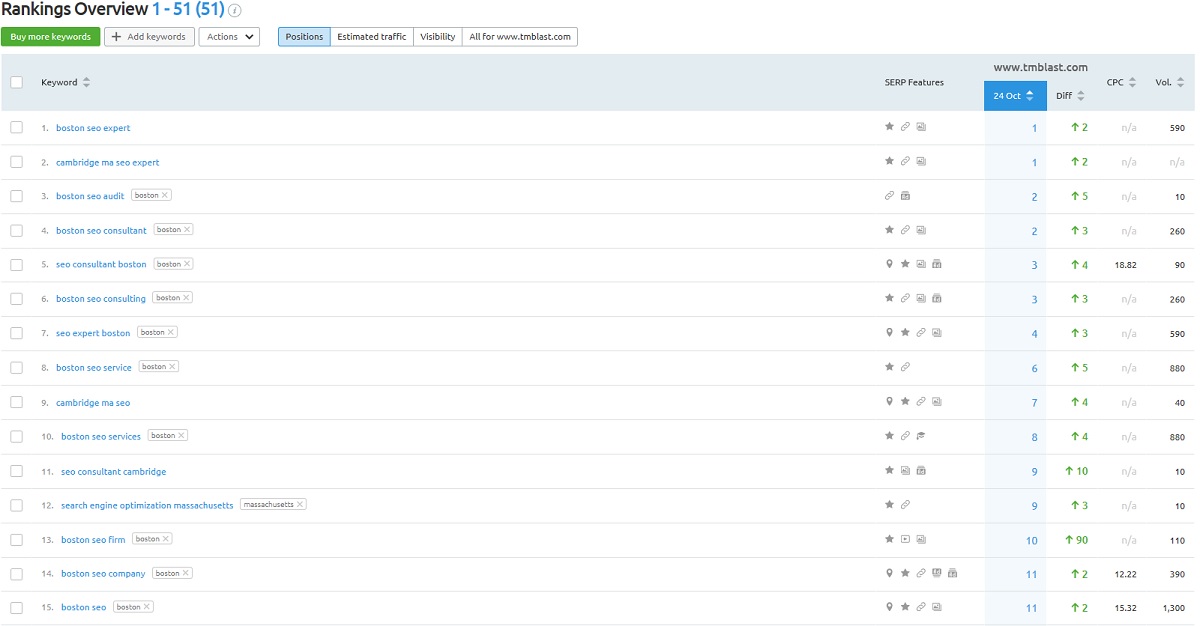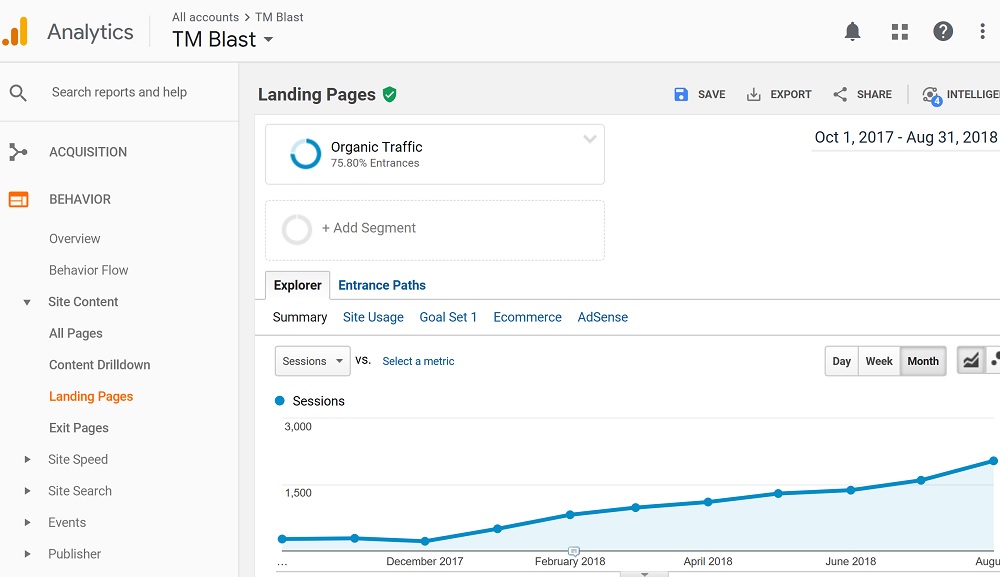 SEO Consulting Services Strategy
When it comes to internet marketing project planning, TM Blast uses the same strategy for all websites. It's a 5 step process where everything repeats and improves upon the previous cycle. By making your site technically sufficient for Google and Bing to crawl, you will have the most success. Here is a visual on what the strategy looks like with the audit being the first step.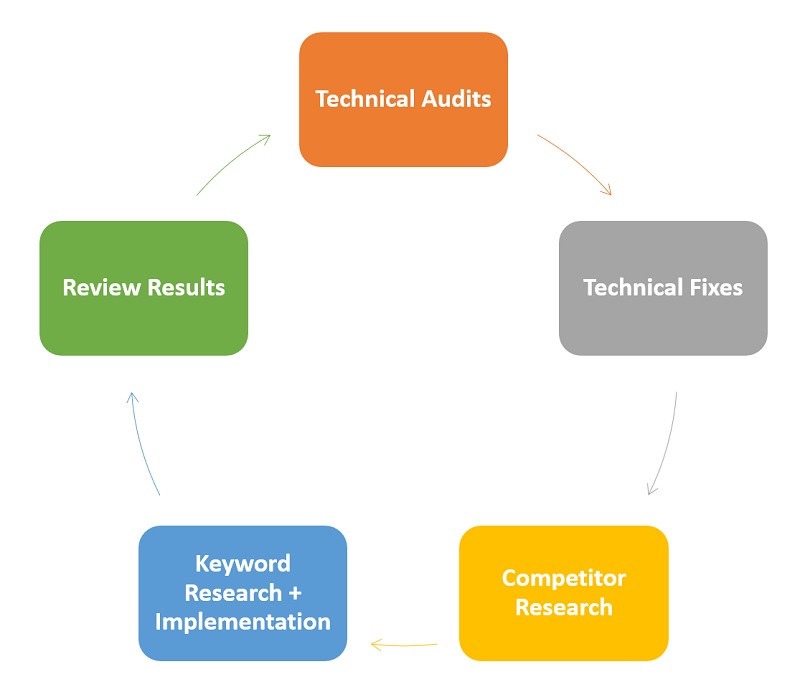 You will notice that the process repeats which is key to a winning digital marketing strategy. Keyword research is an important element to successful organic search engine optimization. You have to keep working on something to keep your success in search marketing. TM Blast has over seven years of experience using this strategy effectively as a top SEO company in the market.
TM Blast uses different tools to deliver strong results for your website. The mix of tools includes ways to track keyword rankings, review site health, see how Google and Bing view your site, and much more. As a note, I may have new tools in my arsenal at any time, so these five tools should be seen as an idea on what I'll be using for your website. If you are looking for an SEO expert to be up to date with the latest tools, you've come to the right place.
Professional SEO Services Also Works on Bing
Top SEO services should have a focus on driving traffic from search engines outside of Google. Bing is a search engine that does not get enough attention from most digital marketing firms. For TM Blast, Bing makes more than 30% of it's organic traffic because I optimize my site for Bing . This SEO Expert uses a few specific tools for Bing SEO which include Bing Webmaster Tools and Bing Ads Intelligence which are available for everyone to use. Depending on your vertical, your audience may be on Bing if they are an older and more affluent demographic. If you are wondering how much traffic Bing can drive to your website, you should check out their audience breakdown report.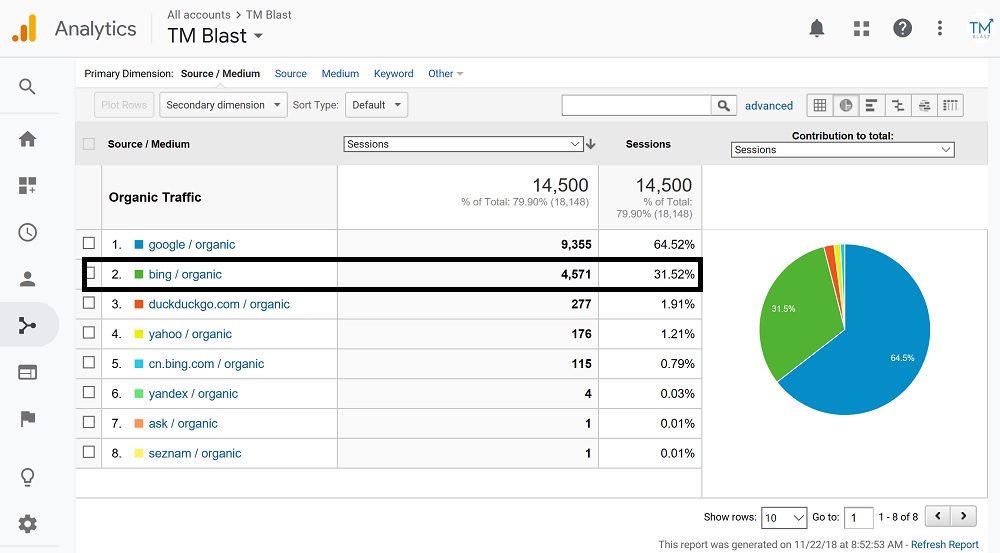 SEO Best Practices Company
Ethical and white-hat SEO practices is what TM Blast is all about. This Cambridge SEO company does not participate in any shady link building, cloaking of content on the site, spamming forums, and so on. A strategic combination of technical SEO, on page, off page, competitor research, documentation, and tracking is how I operate. I do not have any secret sauce to improve your rankings. Instead, I focus on proper technical SEO and on page changes to give your site the best chance to rank in Google and Bing.
Google SEO expert best practices, in a nutshell, are about providing an excellent user experience while giving their bot the ability to understand your content. Some other best SEO practices for Google and Bing include optimizing meta tags, h1 tag, images, footers, keywords, content, and so much more. If you were looking to partner up with an organic SEO company, you've come to the right place. Start driving more free traffic from search engines like Google, Yahoo, Bing, and many more today to your website.
Technical SEO is Critical to SEO Success
One area that separates TM Blast from other agencies deals with technical SEO. Making sure that your website is easily understandable for search bots is a critical component in organic marketing. As your web technical SEO specialist, I will run routine health checks of your website on a consistent basis. Tools that I use to run health checks include Screaming Frog, SEMRush, SEO-Browser, GT Metrix, and more. Being an expert technical SEO specialist, I will also ask for your website's log files so I can run deeper analysis of your website.
Additional Content You May Enjoy
Below are some of my most visited blog posts on my site. The range of blog topics on my site vary, but most of the time they follow SEO and PPC best practices.
DuckDuckGo in Google Analytics
Image and Gif Reverse Search in Bing