Boston SEO Expert
TM Blast is a white hat Boston SEO service located in Boston, Massachusetts. This operation is run by myself, Greg Kristan. I provide ethical and holistic search engine optimization consulting to businesses. My primary focus is to improve a client's online presence and products of services on Google, Yahoo, and Bing. As your SEO Consultant, I'll work with you and your team to improve your online presence in search engines.
Outside of SEO consulting which is core to TM Blast, I offer four other types of services you may have an interest in.
Below is a video that goes into detail what my Free SEO audit covers.
SEO Results
Below are the SEO results for a few projects that I'm currently working on. Below illustrates organic traffic growth from a series of technical fixes, on page content changes, and internal linking are bringing success for this project. Title tag and meta name descriptions are taking place too which is helping grow the SEO traffic.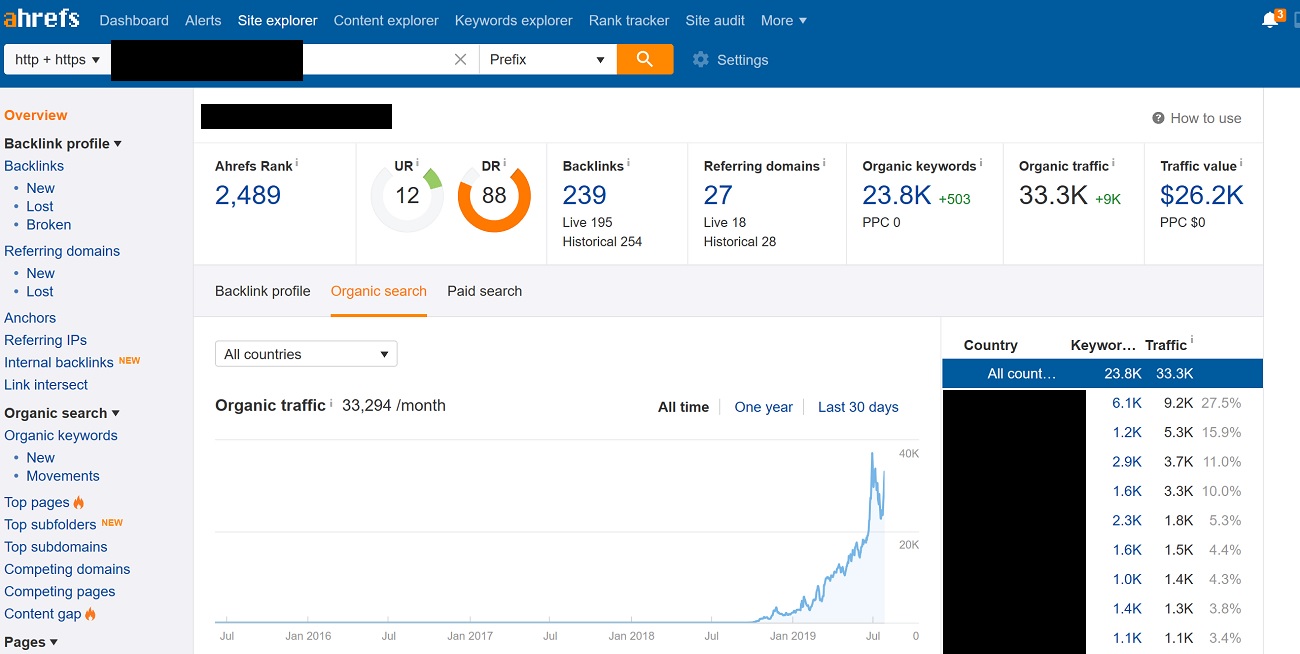 Below is the traffic summary from Google Analytics for a client. The view looks at the weekly organic traffic averages for their website. As you can see below, we are now driving over 2k in weekly organic visits to the website on a consistent basis.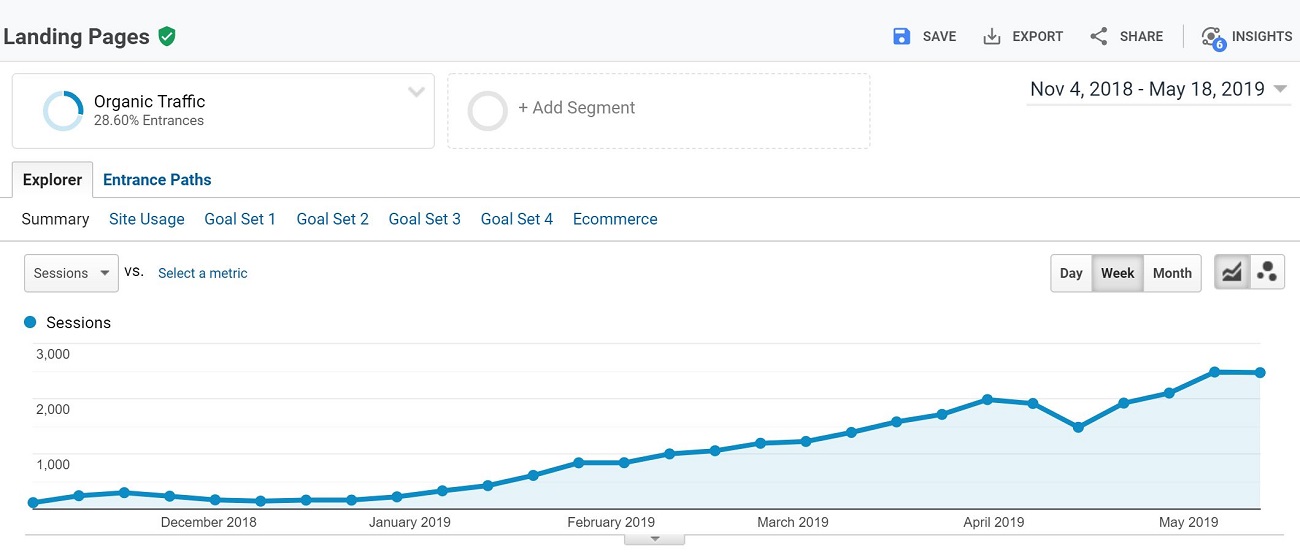 Finally, I like to share the results for TM Blast and SEO. Organic traffic (free traffic) is up 116% while leads are up 286% year over year for my business. A lead for my business is someone filling out my contact form on my website, so not every lead turns into a customer. As always, you can head over to my customer success section to see more stories and successful projects.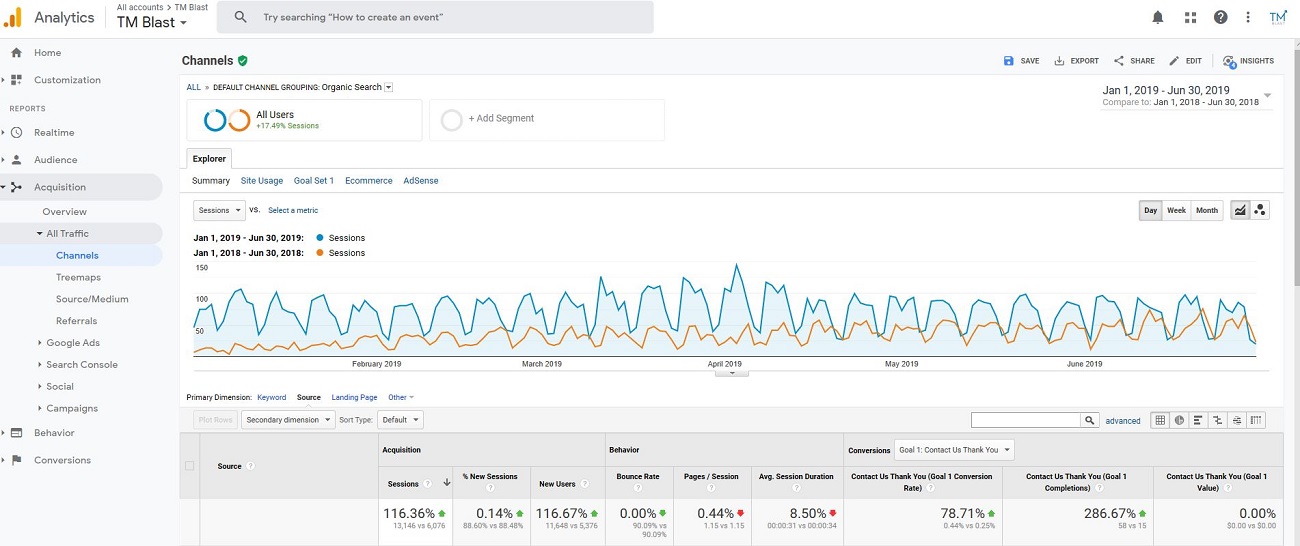 What Others Have to Say about Me?
Below are testimonials left from past and current clients. The reviews are a mixture of Search Engine Optimization consulting and coaching programs. You can head over to the case study section to learn more in greater detail.
Does TM Blast Work with Clients Outside of Boston?
I work with many clients outside greater Boston. I've built out a strong niche for being a SEO company in Boston, but I work with clients outside of Massachusetts all the time. The difference I make for clients in Boston is that I will meet with you face to face for one meeting, but otherwise there is no difference.
TM Blast Strategy and Tools for Clients
When it comes to internet marketing project planning, TM Blast uses the same SEO plan for all websites. It's a 5 step process where everything repeats and improves upon the previous cycle. By making your site technically sufficient for Google and Bing to crawl, you will have the most success. Here is a visual on what the strategy looks like with the audit being the first step.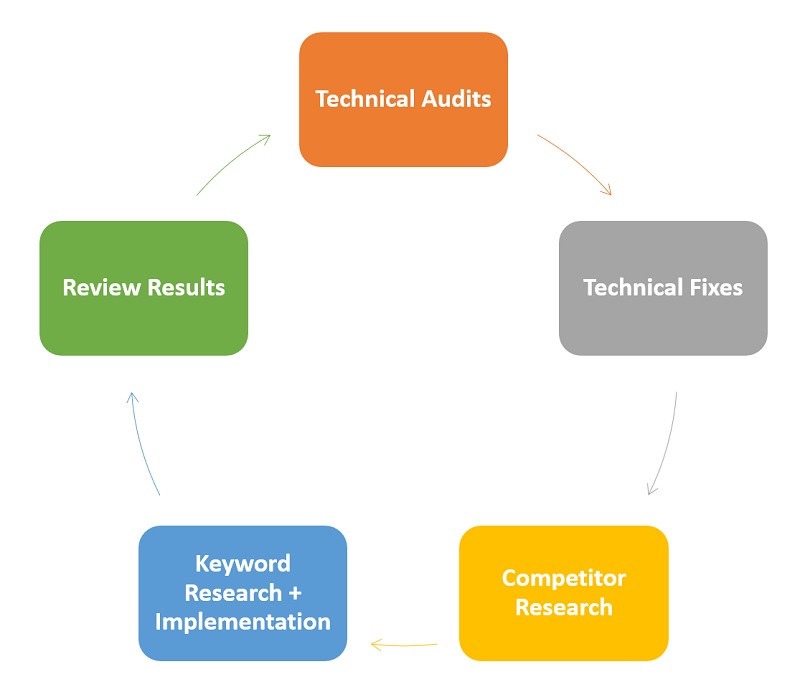 You will notice that the process repeats, which is key to a winning digital marketing strategy for the long term. Keyword research is a critical element to successful organic SEO services. You have to keep working on something to keep your success in search marketing. TM Blast has over eight years of experience using this strategy effectively as a top SEO company in the market. TM Blast does not have an SEO Team as all work is done by myself. Here is a breakdown of the SEO Services I typically handle for optimizing your website.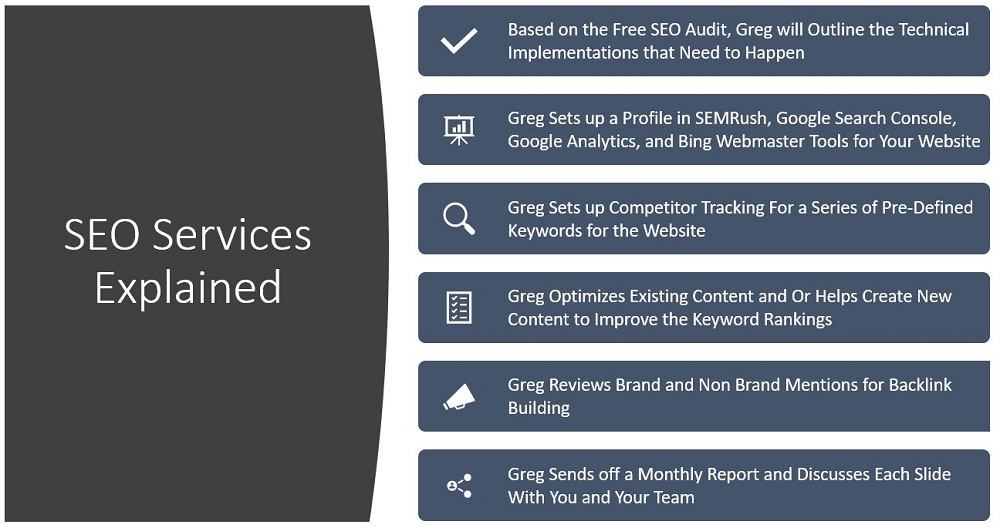 Example of My SEO Marketing Process in a Video
I like to record videos illustrating my SEO marketing process for my audience on YouTube. In this video below, I'm sharing a follow up video to a niche website that I'm working on. The strategy and process is very similar to what I work on for clients, so clients are getting the best SEO for their website by working with me.
What a Monthly SEO Report Looks Like for Clients
Each month, I create a custom report for you and your team to review. In this report, I share what I worked on, the website traffic, and my next steps so everyone is on the same page. Below is a redacted report I made for one of my clients.
Why is SEO Great for Your Business?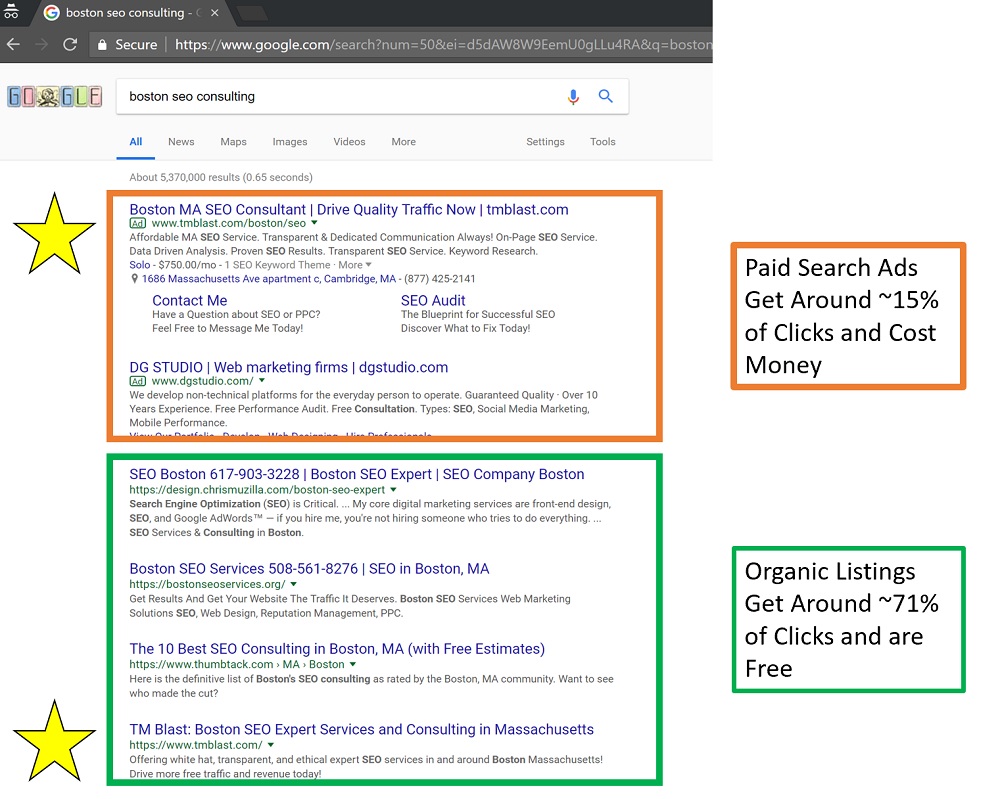 Did you know that organic listings result in 70% of Google clicks while paid ads get 15%? The free traffic your website receives from SEO will grow over time, but paid search marketing (PPC) requires you to spend to be seen. Using both strategies is good to drive volume and leads to your business, but organic listings can be the better solution in the long run.
As a note, you will see that the percentage does not come out to 100% because some results don't yield a click. An example of a Google search that won't result in a click is someone searching for "what time is it" where an answer box will give you an answer.
The Tools I Use
TM Blast uses different tools to deliver 1st-page keyword results for your website. The mix of tools includes ways to track keyword rankings, review site health, see how Google and Bing view your site, and much more. As a note, I may have new tools in my arsenal at any time. Content creation and page optimization is something my tools assist with as well. I work with the content writers and developers for my clients to push optimizations on their behalf. My clients do not need to spend any money on SEO tools when they hire me for SEO services.
What are SEO Best Practices I use for Clients?
Ethical and white-hat SEO campaign practices is the goal of moving my clients to the first page in search engines. This optimization service does not participate in any shady link building, cloaking of content on the site, spamming forums, and so on. A strategic combination of technical SEO, on page, off page, competitor research, documentation, and tracking is how I operate. I do not have any secret sauce to improve your rankings. My main goal is to use one-page and technical optimizations to improve your site. 
Google SEO expert best practices, in a nutshell, are about providing an excellent user experience while giving their bot the ability to understand your content. SEO practices for Google include optimizing page titles, meta tags, h1 tag, images, footers, keywords, content, search engine rankings, web page SEO, and so much more. Partnering with an organic SEO company can help deliver you top results. Start driving more free traffic from search engines like Google, Yahoo, Bing, and many more today to your website.
Additional Content You May Enjoy
Below are some of my most visited blog posts on my site. Topics on my site vary, but most will follow the best practices for SEO and PPC. Social media management is not something I cover, but you will find online marketing tips, WordPress tips, AdWords, web traffic analysis, and local SEO suggestions.
If you would like to become a client, you can head over to the contact page!
Client Position 1 Ranking in Google Case Study
DuckDuckGo in Google Analytics
Image and Gif Reverse Search in Bing
Broad Match Modifier
Microsoft Rewards Guide
How to Fix a Traffic Drop
How I Share SEO Reports with Clients
Here is a link to my HTML Sitemap if you would like to find all the content on the website