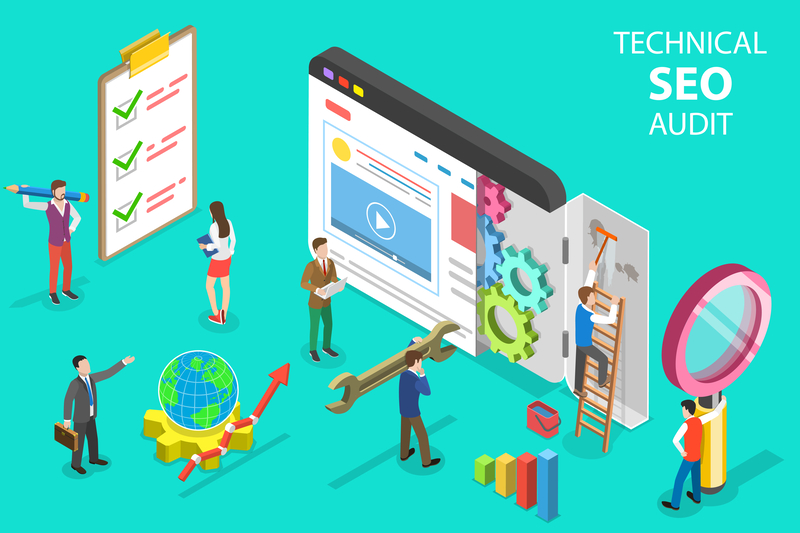 What is a Free Search Engine Optimization Audit Report?
A free website analysis reviews your website for common errors, gaps, and opportunities for future SEO success. In the free report, I analyze your website from a technical, keyword ranking, link profile, and on-page SEO perspective. Towards the end of the story, I share my primary findings and the next steps to improve your keyword rankings. In addition to the steps to take, I'll highlight significant SEO issues and step-by-step ways to fix the problem. Finally, I share case studies of previous SEO and PPC work at the end of the report business owners see the results of past projects.
Additionally, I also share a Free 7-day trial to SEMRush for you to review your website too. Feel free to use that free link to review your website before reaching out to me. Additionally, you can  review your competitors for 7 days as well with SEMRush.
What Does the Free SEO Analysis Report Look Like for Potential Clients?
The Free SEO Audit follows a similar template as these following reports underneath. Also, you may see a slightly different format for your report, but the substance and material remain the same. Finally, these reports below are only a sample, but I perform 3-4 audits each month for new clients.
Narvalo Clothing
Bart's Remodeling
Sparkly Maids
Sparkly Maids offers small business cleaning services to the Texas area. During the audit, I found that the SERP in Texas was up for grabs via proper keyword research and implementation. Within the report, you will see suggestions to update title tags, meta tags, content, and more to win in digital marketing.
Daily & Toups
Daily & Toups helps their clients with estate plans, elder law deals, and tax law programs. Within the SEO report, I came across a plethora of opportunities to improve their rankings in Google and Bing. Also, I came across technical errors on their site that's hurting their current performance.
Selini NY
A manual penalty was present on the website that was hurting the organic performance. Along with the manual penalty, I came across a plethora of keywords on page 2 of Google. Finally, I came across serious technical errors on the site that were inhibiting the site from ranking for more keywords.
International School of Boston
The International School of Boston faces stiff competition within the Greater Boston area to attract learners. During the audit, I saw plenty of opportunities to add missing words to specific pages on their site. In addition to the missing words, they had a few social signals that were inaccurate to fix.
Video SEO Audits
In addition to the SEO analysis, I record a video audit for the potential client. If they don't become a client, I publish the video on YouTube to help grow my presence on YouTube. Below is a video going over a report.
Below are some common elements that the Free SEO Analysis covers, Additionally, you can find your report will cover some of these topics, but not all. The Free SEO report may focus on a specific area on a site, but not another. As you can see below, your report can cover lots of areas of SEO.
301 redirected web pages and your robots.txt
redirect chains
blog post analysis
meta descriptions
page speed reports
load time reports
backlink checker
organic traffic summary
duplicate content
keyword rankings
external link building opportunities
broken links
technical issues
common SEO errors
anchor texts
status code
technical SEO best practices
a brief SEO strategy at the end of the report
And more
Frequently Asked Questions about Google SEO Audits
Getting a Free SEO report for your website can set you up for future success. Additionally, the audit will act as a blueprint for you and your team to review to make changes on your own. Also, the study is worth hundreds of dollars due to my tools and time, so you get everything for free. If a Free Analysis is an interest to your company, you can fill out the form on the contact page with the answers to these questions below.
Your website name and URL address
2-3 of direct competitors
The goal of the website
What a sale, lead, signup, or something else is worth for your business. 
Your level of SEO knowledge.
If you would like to grant me access to your Google Webmaster Tools (Google Search Console) and Google Analytics, you can do that too. Just mention you would like to to review these numbers so I can give you my email address.
Most reports take less than 24 hours to complete. Once the investigation is complete, I'll clean up the study and put everything into a PowerPoint. Next, I'll write up a summary email to you explaining my findings, a free trial to SEMRush, and my availability if I can work on your website.
Performing a free SEO audit is my way of communicating what I can provide to you and your business. Along with my findings, I lay out a clear and concise plan on what I'll be working on if I was your consultant. Finally, I like to challenge myself, so jumping into new niches and topics is attractive within the SEO field. Over the years, I've been fortunate to team up with amazing partners, so I thank consulting for this opportunity.
Conclusion
In conclusion, Free SEO audits benefit you and your company in numerous ways. You can find out significant errors on your site, your top keyword rankings, how your competitors rank against your site, and so much more. One thing to note is that this report is not a one time SEO audit tool for you to run once. Finally, you will have a clear path moving forward on how to drive more traffic to your website.
Testimonials