Sometimes getting an SEO Expert to help with your SEO strategy is all you need for success. In this one-hour screen share session, I'll audit your site using SEMrush and share opportunities for you to implement in real-time to improve your SEO campaign. You will receive a free seven-day link to SEMRush to use after the session so that you can apply my teachings for free after the call. I can help grow your website traffic with the best SEO practices that I will be showing you live.
How Do I Get Started?
Learning SEO is one of my most in-demand services I provide. In the hour we have together, I'll use SEMRush and give you free and personal advice on how to grow your traffic. At the end of the hour, you will get SEMrush for free to work on your site and all answers to your questions. Here is the outline below to give you more insight into the service.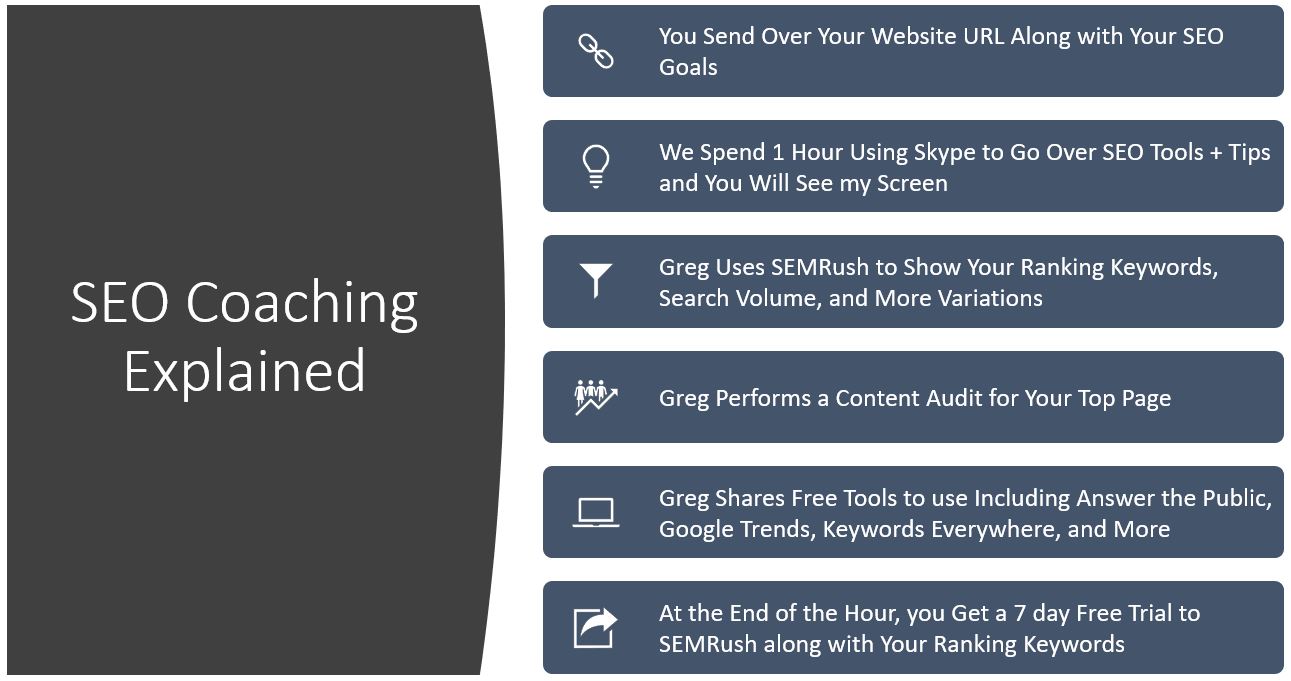 Example Video Session
The two videos below give a sample of how the SEO coaching sessions will go. I use SEMRush as my primary tool along with Screaming Frog to look for technical errors on the website. During the video, you can ask any questions you want since this session is about helping business owners learn SEO.
How Can This Help Me?
Hiring someone to work on your SEO may not be in your budget now, but you still know the value of improving your online presence in Google and Bing. This digital marketing session will teach you more than just the basics in ways to grow the website traffic of your site. The video SEO coaching session will act as a comprehensive SEO audit of your site where you can see how I use my SEO tools. The best part is that I give you my primary tool, SEMRush, for seven days for free so that you can replicate my process after the call.
Why Hire Greg?
I have been in the SEO field since 2011, so I have extensive knowledge in this field of work. I've worked as an in-house SEO, local SEO consultant, agency worker, and now own my SEO consulting local business in the Boston area. I conduct SEO training for small businesses at events I speak at in the Boston area. Helping others with their search engine optimization is something I take pride in, so I offer this service for people looking to learn this field of work.
What's the Price?
For the 1-hour screen share service, I charge $200. You will receive deep insight into on-site changes, keyword research, pay per click keywords, link building, content marketing ideas, and live access to the SEO tools that I use to perform this service. As an SEO consultant, my job is to help clients grow their internet marketing through organic search, so this service is ideal for people looking for a coaching program to help with their strategy. You will also receive SEMRush (SEO tool) to use for seven days for free which is a savings of $100.
100% Money Back Guaranteed
I'm so confident that this SEO course will teach you new tricks, strategies, and techniques to improve your online marketing with SEO that I offer a 100% money back guarantee on this session. I've been able to help countless individuals both in person and online with these sessions that I stand by the SEO course. If after the 1-hour session you felt let down or underwhelmed, I will refund you 100% with no questions asked.
How to Get Started?
To sign up, head to the contact page and put in "SEO Coaching" into the subject line. From there, we will find a time that works for both parities to set up the 1-hour session. I normally use Skype, but we can use your video service of choice if you would like to record the session.
What Others Say
If you would like to see my case studies, you can click on that link. In the case study section, you will see growth in keyword rankings, traffic, and revenue.