Sometimes getting an SEO Expert to help with your strategy is all you need for a few hours. Maybe your client went through a website migration, and their organic traffic went down and you don't know what to do next. Perhaps you plan on going through a site migration and want some extra advice on how to properly account for all SEO elements.  Finally, you maybe unable to budget for ongoing SEO for your small business, but you want someone to point you in the right direction. This SEO coaching is a low risk and medium to high return in value because you will get high-quality items to work on that will improve your SEO strategy.
My SEO Success Stories
For transparency, I like to share how TM Blast is performing in digital marketing. For 2018 vs. 2017, I was able to grow organic traffic by 170%. This increase in online marketing  traffic got me away from PPC ads which improved my operating margins immensely. Through organic search, I was able to bring in 308% more leads which helped make 2018 the most profitable year for my company.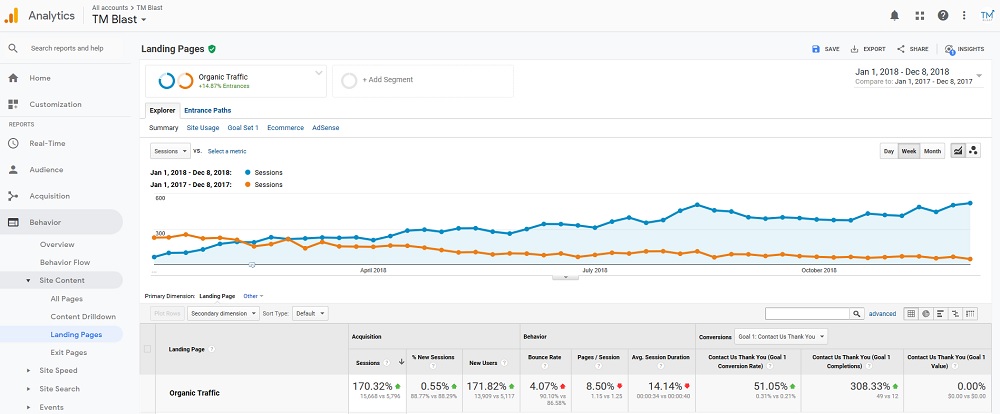 The second snapshot below deals with one of my clients. I've redacted their name and their keyword, but you can read more about their story on how I got them to position 1 in Google. Long story short, I've been able to increase their organic traffic and conversions through technical and on page SEO changes.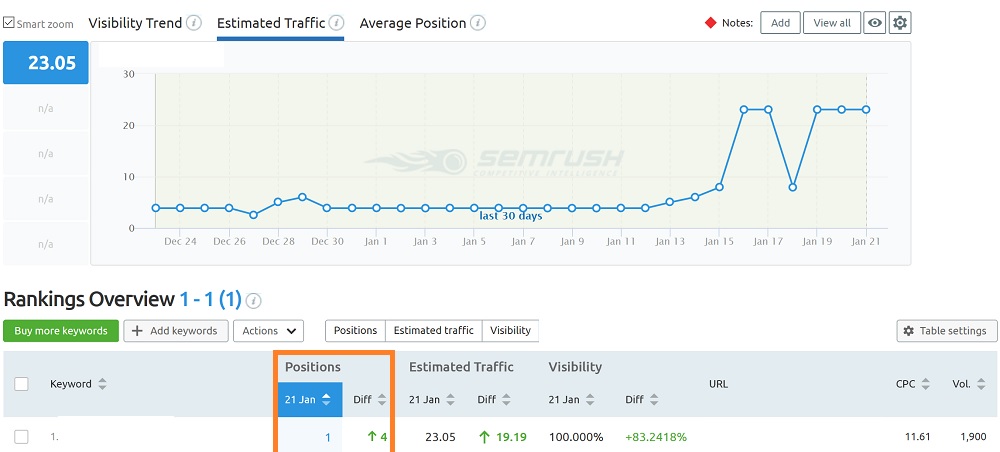 To learn more, you should head over to the case study section.
A Video Example of My Work
Here is a common issue I see within search engine optimization. You have a page on your website that is driving a lot of organic clicks, but it suddenly drops in Google's organic results. Here is my video where I share how I go about fixing this trend. This video should act as another visual on my thought process and how I go about my work.
What's Your Rate?
My hourly rate for these SEO training one-off projects in $200 an hour. Once I know the scope of the project, I can send over the estimate of hours it will take me to complete the project for you. Projects can range from running an in-depth audit for a few hours of a client's website on your behalf to building out the entire site migration strategy. If you can be as specific in your email to me on what you are looking for, I can better quote you on the one-off SEO coaching. If you are just looking for an SEO Audit only, you can check out that link.
What Type of Services Can You Provide with SEO Training?
There are many types of digital marketing services that I can provide. Whether you are a small business, a local business, or a large corporation, I treat you and your strategy the same. I can provide SEO audits, keyword research, local SEO, technical reviews, and more to improve your online presence in search engines. I can help go over strategy, plans, and offer on the spot advice for ideas. SEO consulting is my full-time job, so I work hard to be the best that I can be and deliver high-quality website traffic results for you and your business.
Why is SEO Coaching a Good Decision for My Business?
People who reach out to me sometimes don't require ongoing monthly SEO. One person reached out to me after a site migration which had all the right SEO elements but had a few significant technical restrictions that were limiting their potential. By spending a few hours documenting what these issues were and how to fix them, I was able to provide quick value without a long-term commitment.
SEO is my full-time job, so I have to be always at the top of my game. That means I have to stay abreast to all Google and Bing organic updates. I'm an avid reader of SEO blogs like Search Engine Land, SEO Roundtable, Search Engine Journal, Moz, and Experts on the Wire. I also speak at events in Cambridge, Massachusetts around SEO, so I have to keep my skills sharp.
What Tools Do I Use?
Another benefit is that I have all my SEO tools paid for already. As my client even for a handful of hours, your optimization receives the full SEO attention I give to my clients. The tools I use include both free and paid tools with the paid tools giving you a cost-effective way to improve your performance. On average, I spend around five hundred dollars on SEO tools each month, so a few hours of my attention already saves you money.
Can I Hire You for On Going SEO?
Yes, you can request for me to work on your account on an on-going basis. Potential clients typically reach out to me for either the SEO Audit, or simply to have me quote out a project for them. As an SEO consultant, I will be working on ways to improve your traffic while maintaining and or improving your conversion rate.