Would you like the ability to ask questions to an SEO expert and learn best practices too? Do you feel like your competitors are beating you in organic search and you can't figure out what to do differently? Are you unable to spend thousands of dollars each year on SEO tools? If these are questions you have asked yourself in the past, I have a service that can give the blueprint for success. I offer hourly SEO coaching and consultations via a screen share to directly address your questions and discuss strategy for your business. Before I get into the SEO coaching services, I would first like to display why SEO can be so valuable to your business.
How SEO Can Save Your Business Money
Organic traffic is a critical channel for TM Blast because more than half of all leads come through this channel. One of the most beautiful aspects of SEO is that the clicks that I drive to my website do not cost me anything. The picture above is from SEMrush that displays that my site is on pace to drive about 2.5 thousand organic visits to it in August 2018. The projected number of SEMrush changes daily, but the traffic cost is what I focus on always. If I had to pay to drive the quality SEO traffic to my site, I would have to spend over $13k for August, so SEO is saving TM Blast some serious money.
TM Blast stands for transparency in marketing with the word blast referring to how I deliver the information. With that being the case, I like to share some results of projects I have worked on in the past. You can always reference the case study section to learn more.
SEO Coaching Services
I offer three courses via the SEO Coaching, but you can choose how many you would like to take. Initially, I had one class for people to choose from, but I received feedback that the amount of knowledge crammed into one hour was hard to digest. Since I want you to take away a lot from the classes, I've broken up the sections in 1-hour increments below.
Keyword Research SEO Course (1 Hour)
Discovering the right keywords to go after for your website is a critical component of SEO. In this course, I'll share my favorite free and paid tools to help you find the perfect words to go after for your website. Some metrics that I look for keywords to target include search volume, competition, keyword difficulty, cost per click, and more. The 1-hour keyword research course works best when performing the research for your website and business.
Competition Analysis SEO Course (1 Hour)
In the competition analysis SEO course, I analyze your direct competitors live. Some aspects of this course include what keywords your competitors rank for, backlink opportunities for you to go after, and so much more. Some of the tools that I use during the 1-hour course include Screaming Frog and SEMrush. You will also learn how to track your performance directly against any competitor in SEMrush.
Technical SEO Course (1 Hour)
Understanding how SEO works from a technical aspect can be the game-changing element for your business to leapfrog the competition. Technical SEO may not seem as exciting as the other two courses, but it's similar to understanding how your car works from under the hood. The analogy I use for clients is to imagine you are running with an anchor strapped to your waist. The moment you take off the anchor (like fixing a technical restriction on your site), you will immediately take off. I've seen this within SEO where a relatively simple technical optimization drove more traffic and revenue to the business.
SEO Coaching Details
Each hour of SEO Coaching sessions is at $250.
You send the questions before the call so I will have time to review. I will spend about 1-2 hours analyzing your website and questions before the call.
Skype and Google Hangouts are what I use primarily to have the coaching sessions. You have the ability from your end to record our coaching session, but we will have to use your account as I only have the free version of these tools.
I own a few paid SEO tools so that I can run reports and analysis for you during the meeting. These tools include SEMRush, Screaming Frog, and more.
I am Google Analytics certified, so I can help analyze your data if you grant me read-only access.
Why is this a Good Option?
You might be asking if $250 for one hour is a lot. The truth is that you will leave this session with new knowledge about search engine optimization and a plan for you to implement to see results.  You also can record the meeting along with receiving my report after the call, so there is a lot of value in this session. At the end of the meeting, I give you takeaways for you to implement on your site, so there is a lot of value in just one hour. In fact, TM Blast has savings of over $13k each month due to the amount of organic traffic the website receives naturally.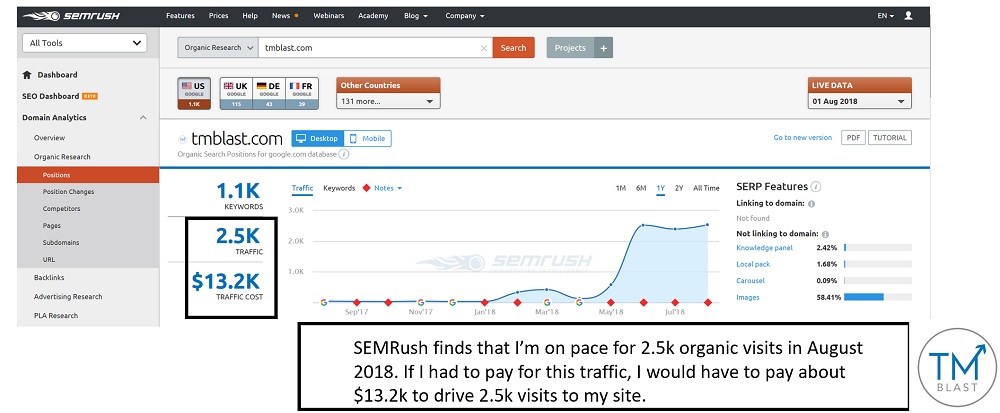 Running a successful SEO campaign can seem complicated and exhausting. In this one hour session, I share my screen with you and answer your questions directly. I can run a custom analysis using a plethora of SEO tools to help answer your questions. One of the main differences between this session and the Free SEO Audit is that this service can include competitor analysis while the free report will not. There is no long-term commitment with this, so this service is excellent to come up with a strategy for you to implement.
Google changes their algorithm all the time, so it's best to talk with someone who spends every day staying up on what Google is up to as well.
How to Sign Up?
If you would like to schedule time with me, you can head over to my contact section and fill out the form. Please put "SEO Coach" in the subject line and include what course/s you would be interested in taking. Include your website URL as well so I can take a look at the website along with the times that work best for you to chat!
I am a Boston SEO Expert that can help drive more organic traffic to your site!