Sometimes getting an SEO Expert to help with your SEO strategy is all you need for success. In this one-hour screen share session, I'll audit your site using SEMrush and share opportunities for you to implement in real-time to improve your SEO campaign. You will receive a free seven-day link to SEMRush to use after the session so that you can apply my teachings for free after the call. If you've been looking for the best way to learn SEO, or how to learn SEO with straight forward tactics,  you've come to the right place!
How Do I Get Started with the SEO Class?
Learning SEO is one of the most in-demand services I provide. In the hour we have together, I'll use SEMRush and give you actionable advice on how to grow your traffic to improve sales and leads. At the end of the hour, you will get SEMrush for free, so you can replicate your learning. Below is a summary of what the learn SEO sessions will cover.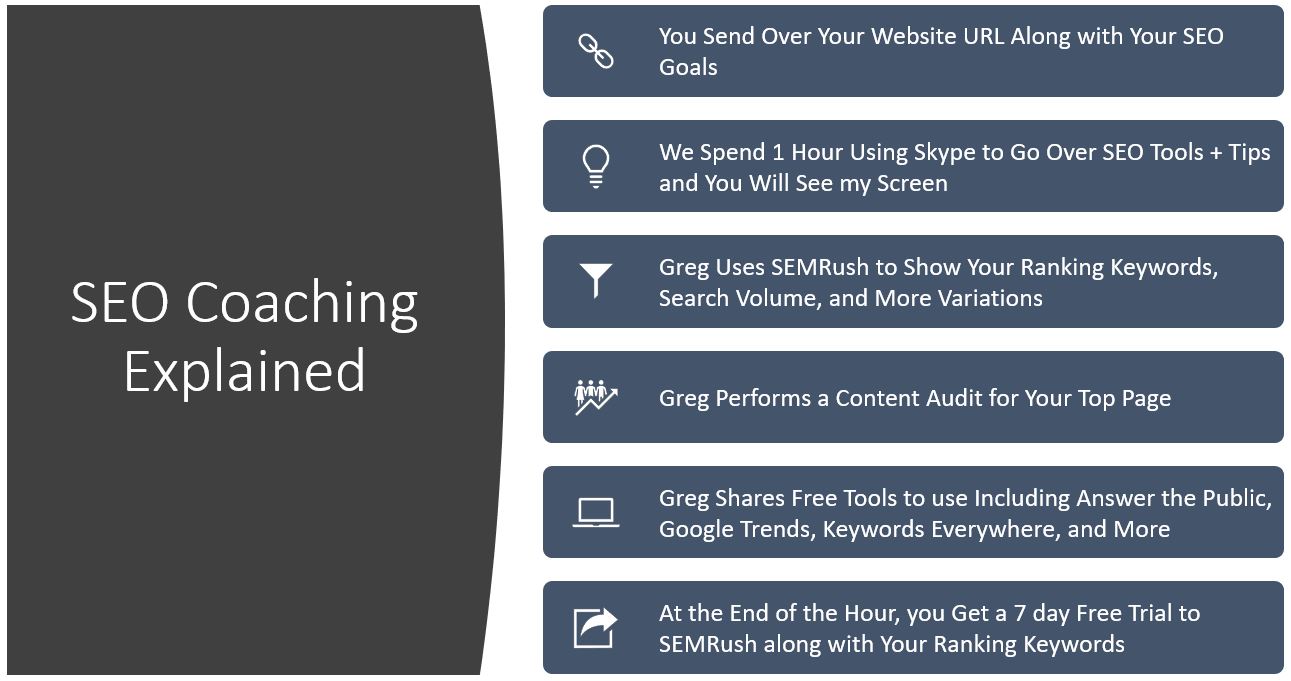 Example Video Session
Below are two videos that highlight what the SEO coaching session could cover for you and your business. In the first video, I cover how to find an SEO opportunity and how to use SEMRush to improve the content for Google. In the second video, I share the results of this content marketing strategy, so be sure to check out both videos!
How Can SEO Coaching Help Me?
Hiring someone to work on your SEO may not be in your budget, but you still know the value of improving your online presence in search engines. This digital marketing session will teach you not just the SEO basics, but real ways to grow your website traffic of your site. The personalized sessions will look at your most important pages, look for low-hanging fruit traffic opportunities, and discuss what you can do to grow your traffic and get more leads.
Why Hire Greg?
I have been in the SEO field since 2011, so I have extensive knowledge in this field of work. I've worked as an in-house SEO, local SEO consultant, agency worker, and now own my SEO consulting in Boston. You can find me speaking at a few events in Boston on a semi-regular basis, so I enjoy teaching others SEO. Below is a video of me speaking at Boston University about SEO and WordPress from 2019.
What's the Price?
For the 1-hour screen share service, I charge $200. You will receive deep insight into on-site changes, keyword research strategies, pay per click keywords, link building, content marketing ideas, and more. This service is ideal for people looking for a coaching program to help with their strategy. You will also receive SEMRush (SEO tool) to use for seven days for free which is a savings of $100.
100% Money Back Guaranteed
I'm so confident that this SEO course will help you that I offer a 100% money back guarantee on this session. I've been able to help countless individuals both in-person and online with these sessions, but I want their to be zero risk to you and your business. If after the 1-hour session you felt let down or underwhelmed, I will refund you 100% with no questions asked.
How to Get Started?
To sign up, head to the contact page and put in "SEO Coaching" into the subject line and submit your message with your website URL. Once I receive the email, we'll go times that work for both parties and secure a date on each other's calendar. I normally use Skype, but we can use your video service of choice if you would like to record the session.
What Others Say
If you would like to see my case studies, you can click on that link. In the case study section, you will see growth in keyword rankings, traffic, and revenue.