I regularly speak at SEO events in Boston, where I mention Google and Bing tips. People chuckle at the latter and stop writing down my suggestions until I get back to Google. For TM Blast in 2018, Bing (and Yahoo) made up a third of the organic traffic. I share this chart with the audience below, and people start to tune in.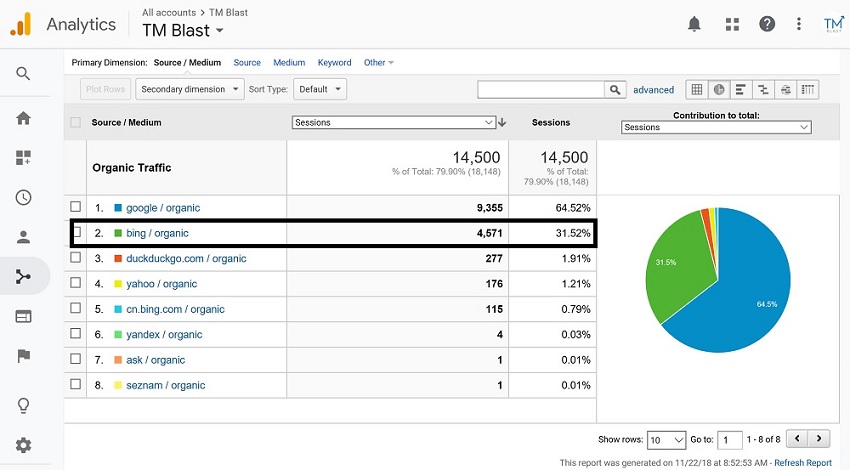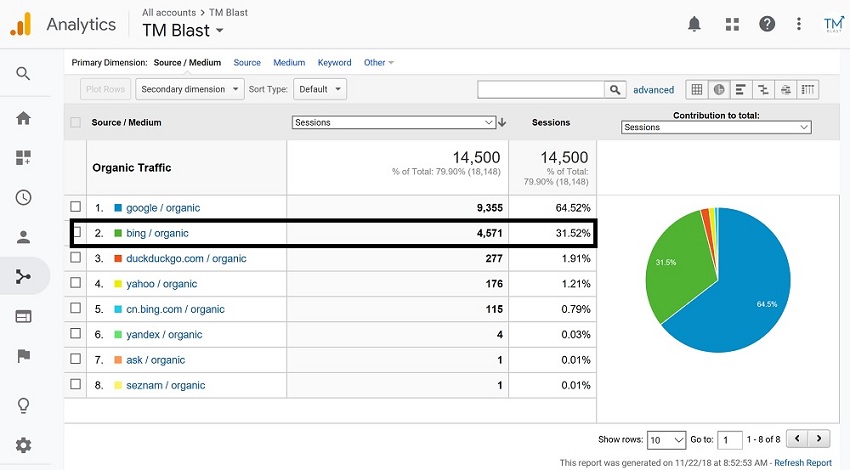 In 2019, I have a new website (The Stadium Reviews) where Bing and Yahoo make up over 60% of my traffic so far. Sure, my numbers are low, but they are increasing every month. Trends can, at times, be deceiving, but my approach is not, and neither are the results.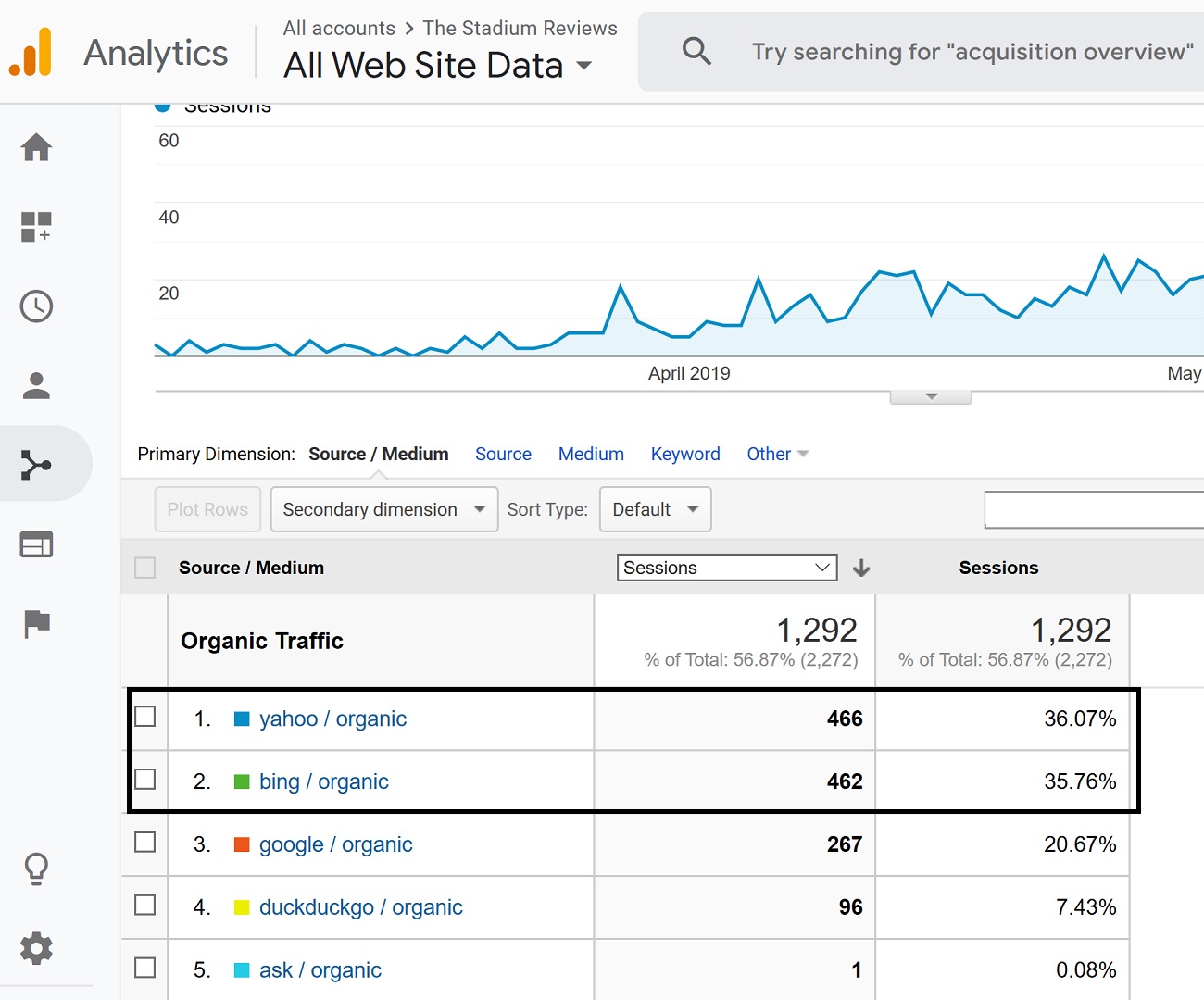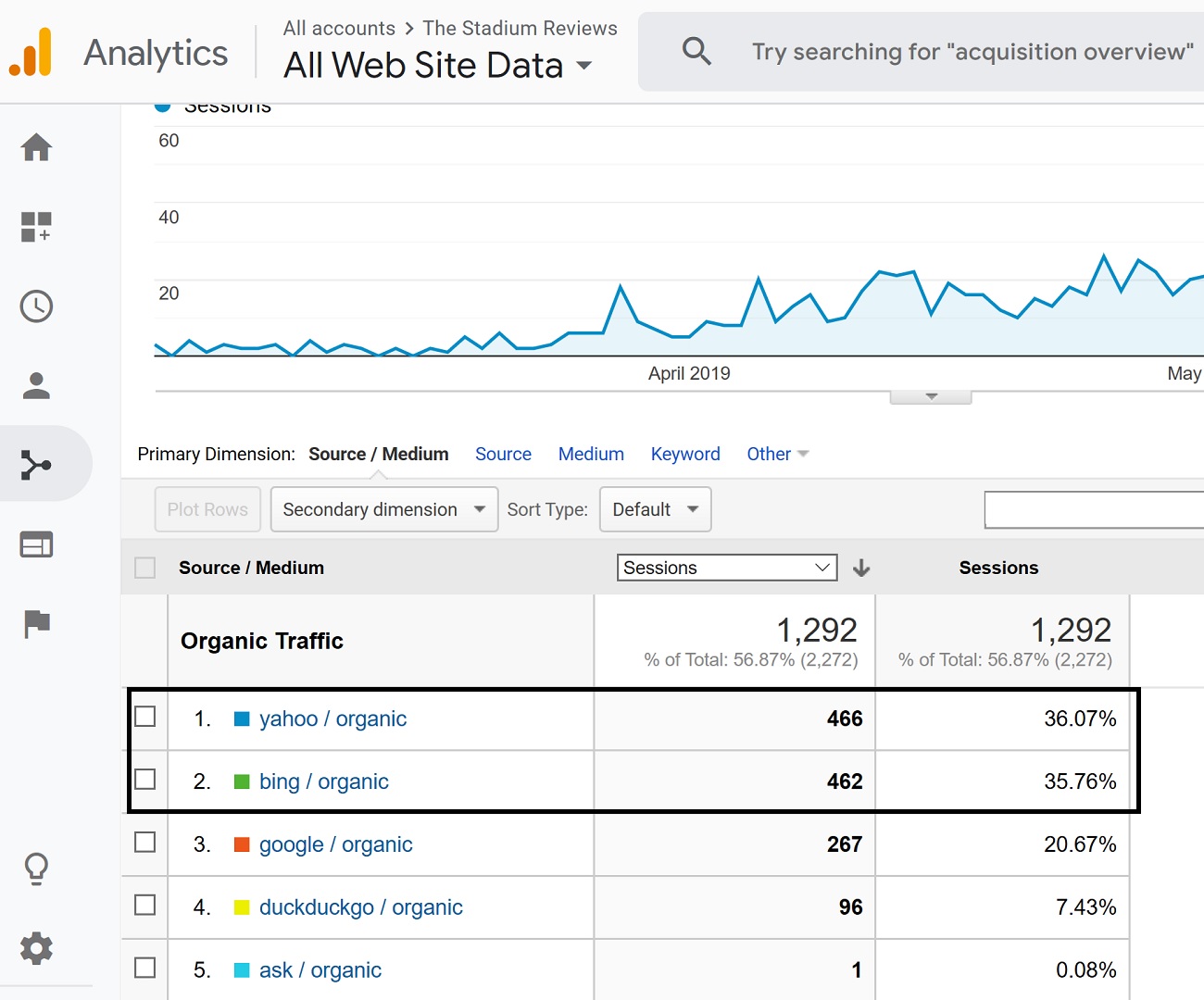 If you've been working on your SEO Services, but have not thought about Bing, I'm here to breakdown what I do to drive lots of traffic to my sites. I also offer a Free SEO Audit that can help discover these Bing SEO opportunities if you mention that within your request to me. In honor of Bing turning ten years old, I thought it would be great to highlight the opportunity for SEO's here.
Bing Webmaster Tools


Bing Webmaster Tools is the equivalent to Google Search Console, but the data is for Bing and Yahoo. What's so special about the tool you might ask? To start, you can take advantage of a few features I'll break down below in more detail.
Submit Your URL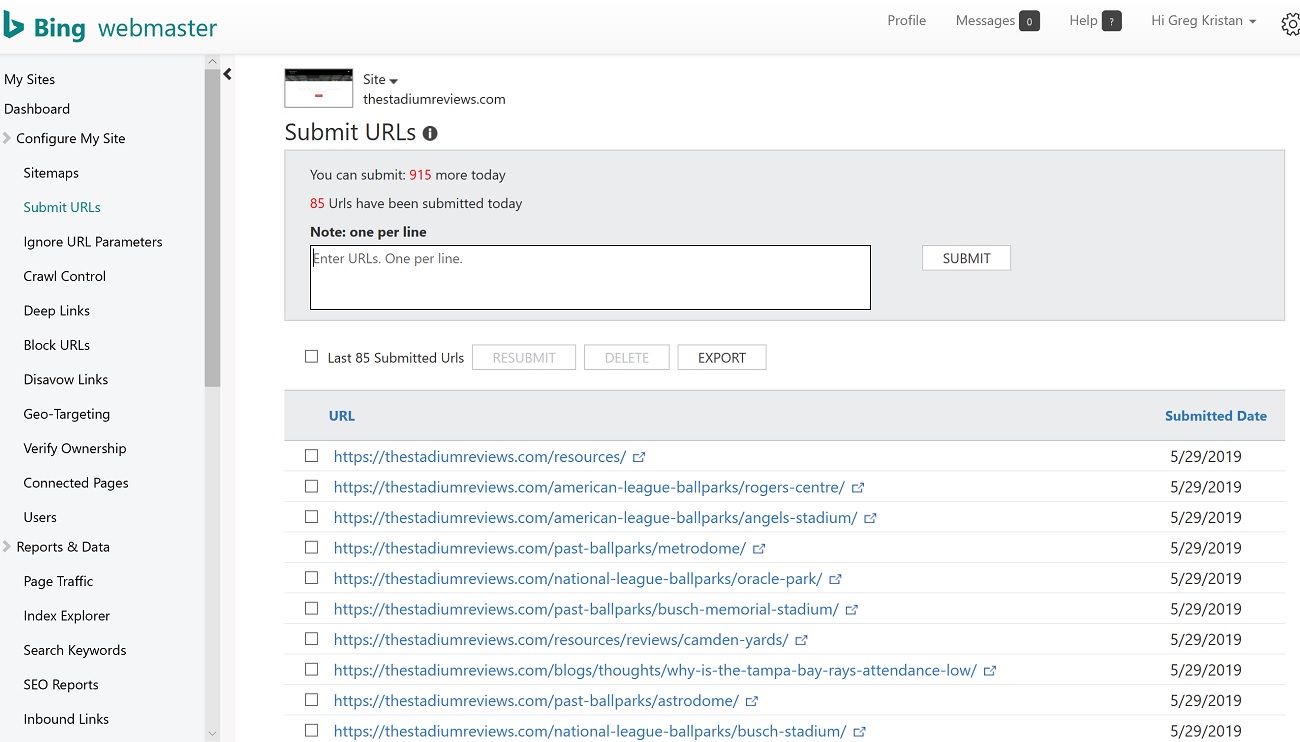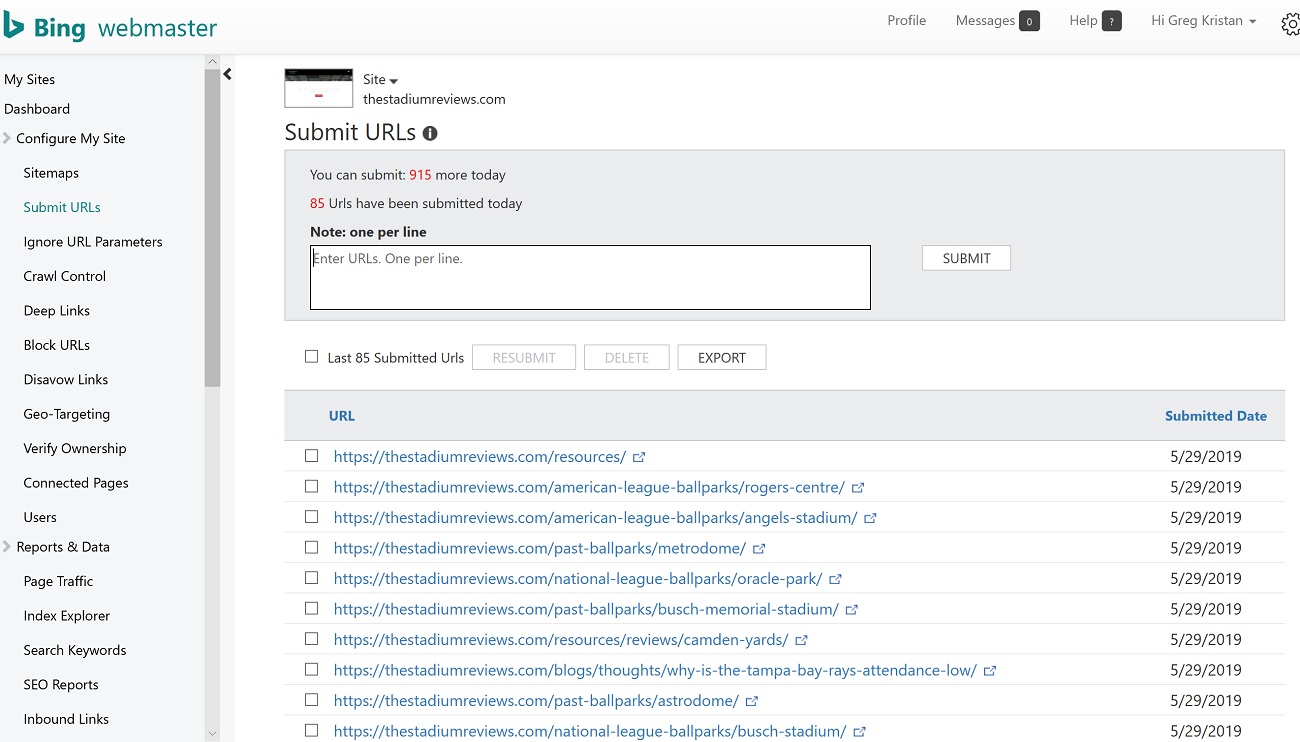 The new Google Search Console is slow when you submit URLs for indexing. Bing, on the other hand, allows mass submissions by the thousands with a single click. My suggestion is to crawl your site using Screaming Frog and export your pages from the page traffic report via Bing. Take both file formats, de-duplicate the results in Microsoft Excel, and then save the file as a notepad for a single upload to Bing.
Forcing Bing to crawl your content anticipates faster rankings and traffic. As a search engine crawls both new and old material, they can discover new keywords, links, and any additional element to consider via ranking your site in their results. If you are building internal links to these pages, you want Bing to discover these anchor texts as soon as possible.
Submit your XML Sitemap


Bing reviews your XML sitemap when they crawl your robots.txt file. To get the most out of Bing with the XML sitemap, you should optimize the data in these two ways. First, you want to have as many pages in the sitemap to give Bing the path to crawl the content. Second, you want to have a clean sitemap, so review any error pages that might live in the file. Here is a post that details how to clean up a dirty sitemap if you are looking for tips.
Bing Ads Intelligence (Keywords)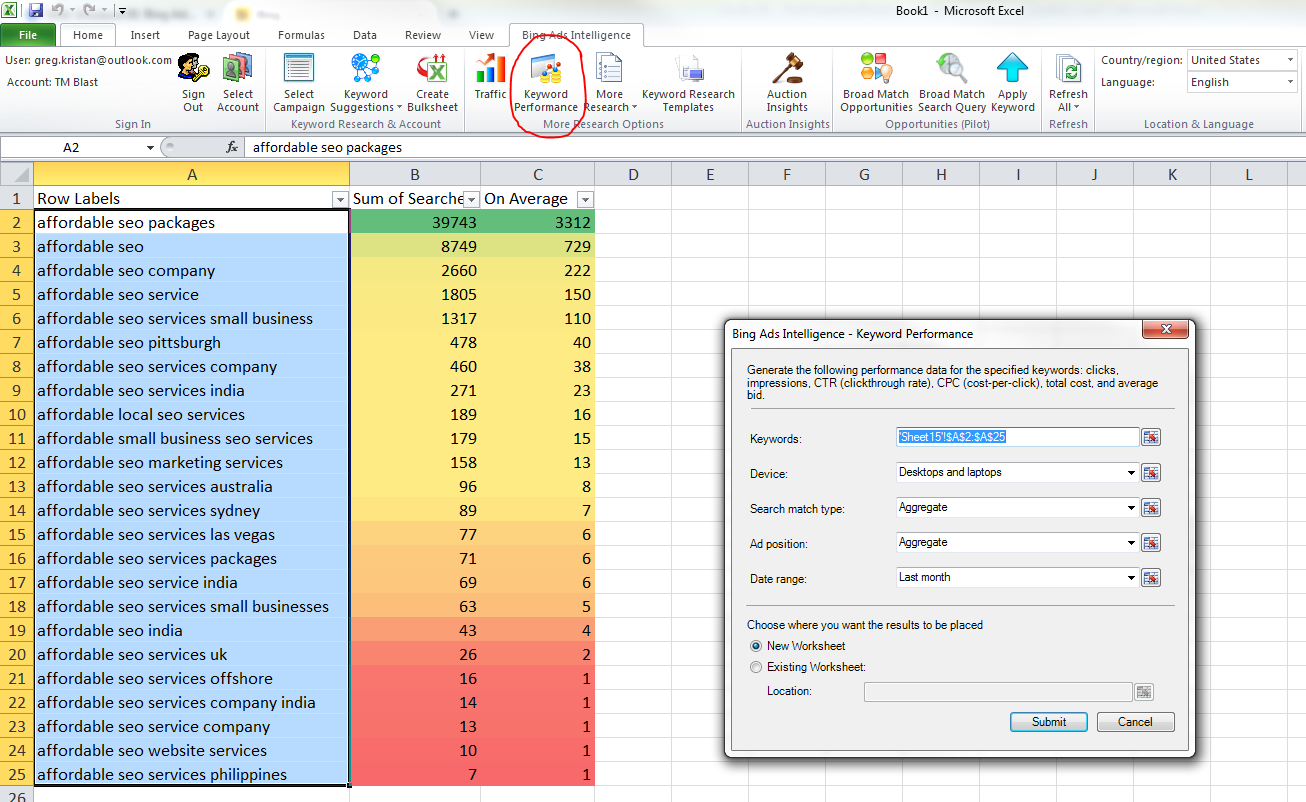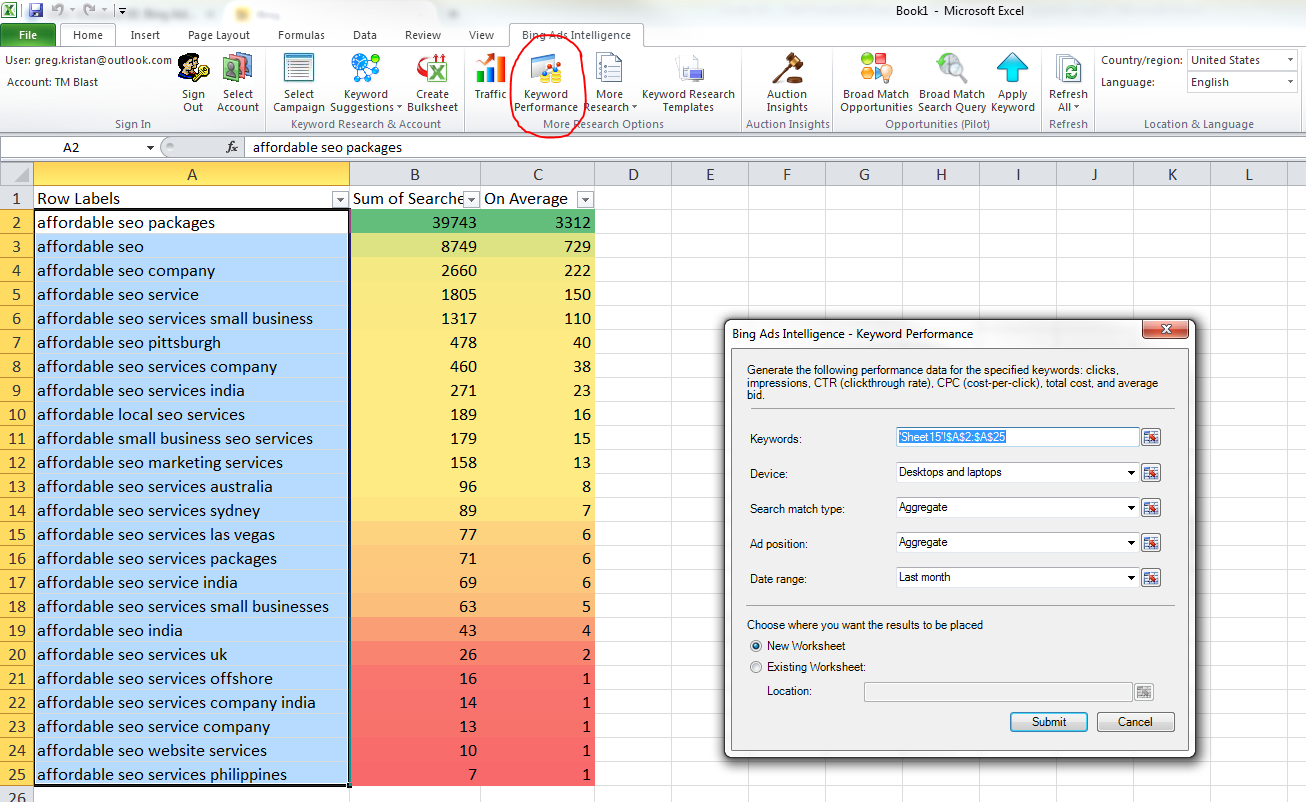 As a Bing Ads Accredited Professional, I'm familiar with Bing Ads Intelligence. Bing Ads Intelligence is a free Excel plugin that delivers Bing + Yahoo data directly into Excel. While most use this tool exclusively for PPC (pay-per-click), I like to use this as well for Bing SEO.
You can take a root keyword and run a report in Bing Ads Intelligence to see what additional keywords stem off the root phrase. People search, at times, differently on Bing then they do on Google, so you have to cast a wider net. By semantically infusing your content for Google and Bing keywords, you give the best chance to deliver more traffic from both search engines to your site.
Understanding Your Audience
Getting a third of my traffic to TM Blast and more to my other site, I can't say everyone will experience the same results. People should use Google Analytics along with Bing Ads Audience to see what your market might be. I've seen some verticals that get about 10% of their traffic from Bing and Yahoo while others can get 30%, so it depends at times on your field.
In Google Analytics, you can use the All Traffic report and click on organic search. Once clicking on that setting, you want to sort by the source. The source will list all the search engines that brought traffic to your site, so it's worthwhile to see how much traffic Bing and Yahoo drive to your site.
Use Bing Ads Audience to become familiar with your market and the results you can expect. One potential client I lost out on was a financial advisor out in Plymouth, Massachusetts. My strategy had a strong focus on Bing SEO since I saw their vertical had substantial Bing numbers, but they wanted to move in a different direction. You can use this tool to help pitch Bing PPC to your clients as well if you notice this trend too.
Conclusion
SEO should encompass more than Google. While I use SEMRush to track my keywords and strategy in Google, I still rely on Bing Webmaster Tools to drive additional traffic and scope other opportunities. If you've been looking for ways to increase your traffic, you should stop ignoring Bing.
If you did or did not know, Bing powers Yahoo's organic search. That is why I combine both search engines as one since the results are from Bing. Also, Bing has thousands of PPC and SEO partnerships as, so their reach is more significant than you think. Some of the partners include AOL, DuckDuckGo, MSN, and more.
If you are looking for a NY SEO Expert to grow your traffic, you've come to the right place. Request a Free SEO Audit or check out the Best SEO Affiliate Program on the web for additional services.