Boston Massachusetts is home to a lot of culture and history. You have places like The Boston Commons, the Charles River, Harvard University, Fenway Park, Bunker Hill Monument, Faneuil Hall, and more all around the city. TM Blast is proud to have it's search business in Cambridge, Massachusetts helping local businesses in MA grow with digital internet marketing.
SEO (search engine optimization) is the art of ranking a website for specific keywords in a search engine. SEO is the practice of creating an excellent experience for users and search bots when they visit your site. With over six billion searches per day between all search engines, you have an opportunity to drive some of those searches to your website. One of the best parts of SEO is that it will not cost an arm and a leg to compete. Where paid search varies on how much it costs to advertise your business for any given keyword, SEO depends on the level of competition that it would take to organically rank for a given term.
Did you know that over 85% of click activity goes to an organic listing? That is why ranking organically in Google is so important.
Here is a quick video that shows some of the tools I use for my website. This will give you an idea what I work on to improve a website's organic visibility.
Worcester and Boston SEO Services Include
One of the first things I perform is an SEO audit to get an idea how the website functions. I enjoy working with clients in and around Boston Massachusetts, so I can meet with you and your team to go over these technical findings. SEO success staggers mainly because of a technical issue that lives on the website, so you want to address them as soon as you can. If you are not near Boston or Worcester Massachusetts, I like to go over these findings over a screen share meeting so you can see and asks questions about what I find.
With the technical roadmap built, I begin optimizing critical pages on the website. Tuning these vital pages include performing keyword research to make sure we target the right terms for that page. I also believe that semantic SEO is essential for 2017 beyond, so I think of how people might discover a website like a voice query on Google or Cortana. If you have a content team in-house, I can work with them to expand a root keyword to include long tail versions in the form of blogs posts. I can then work on internally linking the blog content back to the main page to continue to pass SEO authority to your main target pages.
Competitor research is something that is part of the service. Reverse SEO engineering a competitor website using  SEMrush opens up so many unknown opportunities. Some of the things that I monitor are keyword content gaps, new links that a competitor has, and so much more. I own SEMrush, so there are no additional costs for you to receive reports from these services.
TM Blast Website Ranks
When it comes to organic search, I believe that I should also be working on this for my website. Here is a screenshot of TM Blast ranking in the map listings in Google and Bing for Boston SEO consulting. This took a few months for me to achieve, so I like to show clients results that I am seeing with my SEO company.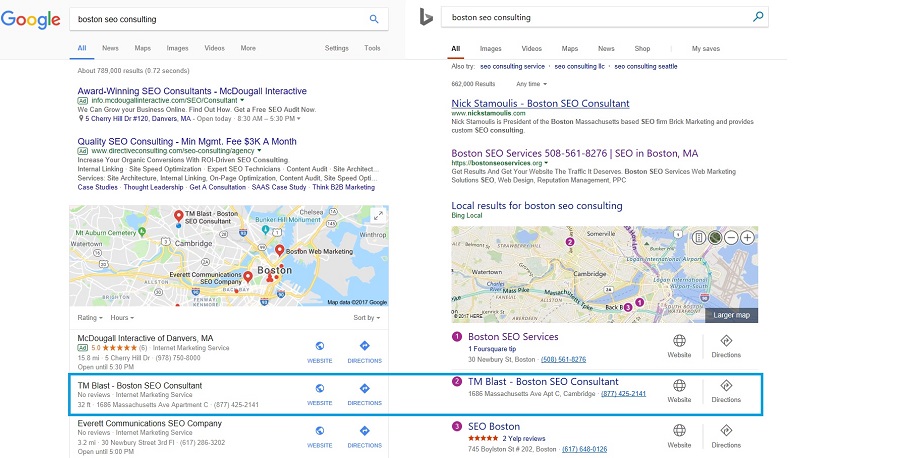 Like any online marketing strategy, I track my website ranks using SEMRush to see how my approach is going. I review my reports daily to make sure everything is working correctly. I document all of my changes to keep track of all of my work and learn what is and is not working. Below is a sample of the search engine rankings that I have for my business. I like to show this off because I don't rank on page one for all of the non-brand terms I want, but online marketing is the long game and results like this will pay off down the road.

Backlink Building for SEO
Backlinks are essential when it comes to having SEO success, so I also work on that. Building backlinks are less about submitting your website to a random directory but finding quality places that will compliment their audience when they visit your website. If I work with your content team, I can scout out link opportunities for the new blog content that the team is creating. Building strong links to a blog post will help improve your overall domain score which is one of many rank factors for Google and Bing.
Here is a screenshot from Google Analytics that shows how referral sites make up almost 20% of all revenue to the website. That 20% of income came from finding and building the right backlinks back to the website.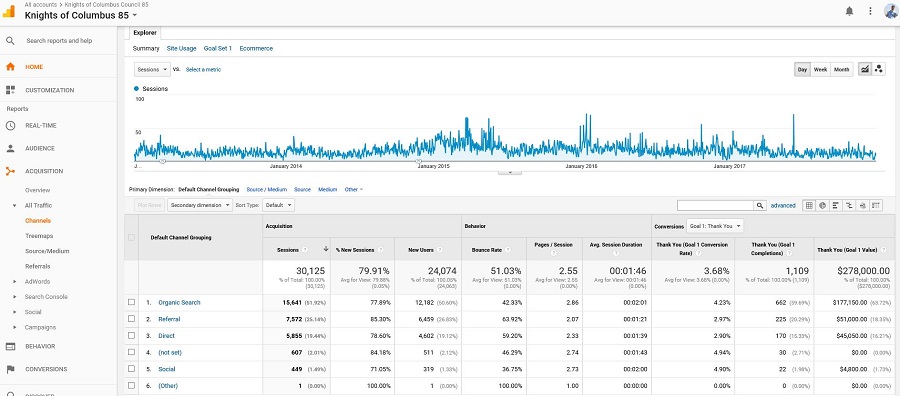 Log File Analysis Optimization
Log file analysis means analyzing what pages Google and Bing visit when they crawl your website. Reviewing logs is something a lot of other SEO's don't perform for their clients. I take a weekly view of your record to make sure Google and Bing have no issues with your site. What you can find with the logs if there are any errors on the website that are restricting Google and Bing from understanding a website. Cleaning up these mistakes results in a clear crawl and thus better keyword rankings. The tool that I use for this is Screaming Frog Log File Analysis. 
If you want to learn more about this, I wrote how to use log files for SEO here. Here is a presentation that shows how log file analysis can help your digital marketing strategy.
SEO Success Case Studies
I took over the SEO efforts for Clarks USA around September 2016. As you can see below, Clarks USA is now experiencing the most organic visibility for the website.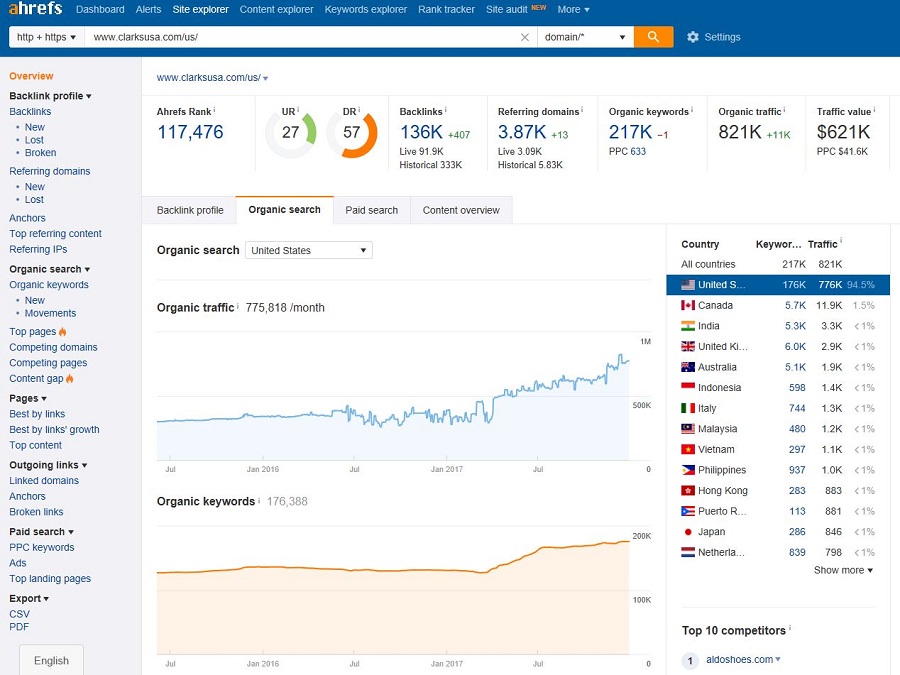 Conclusion
2017 was quite a year for Google and Bing regarding SERP changes. Algorithm updates change the way SEO consultants work, so we have to be up to date with all revisions. Some of the significant changes to Google in 2017 was them moving towards a mobile-first index. For Bing, we saw them give more emphasis to a clean sitemap when their bots visit your website. I like to stay up to date with both search engines by reading from places like Search Engine Land, Marketing Land, SEO Roundtable, Moz, and more.
At TM Blast, I run the company exclusively by myself. That means I handle the entire SEO strategy and will be the one making the changes on your website. When you hire me, I won't pass along the work to an intern or someone across the ocean. All of the research, the implementation, the phone calls, and more will be done by myself. If I am not best for the job, I will recommend you to somebody else. I will only take on your project if I think I can be successful for you.