Pay per click consulting (PPC consulting) manages campaigns in search engines to deliver a positive ROI for your business. When taking on paid search clients, TM Blast will discuss your goals with pay per click marketing and what is and is not working. Some reasons to outsource your PPC include having someone watch your spend daily, create new tests, and implement the best practices for long term success.
What are the PPC Ads?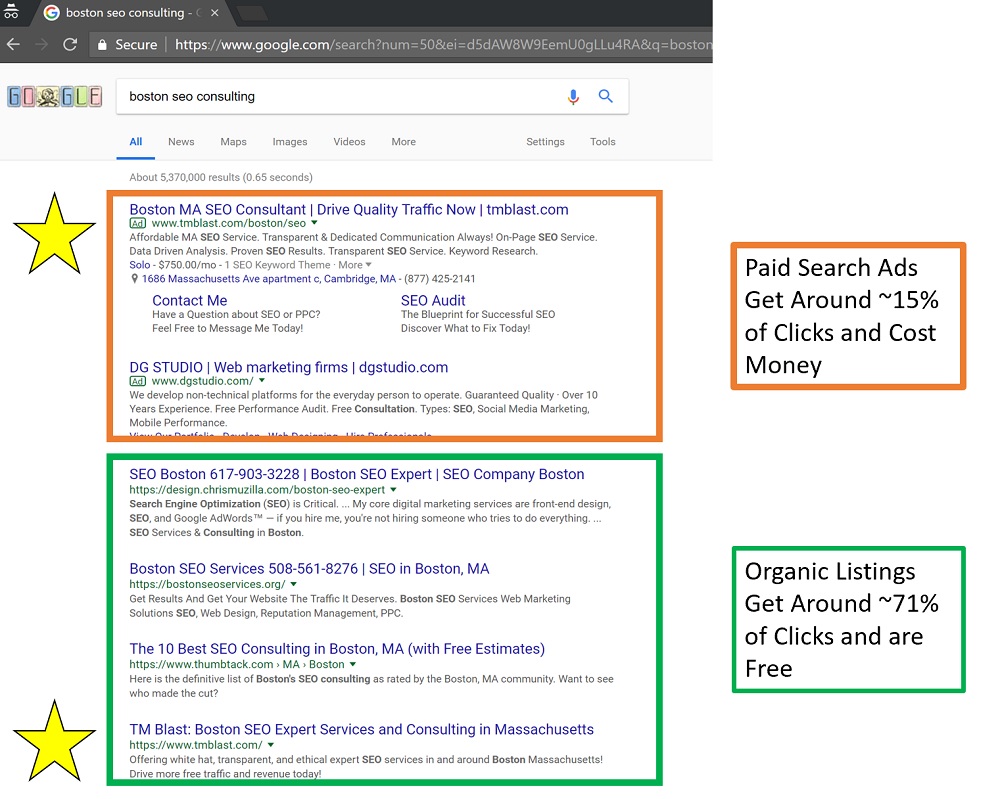 In Google, you will typically find up to four text ads at the top of most searches. The up to four listings at the top of Google are paid search results which advertisers pay when someone clicks on their listing. Prices depend on your vertical, but a show company can spend $.50 on a click while a lawyer can expect to pay over $100 for a click. The cost-per-click comes down to margins and what a lead or conversion is worth for your business.
Google PPC Management
TM Blast works with Google AdWords via PPC marketing management. TM Blast will build and test different Google ads text, keywords, landing pages, and more to deliver a more profitable ROAS and CPA for your account. In addition to adding more Google elements to your account, TM Blast will stay up to date on the latest trends and opportunities.
Bing PPC Management
TM Blast can create a Bing Ads account for you and your team if one is not present in your online marketing strategy. If you have a current Bing account, Greg can help your PPC advertising campaigns grow in this search engine. Greg spent time at Microsoft Bing Ads and has two case studies from Bing with consulting.
Case Studies
Greg has two case studies when it comes to Bing Ads. The first case study came from Grasshopper while the second case study came from Clarks. One case study was for a successful migration from Google while the second was in the syndicated network.
Outside of those two case studies, I have two current clients where I manage their PPC accounts. Both clients had issues with spending too much money on irrelevant clicks, so I built everything from scratch. On a daily basis, I monitor spend, review keywords, ad copy, and more. You will get a monthly report that recaps everything that I did along with trends and conversions.
What's the Price?
PPC consulting services will depend on how many hours you and your team will allocate per month. Since PPC consulting is daily, you can expect to pay for 15-20 hours of work at a minimum. The hourly rate is $100 for PPC consulting. You can also get SEO Consulting in addition to SEM marketing for your business.