When you advertise your products or services on Google, you are willing to spend money to make money. If you are looking for someone to create your first ad campaign on Google, you have come to the right place. I offer this service to B2B, B2C, non-profits, and local businesses looking to build an immediate presence in Google. If you would like to see the entire process, you can check out how to create a Google AdWords account here. If you have an interest in running SEO Services as well, you can do both!
What are the PPC Ads?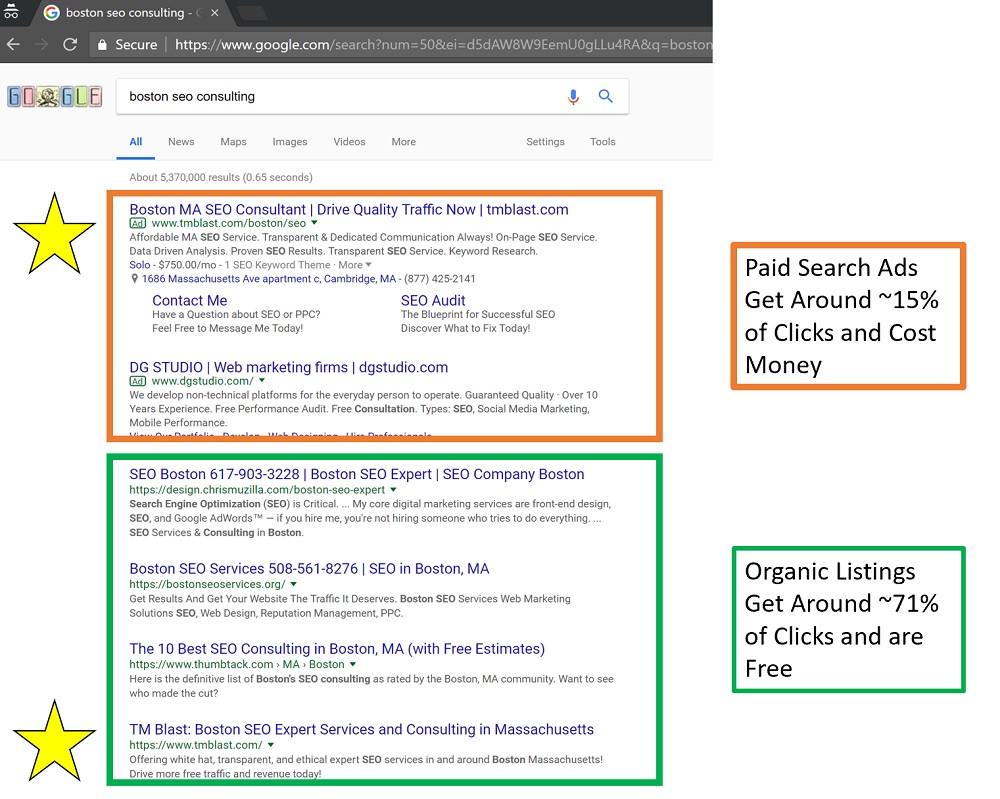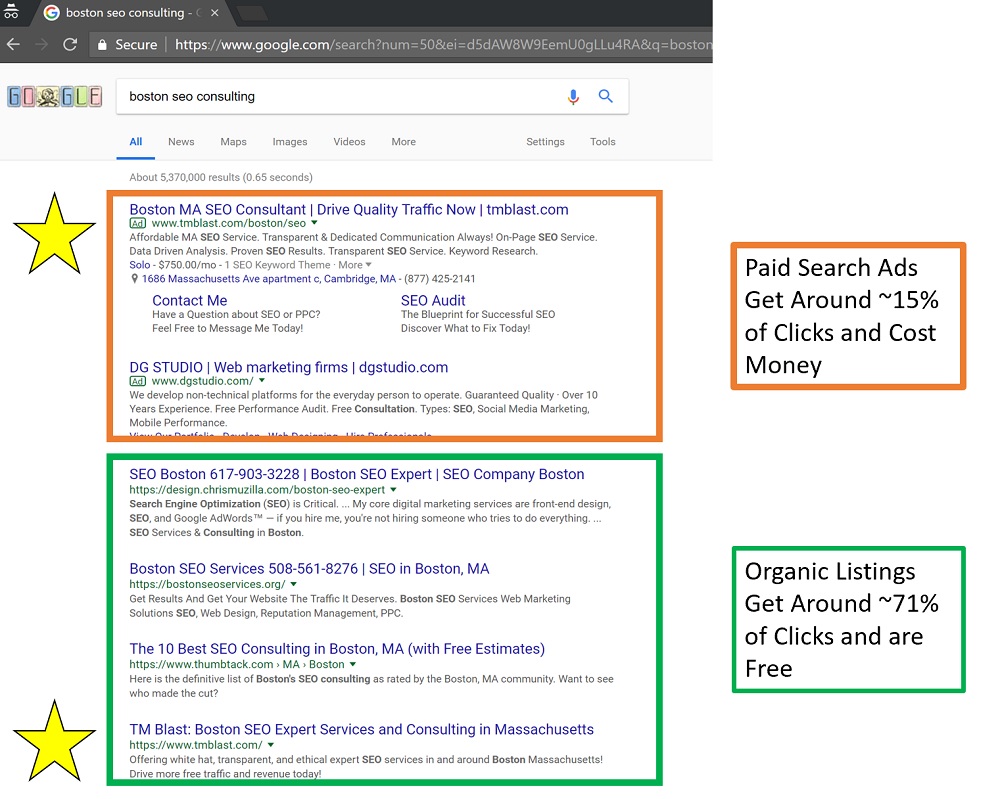 In Google, you will typically find up to four text ads at the top of most searches. The up to four listings at the top of Google are paid search results which advertisers pay when someone clicks on their listing. Prices depend on your vertical, but a show company can spend $.50 on a click while a lawyer can expect to pay over $100 for a click. The cost-per-click comes down to margins and what a lead or conversion is worth for your business.
What are My Credentials / Case Studies?
TM Blast been in the SEO Services space since 2011, but I have a few years of PPC experience. I was at Microsoft Bing Ads for a bit as a contractor, so I'm familiar with Bing. I was at Clarks Shoes as a PPC Analyst working on Google AdWords, Bing Ads, and Yahoo Gemini daily. Microsoft wrote a case study of our performance with their search engine. You can read about that case study if you are curious.
For TM Blast clients, I re-built a client's account structure for his dance studio. The client's account spend was out of control for a few reasons. Their ads were showing in Google for the wrong terms, in the wrong places, at the wrong times. After building their new account, we had a coaching session to show how to manage their account properly moving forward.
Outside of that client, I have two current clients where I manage their PPC accounts. Both clients had issues with spending too much money on irrelevant clicks, so I built everything from scratch. On a daily basis, I monitor spend, review keywords, ad copy, and more. You will get a monthly report that recaps everything that I did along with trends and conversions.
What if I Have an Existing Google Ads Account?
TM Blast can audit your existing ad campaign to review the performance via spend and conversions. Part of the review will analyze the campaigns, ad groups, keyword lists, quality scores, ad text, landing page, negative keywords, and more. TM Blast will review your spend and also review your performance via Google Analytics if you permit me.
Chances are the recommendation would be to build a new structure for a few reasons. The first reason is that a proper structure in AdWords will save you money down the road. There won't be any surprises via unnecessary spend, poor keywords, broken links, misspellings in the ad text, and more. Some clients have mistakes in their account that are deep in their account, so spotting the errors can be difficult, so it's sometimes best to start fresh.
What If I'm Not an Existing PPC Advertiser?
If you currently don't advertise on Google, Greg will help you create an account in AdWords with your email address. Greg will work with you on the keywords and the cost-per-click you can expect to pay when the ads go live. As the advertiser, you will have to add your credit card into AdWords to have the account ready for new campaigns, ad groups, and keywords.
How Do I (TM Blast), Start Working on Your Account?
Before any new campaigns are built-in Google, TM Blast will go over target keywords with you to make sure we are on the same page. Greg will share the average cost per click we should expect to compete in Google AdWords, so everyone is on the same page. With the approval of the keywords, you will add TM Blast's gmail account to your dashboard so I can being working.
Timeline to Set up Your First Campaign
You can expect about 1-2 weeks from the initial contract start, phone call/email meetings about the keywords, and Greg building your account to go live.
What Can I Expect?
If you have an existing Google account, you can expect a lower-cost-per-click moving forward for your account for a few reasons. First, TM Blast will remove unnecessary keywords that are driving up your spend while making sure your ads show up in the right regions. Second, you will have a stronger quality score rating because the proper structure will tie the keywords, ad copy, and landing page closely together. A high-quality score means you pay less than a competitor bidding on the same keyword.
If you did not have an existing campaign, you could expect something slightly different. First, you will be seen for the first time in Google, but time will need to pass for Google to build confidence in your ads. You may see your ad listings towards the bottom of Google for a few days/weeks as Google starts building intelligence on your account. As time goes by, you can expect your listings to be in the Google PPC advertiser auction more often which will drive more clicks to your website.
What Type of Keywords do I Build?
I break out everything into two primary keyword groups for your account. The split is with brand and non-brand keywords. Splitting the keywords at the top will give your account more control on where your spend should go to.
Brand keywords include your name while non-brand keywords won't. Chances are you have advertisers bidding on your brand name in Google, so you have to get an ad their to control the market place. The non-brand keywords exposure you to a new audience that may not be familiar with your brand, but need your service.
After the split between brand and non-brand, I create exact and broad match modifier keywords. Exact keywords show up when someone performs that exact search in Google. Broad match modifier gives your account more exposure while keeping the quality high. For example, you  want to show up for a keyword like ballet dance class kids. Building the exact match of this word makes you appear when someone performs this search. Someone searching for best ballet dance classes for my kids, your ad will appear because of the broad match modifier.
What about Bing Ads?
If you have an interest in moving your AdWords account into Bing, Greg can help with that. There are a few settings that need updating in Bing when you carry everything over. Some critical items include applying UTM tracking to every URL, changing targeting settings, and opting in or out of the partner network.
What's the Price for this Service?
For auditing, building, and uploading a new AdWords account, I charge by the hour. My hourly rate for creating a Google Ads Account comes out to $100 an hour. Typically, I will need 10 hours to build everything for a site that has a few services. The dance client had about 8 different services including tap, hip hop, jazz, ballet, and more. Each of these individual services took about 1 hour to build properly in Google.