Dentist SEO Services in Boston Massachusetts
Massachusetts is home to iconic landmarks like The Freedom Trail, The Commons, Fenway Park, and so much more. Your dentist business offers top-notch services, but you struggle to drive new customers who search online. That is where dentist SEO comes into play. Showing up for relevant terms like dentist near me, teeth cleaning service, cavity filling service, and more will drive quality traffic to your website and physical location.
If you would like to drive more revenue through your website, I am a Boston SEO who can help get you there.
Google and Bing Map Optimization
Map optimization is critical for successful local internet marketing. Ranking your dentist website in a map listing does not cost any money, so you want to take advantage of this. Here is some insight into what I work on for Google and Bing map search.
Creating a Google my Business and Bing Places Account if one does not exist
Making sure NAP are consistent (Name, Address, Phone Number) across Google and Bing
Optimizing the account for non-brand terms like "dentist near me"
Updating pictures and promotional posts when necessary
And More!
When it comes to mapping optimization, I like to showcase my own business as the prime example. I can have my website show up for many non-brand terms in Google and Bing like this one below. This example below takes a term  and shows my map listing since it relevant for local search.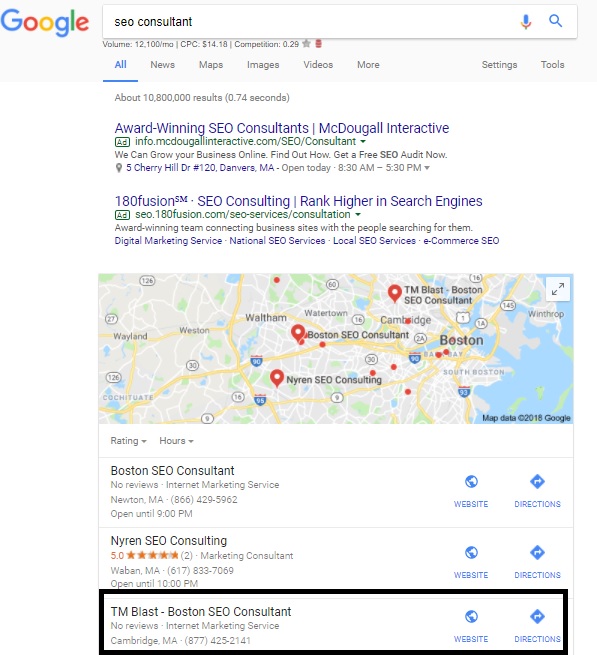 Relevant Backlink Building
Backlinks are essential if you want to have success in SEO. Don't be fooled by other sites saying they can build you hundreds of relevant links each month. For the sake of transparency, I want to show the types of backlinks I would build for your website. Moz created this fantastic section called citations by category that will show you the top local listings your vertical should go after.
I took this from the slide presentation below, but this is a glimpse into my backlink strategy. Listing your business on relevant third party site that will drive referral traffic to your website. The goal is to increase your referral traffic by placing your business on websites that get a lot of visitors and compliment your services.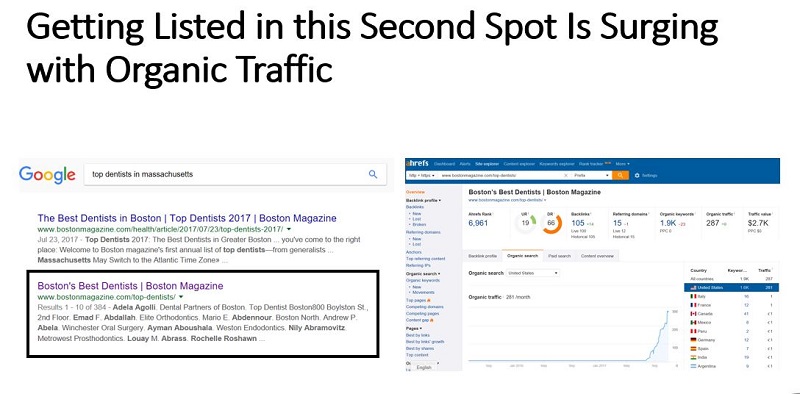 Keyword Research
A successful digital marketing strategy must include keyword research. I break out critical categories in separate buckets (themes) so I know what I should be working on to optimize for Google and Bing search. Here is an example of some keywords that I would bucket in themes to expand a website's reach for relevant terms.

Some tools that I use include Google Search Console, Bing Webmaster Tools, AHREFS, SEMRush, Google Trends, and more. There is no extra cost to you to have me use these tools for your account. I broke down the price of here if you want to check that out.
Insight into How I Conduct SEO Services for Dentist Professionals
Working on search engine optimization strategies for dentists in Worcester and Boston requires a lot of work. This presentation is a glimpse into what I would do for your dental practice, so ask any questions!