Imagine running a small dentistry business in Boston, Massachusetts. Your skills in the dentistry field are top notch, but you struggle to get your business name out there online. One of the most cost-effective ways to achieve exposure for your business is through local search engine optimization. 
Before I go into what I provide,  I would like to share a presentation on how a business can benefit from digital marketing.
How Long Does it Take to See Local SEO Results
If you are new to SEO, you might be unsure how long it takes to see results. Typically speaking, you won't see results overnight no matter what is worked on. However, I believe that if you take the right steps in SEO, you should start to see results materialize over time. To showcase this, I recorded a video showing what I did for my site and how results came in after many months of work.
Service Includes
When it comes to this service, I provide custom local SEO strategies that are specific to your business needs. Below are sample marketing strategies that I provide.
The first thing I work on for local Boston SEO is reviewing your online citations. I make sure you have correct citations in places like Yelp, Foursquare, Google, Bing, Facebook, Yellow Pages, and more. It's about making sure your address and business phone number, hours, and more are identical across the web. The more local listing signals you can give Google's algorithm about your business, you will have better results. As an added bonus, you can start receiving referral traffic as well from these places. Depending on your niche field, I can review any local directories that make sense to have your business appear on.
Second, I will reverse SEO engineer the competition. As a local SEO consultant, I like to break out the keyword themes into buckets for my clients. Let's take that dentist scenario at the top and play with it for a moment. I might have a client that wants to drive more organic traffic to their website, but they only believe that their focus should be on the term dentist. By creating a chart like this below, I can expand the root term of dentist and build a strategy around more themes that are relevant to their business.

The third area that I work on is landing page optimization. Landing page optimization is critical to having success when visitors land on page from Google. Part of my job is to analyze your data from Google Analytics to make sure we are optimizing your website to have people get in contact with you.
The fourth area that I focus on pertains to Google and Bing maps for search results. Map search results is critical for local SEO success, so I broke this out into it's own section.
Google Maps and Bing Map SEO Optimization
Google my Business listing along with Bing Places for Businesses are an absolute must for local search. Submitting a regional business listing on Google and Bing won't be good enough to rank high though. Instead, I work on optimizing those listings  to show up at the top for many relevant search terms. Some of my strategies include optimizing the title, the description, adding pictures, creating promotion posts, and much more. There are a plethora or local search rankings that come into focus which I can go over with you on the phone as well.
I've been working on TM Blast to rank at the top for specific Boston local SEO terms for a few months now. It takes a lot of time, but I can now show that local search results have my business listed for search marketing searches.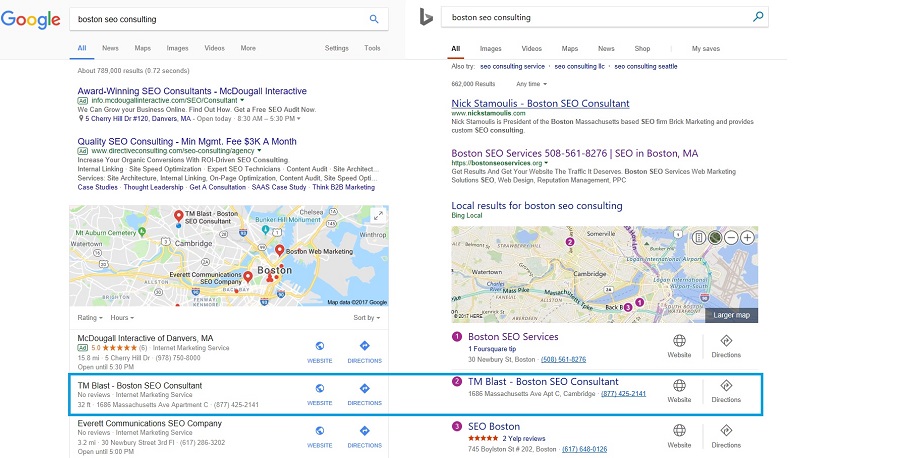 Conclusion
I provide affordable local SEO services to clients in and around Boston Massachusetts. Working with clients in and around Massachusetts allows me to meet face to face with you. I want to have that personal connection with you, so I prefer to stay local if possible. TM Blast is in Cambridge, so it is a short T ride to Boston, Brighton, Dorchester, and Worcester if I need to visit someone.
If you are not located in Massachusetts, I still would like to work with you. I ask to have regular screen share meetings or phone calls so everyone can stay in connection with what I am working on for the website.
If signing up for a long term contract is not in the budget, I provide 1 hour SEO consulting services to talk strategy with you and your team.