Take 25% Off First Month. Offer Good Through February 22nd, 2018. Use code SAVE25 in the subject line or body message.
SEO Tools Included in Monthly Invoices
Keyword Tracking –> SEMRush ($200 per month)
Backlink Tracking –> Ahrefs ($99 per month)
Crawl + Log –> Screaming Frog ($30 per month)
These four tools above come out to around $330 dollars each month. I like to show this off because these tools help me develop successful SEO plans for clients. I choose to lump these costs into the monthly amount because this is a way for myself to provide great results for your website and business.
Hourly Rate or By Project?
I am moving away from a standard hourly rate for a few reasons. I want your account to be successful, so I don't like to talk about quanity of hours as the benchmark to a plan. That was why I broke out the tasks by keyword themes each month to give you a realistic review on what I would spend my time focusing on. For example, if you are a local realtor business, I would work on building out the apartment category theme for the given area you want to show up in. 
How Long Until I See Results?
I would recommend a FREE SEO AUDIT of your website so I can get an idea on what I would be working against. The competition and the quality of the website are important factors for me in giving a realistic guideline. I would say as a safe example, you can expect to see results in between months three and six if you have a mobile responsive website in a low to medium niche field.
In terms of transparency, I like to show how many months it has taken my own business to organically rank for the target terms that I want to go after.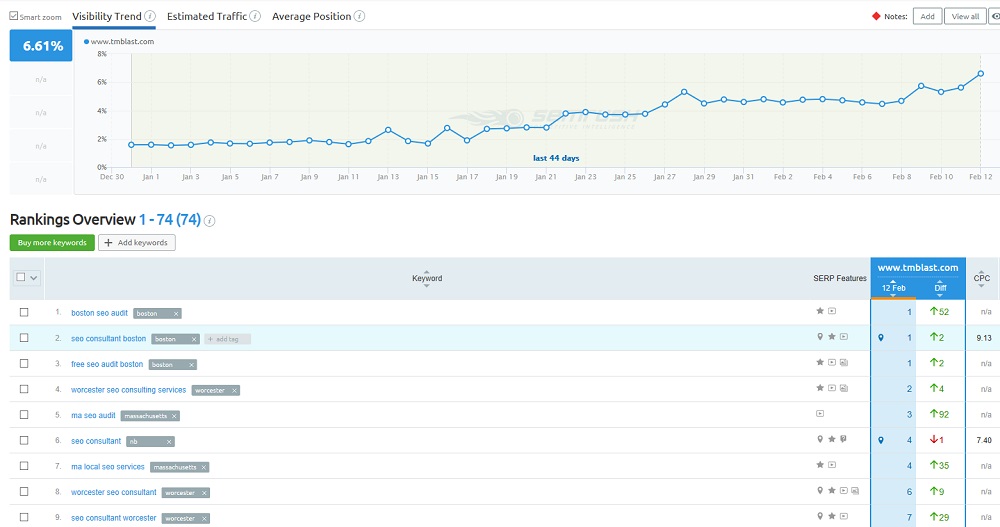 Is there a Minimum of Months in the Contract?
All contracts that I send over have a lock of six months in them. After those six months, I move the contract to a month to month basis. The reason for the six month lock is that if you choose me to help you, I will invest my time and energy in making this a successful return on investment for you and your business.
There are no immediate results in SEO (or even paid search), so I need time to show my value in what I can provide to you. I believe that if I take on your project, I can provide strong results back to your business over time. A month to month basis has too many variables and it will create rush work to satisfy short term goals.