SEO for financial advisors requires careful planning and hard work to achieve results. This particular field is fierce with competition, so your SEO needs to be top notch. This guide should act as a basic blueprint for you to follow to achieve better results in organic search marketing. In this post, I will break down some SEO tips for financial advisors and what you can do to drive more Google traffic to your site today!
If you would like assistance with your business, I offer  SEO Coaching Consultation to discuss strategy with your site along with Boston SEO on an ongoing basis.
Don't Dismiss Bing Traffic
Bing and the financial field are made for each other. Bing's audience in the United States is a slightly older, more educated, and more affluent searcher compared to Google. Bing powers the search for Yahoo and AOL, so optimizing for one engine actually powers three places. Right now in the  United States for desktop search, Bing powers about 20% of the market when you combine Bing, Yahoo, and AOL data together. Another key metric is that Bing's average household income has 40% make more than one hundred thousand dollars a year.  Most of your SEO strategies for Google will carry over to Bing, but there is more you can do to drive more Bing traffic to your site. I wrote a blog post about 9 easy steps to drive more Bing traffic to your site that should help with your strategy.
NAP Listings
Name, address, and phone number are critical signals to help Google and Bing understand your local presence. Moz Local is a free tool that shows all of your business listings on the web. Moz Local will even display listings that are not claimed nor created, so you can see if you should create a listing on Yellow Pages or not. Online listings include places like Facebook, Yelp, FourSquare, and more. One of the benefits of filling out these online directories is that you can increase your referral traffic from people starting their search on something that is not Google.
Google my Business Listings and Bing Places for Business are critical to have if you want your financial company website show up in their results. Google and Bing showcase a map results directly into their results when a local search happens. In most cases, you will see ads at the top, map listings in the middle, and traditional organic listings below that. Registering and categorizing your listing in both places can give another ranking clue for both engines to show your listing for a series of financial searches.
SEO Keywords for Financial Advisors
Let's say that your business serves the Cleveland community and you want to be found for a plethora of financial service terms. Your business provides services like income planning, investment planning, tax planning, and more. Perhaps you have your target city within the Title Tag, so you think what else can I do? Discovering the best SEO keywords for financial advisors requires a strategy using Google, Bing, and a few tools. In the section below, I will briefly cover how you can use these free tools to scope out new terms to include on your website.
Investment Planning Keyword Research for SEO
My advice is to use a blog on your website that covers long-tail keyword search topics that people are actively researching on the web. Your core service pages can't be tens of thousands of words that cover many topics, so the blog acts as the springboard to drive people from one place to your service section.  To find the best SEO keywords for investment planning, I present my five favorite free search tools to use.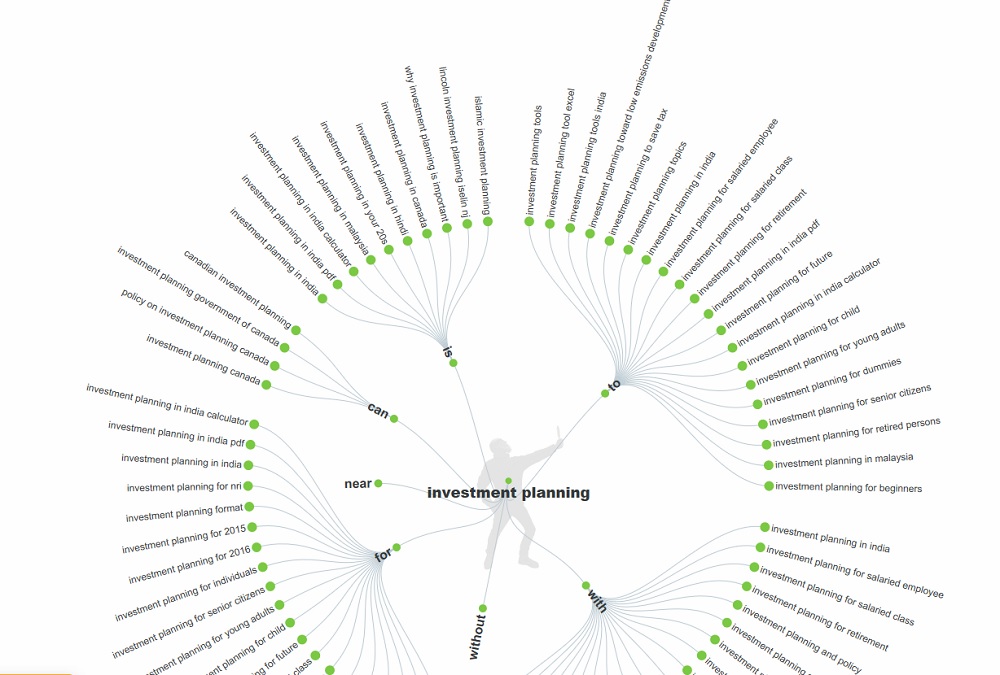 Answer the Public is a website where you can see questions people ask for any topic. For a financial advisor team, you have so many topics to cover that are on people's mind today. Building a content strategy that effectively addresses these topics with internal links to your service pages is a great way to drive new customers to your business.

Reddit, in my opinion, is even better than Answer the Public if you are in the financial niche. So many questions from so many different perspectives will keep you and your content team busy. One area that I see Reddit and Google rise in questions deals with Trump's tax plan and how it can affect people. By keeping your blog relevant to today's daily changes, you can keep evergreen content in place while addressing organic search needs for today's search.
Google Auto Suggest Using Keywords are Everywhere Plugin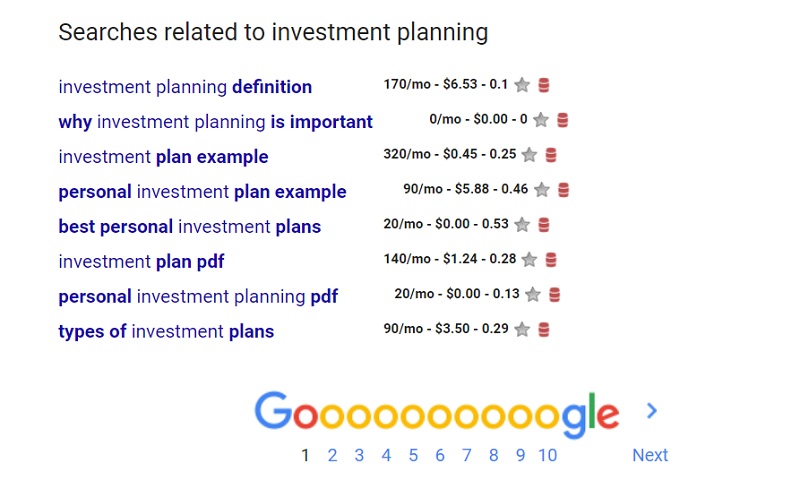 If you want your business to appear on Google, you should study Google's results. By using the Keywords are Everywhere plugin with Chrome, I can get an idea of the monthly search volume that each term yields in Google. One common scenario I hear from clients is that they will dismiss a search phrase due to low search volume. The problem with this strategy is that a related search on Google means that people are actively searching for this topic, so not covering is not covering someone's need. Also, Google will artificially lower the number of searches a term actually gets to have advertisers spend more money on broad sense terms that yield a lot of searches.
Google Search Console + Bing Webmaster Tools
Registering your website with Google Search Console and Bing Webmaster Tools is a significant first step in SEO. The tools will give you a plethora of insight into how both engines see your website. Both services will even show you the organic terms your site ranks for, so you can use that directionally to see what topics to cover if they yield a lot of interest, but you are not on page one.
Conclusion
This guide was more of a compass of best practices to follow for a financial investment website trying to win in  SEO. Many elements that I did not go over include schema markup, speed optimization, clear architecture, backlinks, and more. There is more to search engine optimization than those elements, but this should be a right starting place.
If you are looking for help to grow your business, I offer a SEO audit that can help find specific opportunities to help improve your online presence.