Do you have an active YouTube profile and want to do some competitor research on your top competition. One of the ranking factors on YouTube is the use of meta keywords for your video that help search bots get a better understanding of what this video is about. This tag holds some weight as a ranking factor unlike the meta name keywords for Google, so it's worth looking at this for your strategy for your videos. Since YouTube is the second largest search engine in the world, we want to make sure we are giving our videos the best chance to rank for many terms organically, so we have to look to see YouTube tags that are competition is doing and fine-tune our strategy.
The problem though is that finding these tags is not easy as it once was. You will notice that YouTube has hidden this feature from the public when you view the page that the video is on, but I want to show how to check the tags on a YouTube video using your favorite internet browsers like Google Chrome, Microsoft Edge, Mozilla FireFox, Internet Explorer, and more. As a note, I am going to use Google Chrome for this part in this tutorial, but you can do this with any browser by using the same steps. In this blog post, I am going to show how to find tags on YouTube Videos using the source code that is in the video.
Open up the YouTube Video in a Browser
Let's say such as I own a baking channel, and I just created a video about how to make a chocolate cake. Naturally, I will look at YouTube to see what ranks at the top and see what I am up against. Here is one example that we are going to look at further since this is the top ranking video.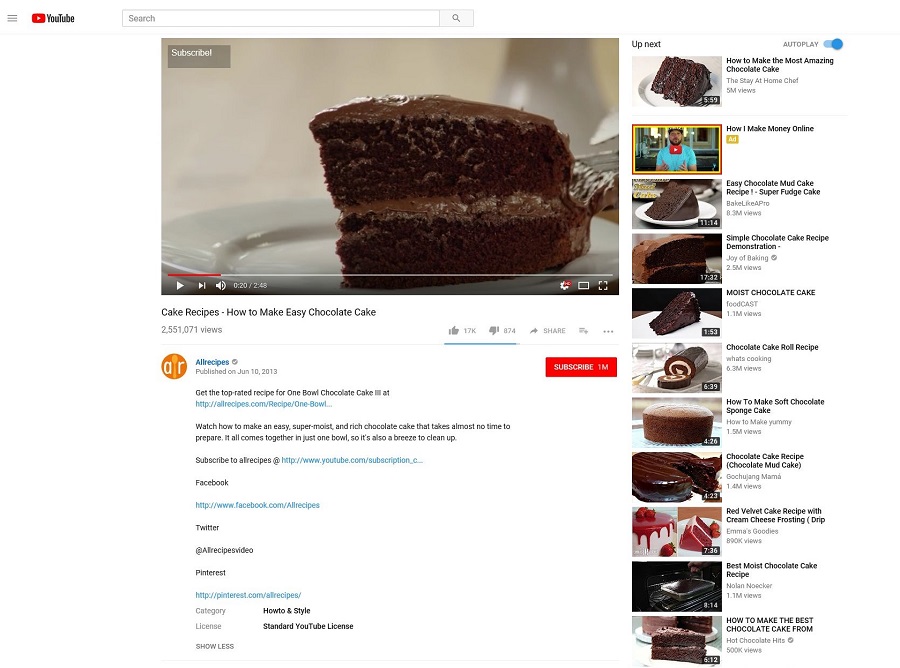 When you look at this first video, you will see that there is a show more drop down section, so you would assume that the meta tags are there. When you click on that drop down though, you will see that YouTube actually hid those tags, so you are going to have to go into the source code to see them. This is a very simple step that will be covered in the next section below
How to Look at and Check YouTube Tags with the Source Code
Using this video page as the example, I am going to right-click anywhere on the page and look for "View page source". Once I click on that, I am brought to all the code behind the page. This code is actually what bots look at, but don't be intimidated on where to look. We are looking for the keyword section, so do a search using CTRL + F and search for the term "keywords" to look for the meta tag.

Since we are on a YouTube page, you are going to see two terms that come up like that (assuming that no meta keywords are using the term keywords throughout it) and you want to look for the second "keywords" section. From there, you will see how the video is tagged. In that picture above, I decided to highlight everything so you could see what this particular video tagged their video as. These are the terms that the advertiser used to tag their video as such. This visibility will help us in our next step.
Keyword Tool For YouTube Research
After you have viewed some of your top competitors via their tags, you need to copy them all down into a notepad or excel to do some more research. The most significant mistake you can do is just only taking these tags and putting them into your video and calling it a day. Depending on how established your channel is, you will need to go after some longer tail variations along with terms that are not being used by your competition. That means we need to use keyword research, but I don't use Google's Keyword Planner tool. I use my favorite research tool called Keyword Tool. I pay the 68 dollars a month for this, but it is worth it. I'm here to show what you can do for YouTube research using this tool right now.
Building Off a Primary Keyword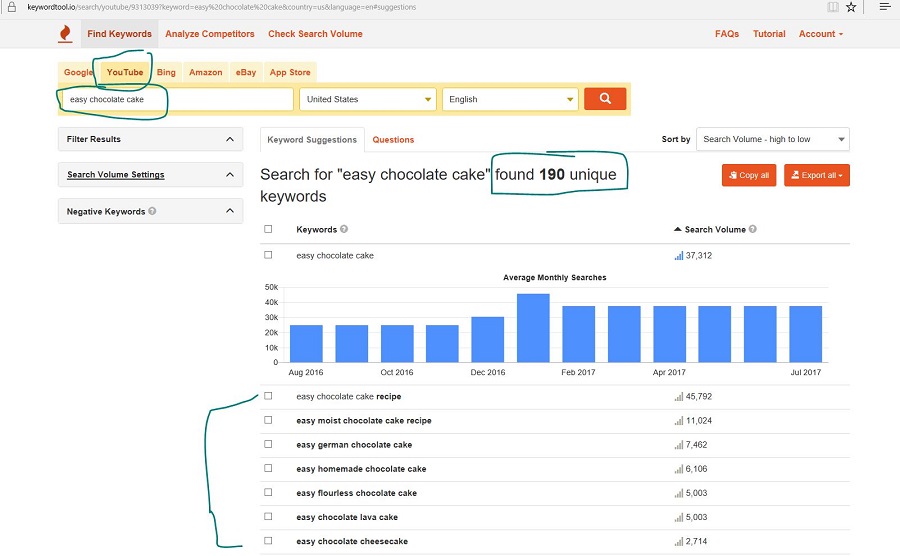 With this picture above, I put in the primary keyword that I took from one of the competitors and specified that I wanted to see the data on YouTube specifically. From there, I was able to see keyword suggestions based on that primary term, and I already can see so many high words that I should be covering. The best way for you to know the value of this is to compare your master list against the keyword suggestions to look at the opportunity your videos could have by going after terms not used by your competition.
Analyzing an Exact Page
In the example above, I decided to use a tag to perform my research. This can be a manual process if you have a lot of terms to research, so I would also recommend copying the URL and using this tool to analyze the words that it ranks for. Directly paste the URL in and hit enter. Now you are a presented a bigger list of terms that this video ranks for which opens your eyes to what you are up against to outrank this video. Here is that list below.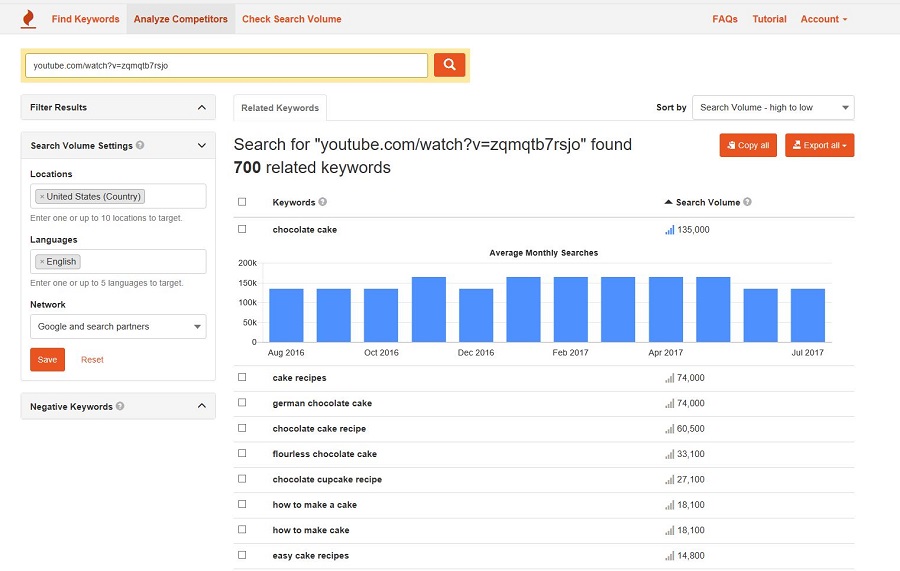 Conclusion
Obviously, there is more than just putting meta keyword tags on a YouTube video and then waiting for the traffic. The algorithm of YouTube looks at so many factors like the title of the video, the engagement of the video, the drop off of the video, the pogo stick effect, and much more. However, keyword research is still an important way to get your videos to rank up higher organically, so you should be using every avenue that you can to see what terms your competition is using along with seeing related terms that people are searching for on YouTube. If you don't want to use the keyword tool that I showed on this blog, you can merely use YouTube itself with the autocomplete sections. This will show you the top terms that at being searched for on YouTube, but you won't see any of the search volumes that are associated to it.
Helpful Resources on YouTube Research
http://www.3playmedia.com/2015/09/30/what-makes-your-video-rank-in-search-results-on-youtube/
http://www.jeffbullas.com/make-marketing-video-rank-number-one-on-youtube-real-case-study/