Did you know that you can submit URL's to Google and Bing faster when you use Google Search Console and Bing Webmaster Tools? You might want to do this if you make a change to a title tag, add some new content to an already existing blog, or simply creating a brand new guide for your website. Whatever the reason is, you can alert the engines to this new URL and ask them to crawl it. By having the search engine's alerted, you are speeding up the process on getting these changes that you worked on indexed and shown in their respected engines. Let's see how to submit websites in Google and Bing now!
How to Submit URL's to Google Faster
In Google Search Console, I am going to head over to Fetch as Google to start this process. With the new piece of content that I worked on, I am going to fetch and render this ask for both desktop and mobile Google bots. After all, I want to make sure my content comes back successful for both device types. Once everything comes back fine, I am going to click on the button that says submit to index. As a note, Google has announced as of 2016 that they are moving towards a mobile index, so you should have that as your default method moving forward.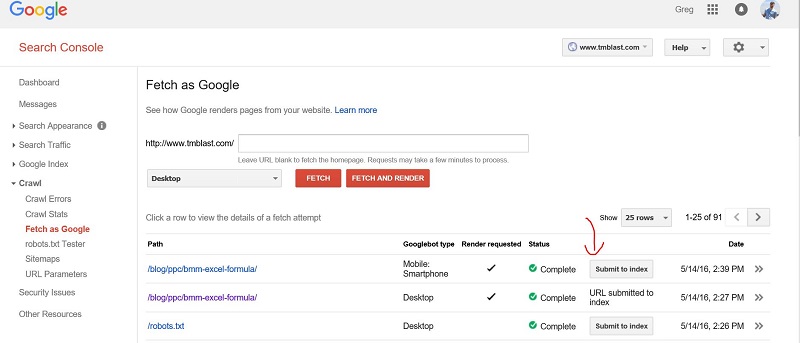 This effectively tells Google to crawl this page ASAP. When I click on that button with where the arrow is, I am brought to a screen that asks me if I want Google to only crawl this page, or all the links on this page. You can click either. I personally choose the second option since I want Google to crawl more of my site, but either way will help this new page of content. There is a limit of 500 fetches a week, so feel free to take advantage of this tool as often as you want.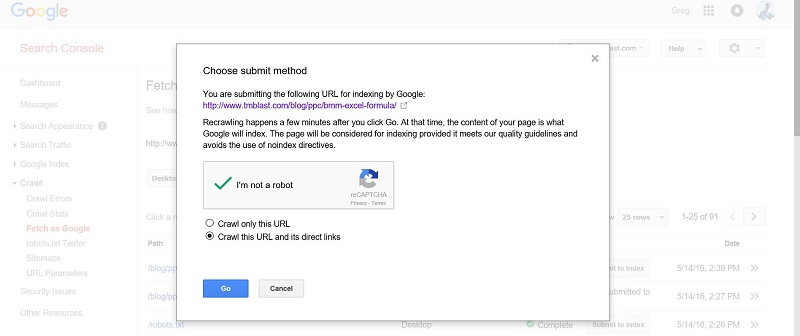 How to Submit URL's to Bing Faster
The Bing steps are almost the same at Google, but you can't do this  for mobile. To get started, you need to navigate to the Submit URL option on the left hand navigation in BWT. From there, you need to paste in the site you want Bingbot to crawl and index faster. Bing has a much smaller ability to use this tool with only allowing 50 submissions a month, so you might want to crawl everything in Google first just to make sure it comes back clean before submitting to Bing.

Once the URL is pasted in, you simply click on the submit button and you are good to go. As a note, you can
Conclusion
Googlebot typically crawls new content faster than Bingbot, but one can argue that most people don't even use Bing Webmaster Tools to let Bing know about this content, so this process can certainly speed that process up. As a note though, you don't have to use these two tools if you post new content to the web. Both bots will detect this content soon enough, but these tools will speed up the process which is great for SEO. After all, you just spent months creating something great, so let the engines know about it as soon as you can!
Google Search Console has the advantage in general because you can crawl with a desktop and mobile version, and you can have the bots crawl the links to other pages on your site. Both tools allow you diagnosis any problems with your page as well, so it is worth seeing if any errors come back so you can diagnose and fix before the real index happens.
If you run into any issues with this process, you might have some settings blocked in the robots.txt file. If that is the case, I would recommend checking out this robots.txt guide.