Did you know that you can submit URL's to Google and Bing for immediate indexing? In fact, you can alert both search engines to crawl and index a piece of content moments after your request. The two tools that you will need are Google Search Console and Bing Webmaster Tools to fulfill this task. Reasons to alert Google to crawl a change could be an update to a title tag, new content added, or a new page and new URL created. By having search engine's informed of your request, you can speed up the process of SEO. Organic traffic increases take a long time, so anyway to shorten the time between an optimization should be of high interest. In this post, I will share how to use the URL submission request in both tools.
How to Submit URL's to Google Faster
In Google Search Console (formerly known as Google Webmaster Tools), you need to use the Fetch as Google section to start the process. Let's say that I wrote a new blog post and I want Googlebot to crawl the content. To confirm my content can be seen on desktop and mobile, I will use the fetch and render section for both desktop and mobile on the Google tool. Once the fetch and render come back successfully, you submit to index. Submit to index means that you are telling Googlebot to consider showing this content in their search results. Google can't show content in their search results until they crawl a page which is the fetch request.
 As a note, Google has announced as of 2016 that they are moving towards a mobile index, so you should be in the habit of fetching as mobile.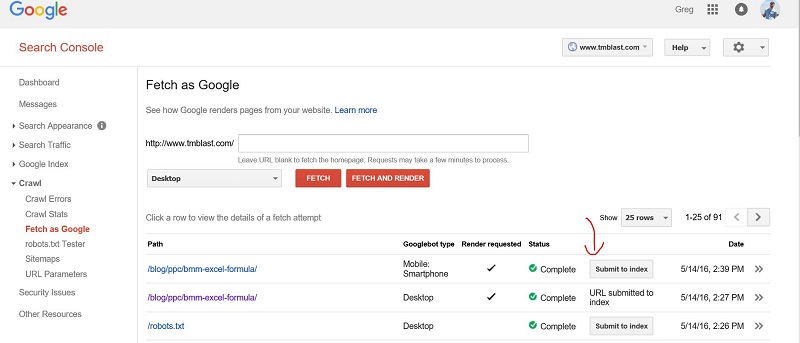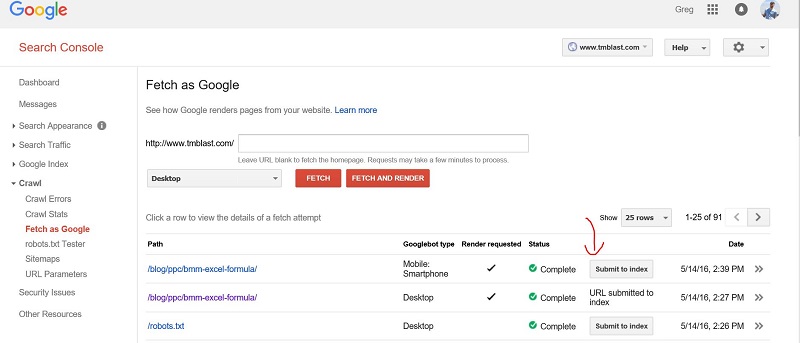 When you click on the button "submit to index", you are brought to a screen below that gives two options. The first option says crawl only this URL. This request means you only want Google to check out this page and not worry about crawling any links.This type of crawl is known as Google index submit request. The crawl this URL and it's direct links tells Google to crawl that page and follow all links. Crawling all links is a good SEO strategy if you utilize internal links on your site. This strategy would then have Google crawl many pages just by having one crawl request. Google's bot will also look at the meta tags on the page as well.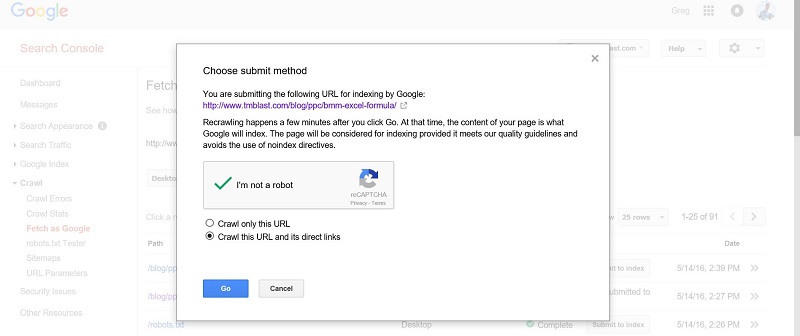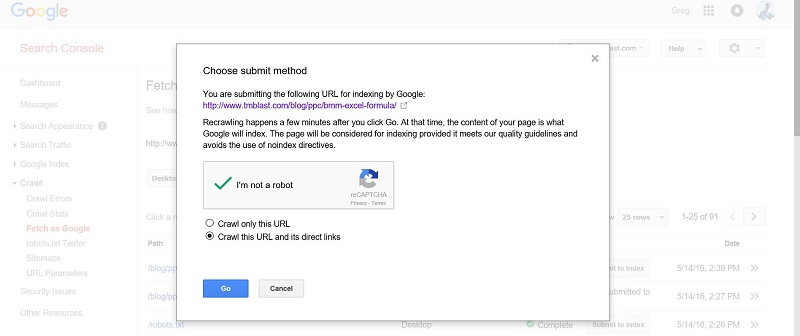 How to Submit URL to Bing Faster
You can submit your website to Bing by using Bing Webmaster Tools. The Bing steps are almost the same at Google, but you can't fetch the page as a mobile bot. To get started, you need to navigate to configure my site and look for the Submit URL tool option on the left-hand navigation in BWT. From there, you need to paste in the web page want Bingbot to crawl and index faster. The submission tool only allows 5o submit URLs to Bing each month, so you won't have as many chances to crawl key content as Google. If you've been wondering hot to submit your site to Bing, you know how to do this within the tool.
In 2019, Bing Webmaster Tools has upped their submission from ten to ten thousand individual URL submissions. Bing Webmaster Tools uses the cloud and machine learning for 90% of their algorithm, so this update is weird. Regardless, I want Bing to recrawl as much of my content as I can, so I will take advantage of this feature. Bing also powers the organic search for Yahoo and AOL, so fetching once in Bing Webmaster Tools will effectively put the consideration into the other two search engines.


Conclusion
Judging by log file analysis for clients, I can confirm that Google tends to crawl content more often and faster than Bing. Google and Bing both start at the homepage most of the time and then crawl their way down the pyramid. Google seems better at discovering new content and crawling deeper into sites by following internal links on a website. Bing may need more help especially if your website is built heavily in JavaScript, so Bing Webmaster Tools can help. By submitting your URL's to both search engines at the same time, you give your SEO the best possible chance to rank in their engines.
Another optimization you can do is by submitting your XML sitemap to Google and Bing. Creating a sitemap is a good strategy to give additional clues to Google and Bing what they should focus on when crawling your site. You can use both Google Search Console and Bing Webmaster Tools for this optimization. By submitting a sitemap to both search engines, you give another way for both engines to see, crawl, and index your content. Both Google and Bing encourage site owners submit their key pages to their tool often too to help their bots. This is a good example of how search engines and SEO people can work together to create a better web experience for searchers.
If you run into any issues with this process, you might have some settings blocked in the robots.txt file. If that is the case, I would recommend checking out this robots.txt guide. I also offer Professional SEO Services to help with your website, so let me know if you need help!