The purpose of an SEO Audit is to discover areas to fix, identify restrictions affecting growth, and develop a plan to fix the problems. At TM Blast, I use these reports as my blueprint to understand where my focus should be. While I've been giving away these audits for free in the past, I've seen the question online if agencies should charge for this service consistently. In this post, I'll share both sides of the argument on free audits and explain where I'm beginning to fall here at TM Blast.
Why You Should Not Charge Money for an SEO Audit
Separation from the Competition
When people reach out to me for an exploratory contract, I know they've contacted other consultants as well. By offering a free SEO audit for their site, I know I've separated myself from additional consultants. Some consultants may not provide this service, or they charge a lot which could turn off prospects. By offering a free audit, I've distanced myself from the pack in theory.
The Psychology of Free
Who doesn't like free things? When I go to the grocery store, I love being bombarded by free cheese, fruit, pizza, and more samples as I browse the aisles. It costs me nothing, and it exposes me to something that I may not have thought about before. The psychology of free pertains to SEO audits as well. By giving away something that's good for free, you may be able to pique someone's interest in what SEO could for your site. I find this strategy to be most helpful if you are pitching clients cold and need something to get their interest.
SEO Has a Bad Name, so Fix It!
I have a love/hate relationship with the SEO community. There are some SEO people that I have mad respect for like Rand Fishkin, Dan Shure, Will Reynolds, etc., but the industry annoys me as a whole. The level of spam and bad practices are rampant in this industry. Individuals, companies, and agencies are taking the money and running away from clients, so it's my job to try and change the game. Take the thought process of the Psychology of Free for a moment. If you illustrate that it's not always about the money, you may have opened up a new door to a new client.
The Search Volume is High for This Service
Finally, I would like to make a case for SEO when it comes to this service. A free SEO report is something that people search for, and they search for it a lot. If you can capture this market by being great at what you do, you can develop a robust sales funnel to land more often and better-paying accounts.
If we take this example below, I can see that there is about two thousand searches each month alone in Google for this term. There are four ads running in this auction for this term, so I know their is high-value for these reports. Agencies are willing to pay around four dollars for a click to give a way a free report. This tells me how important these audits are and how much demand their drive.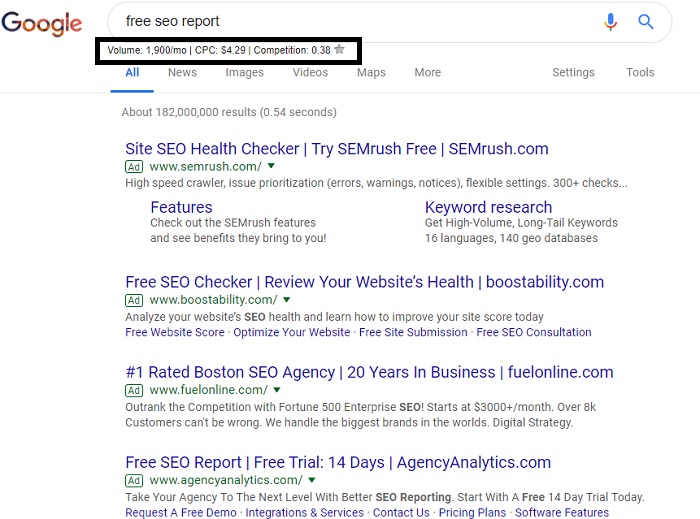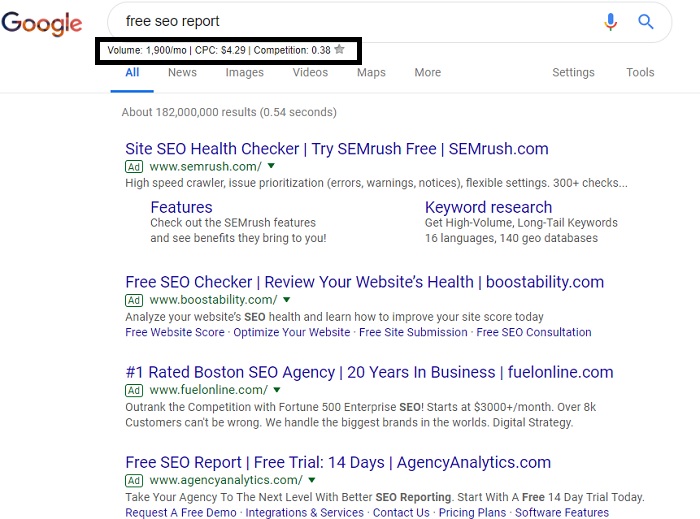 Why You Should Charge Money for an SEO Audit
Don't Sell Your Value Short
Don't overlook the value that these reports can bring to a client! I have two clients who both see exceptional results in SEO because of these free audits. I detailed what was not working, what needed to be done, and how via the analysis. Very quickly, they (clients) could have taken this report and shopped the story to someone cheaper. I don't give everything in these reports, but I do know that my steps will help grow their organic traffic at the very least.
Others are Charging, So Why Not You?
There are many SEO's that offer free audits, but did you know that many others charge? And when I say charge, they cost a lot of money for these reports. Recently, I posted this question to reddit and saw some answers saying they charge thousands of dollars for these audits. Money may be left on the table by not charging, so find something that respects your time and helps grow your practice.
Offer A Credit If they Sign
Perhaps you are nervous about shrinking your sales funnel with a pay service. On Reddit, someone suggested such a brilliant idea I wish I thought about it sooner. To protect yourself from free work, you could offer a credit system that provides a discount on the first month of employment. Let's say you charge two thousand dollars each month for ongoing SEO services. You can charge five hundred dollars for the audit, and if they sign, you charge them fifteen hundred for the first month. You can get creative with this, but I think this could be an excellent option for people who want to charge for these audits while protecting their time.
Examples of Past Free Reports
In the past, I've spent hours creating free reports for potential customers. My best customers are the ones who are vested in SEO, get the free report, and work with me to help improve their SEO. The Free Audit in the past has given me the exact steps needed to transform their business, so I know the value in which these reports can help grow a business. Below is an example of a report that I built for a current client who is seeing exceptional results regarding SEO.
My Thoughts
TM Blast has been in business now approaching two years. I've dabbled early on with a paid SEO audit which only one person did. I've experimented with a Free SEO Audit that takes me about one to two hours to create. Most of the time, I spend my nights before going to bed cranking out these reports for prospects. As my second year approaches, I'm noticing that the value I bring is fast and measurable. With this realization, I'm leaning on pushing these audits into a credit system, or at least a discount moving forward. If I spend about six to twelve hours each month making free reports that may not turn into paying customers, I should have some buffer set up.
As always, I offer SEO Expert services to you and your business, so feel free to reach out to me if you have any questions!