Building a new website is fun and promising. The thrill of site visitor traffic, the excitement of friendly comments on your posts, and the optimism of revenue can be exhilarating. What fun is it to just launch a site and make money. Not to burst your bubble but building a website to be found on Google is not as easy it may appear. To help, I've created this blog post that highlights a new website SEO checklist to get you going in the right direction. This SEO strategy for new website guide will go over best practices for you and your team to follow. I'm a NY SEO Expert who's been using this checklist for about six years now with great success, so I believe this can be helpful to everyone.
A Brief Story First
TM Blast has been around for five years or, so it's not a new website. What is a new site is The Stadium Reviews . The Stadium Reviews is my new website that chronicles my adventures of visiting every major league ballpark in the United States. Being a new website, I go through my new website SEO checklist to give my site the best chance to rank in search engines.
SEO Optimization Checklist Before a Website Launch
Have you ever heard the expression walk before you run? For a website build, it's the same concept. You must master the basics before you can sprint ahead. My tip for new websites is to perform research on your topic and competitors before you launch.
For example, my new website is a baseball ballpark guide. There are countless websites on the web that cover this exact topic, but only a few do well-regarding SEO. By documenting which sites do a great job, I'm keeping an eye on them. I also record those sites because I will reverse engineer their keywords and strategy soon enough.
Another element I like to review is the competitor's URL structure. I've seen many of my competitors fail at this, so I wrote this in as an opportunity via my SWOT analysis . A SWOT analysis stands for strengths, weaknesses, opportunities, and threats which is one of the few things I remember from my University days that's still applicable in the real world. If I know that I can make my website clearer for search engines to understand, I know I have an opportunity at my hands.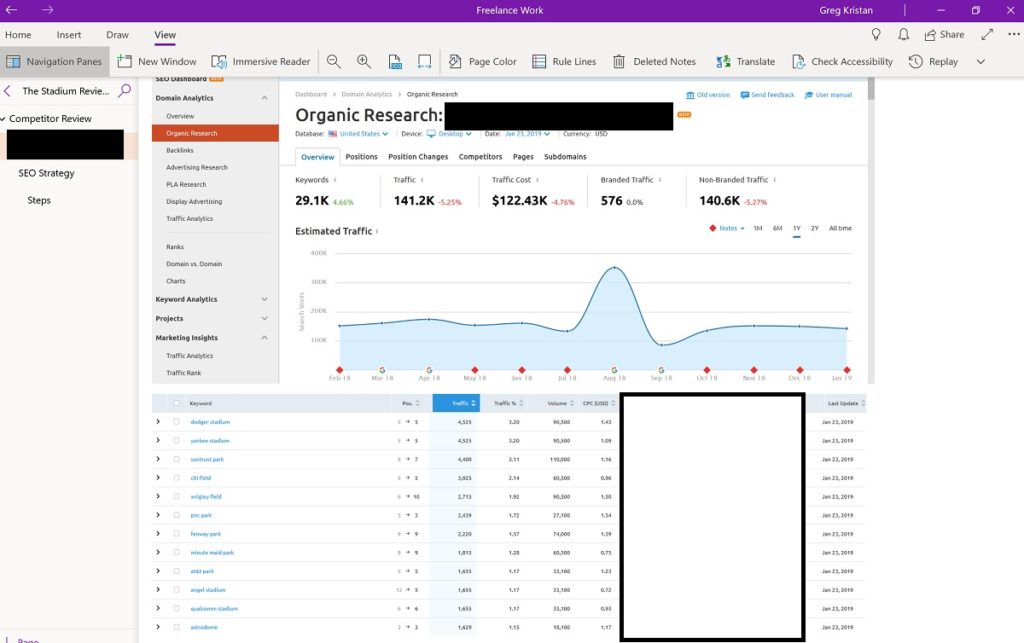 I document everything in OneNote and Excel for quick reviews. With my new site launched, I regularly review my notes so that I stay on course with my new adventure. Having pictures and screenshots can also help explain a strategy, so consider if that would be helpful for you too.
Pick the Domain and Hosting Provider
Google and Bing put less ranking consideration on the domain name for SEO which is good. If you can find a URL that is available that covers your topic, you should purchase it. TM Blast means absolutely nothing, so I encourage webmasters not to get crazy with their URL because they want to rank well in search engines.
For hosting, I use GoDaddy as my website host provider . This plug is not an affiliate or sponsor suggestion, but I like them for a few reasons. First, I call their customer support team all the time. The phone wait lines are short, and the team on the other side of the phone call are knowledgeable.

Second, they have a lot of great features baked into their packages. Website security, email, firewall protection, SSL, and are just a few to name. Another benefit of GoDaddy is that I'm able to access my log files which is something not all hosting providers provide, so this is a big deal for me.
I would suggest looking for a hosting provider that has a great price, excellent security, and fantastic customer support. As a suggestion, I would invest immediately in SSL and firewall protection. It's best to be protected with your website in case anything happens. TM Blast was hit with spam attach in 2017, so I know first hand the damage that can do and the amount of money I had to spend to remove the issue.
The Launch
Launching the website is like starting a marathon. You should appreciate the hard work that took place to get to this position today. Now that the race has begun, you must continue the grind. With the site out in the wild, you need to set up a Google Search Console and Bing Webmaster Tools profile for your domain. The tools allow you to (Submit URL's) to each search engine for instant crawling and indexing consideration. It can take weeks, months, or years to get to where you want with Google traffic, but you have to start somewhere. Getting access to Google Analytics will also be critical so you can measure your success via traffic.
Technical Optimizations
There are four technical checklist items that all new websites need to adhere to have success on search engines. The first item pertains to proper 301 redirects. Every site will have the www and non-www version of the site accessible to users and bots. It is your job to decide which version you always want to show and 301 redirect the other version permanently. The goal is to eliminate duplicate content for your site, so this is crucial.
Second, you want to set up a robots.txt file if you don't have one already. This file will tell Google and Bing where they should and should not crawl on a website. Within the robots.txt file, you should write a path to your XML sitemap for search bots to follow. A path to your most critical pages can help your new website be found sooner on Google.
Third, you should build an XML file on your website. An XML file is a list of your top URL's that you want search engines to crawl when they visit your site. The file is an additional signal to instruct bots that these URL's are essential for them to check out, so you should build this file out.
Fourth, you want to make sure you are not NOINDEXING any critical content on your website. I've seen this happen where a website was NOINDEXED in a production site and later launched with those settings. When you start your site for real, you need to make sure that these tags are not present. If you launch a page with this meta tag on the page, you will tell Google and Bing to not show it in their results which means no future traffic.
URL Architecture + Content Creation
Now that the site is up and running, you need to create your content. Using your excel spreadsheet from before, you can begin building out your content. Each page that you create should then be in the XML file sitemap. Many tools can help with content creation regarding SEO. ClearScope , SEMRush , (add more sites) are all helpful tools.
Check Google and Bing's Index for Your Site


Let's say that your new website has been up for three days. Now is the time to perform some search commands in Google and Bing to confirm that your content is crawlable by both bots. In Google, you can run a site:website.com, and you should see a list of URL's that pertain with your website. With Bing, you can run the same command to confirm that there are no issues.
Next Steps to Consider
The basics of a new website SEO optimization strategy can be excessive, but it's essential to get everything right before your launch. You've done your homework by reviewing the competition, understanding the keywords, and are developing content for your site. To help amplify your content, you should analyze the free tools from Google Search Console and Bing Webmaster Tools . These tools will give you additional insight into how each bot is accessing your content and what problems they run into.