The Microsoft Bing search engine has this fantastic feature that allows you to reverse image any picture or gif with a few steps. In this blog post, I will show how to search for an image match on a desktop or mobile device. You can also reverse gif image search which becomes insanely cool. 
Step 1: Image Search on Bing

Depending on what you are looking for, you can click on the images tab at the top, or you can search for something in the search bar. I chose the search for Yankee Stadium in the example below.
Step 2: Scroll down on the Picture
After searching for Yankee Stadium, I head to the images section on the SERP. To see related photos to the one I like, I scroll down on the page and Bing starts using machine learning to bring up similar images. The further you scroll down, the more picture will show up. This essentially becomes a reverse image search engine.
Step 3: Search within this Image
Sticking with the same example above, I want to find similar pictures of that scoreboard in center field. You can do this in a matter of seconds. Hover over the image with your mouse, and you will see a little magnifying glass appear. Draw the part that you want Bing to look at then the machine learning will do the rest. Here is an example of a box around the scoreboard in center field to find images of that.
Bing Image Search Upload
One of the coolest parts is to find similar pictures to the one you already own. Let's say you took a lot of photos of a place, but could not remember where exactly you were when making your scrapbook.
Step 1: Search
Like the steps above, we have to go to the image section of the site to begin this pricess. Look for the camera icon and click on it. It will be to the right of the search glass. Here is an example of where I am in Bing with these steps.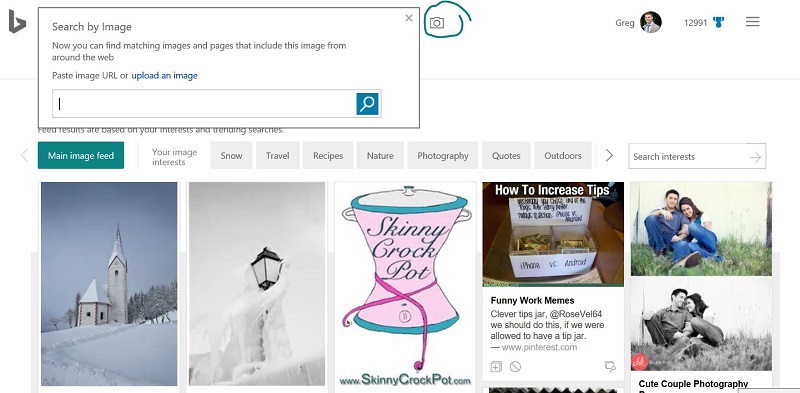 Step 2: Upload Your Image
Click on the blue text where it says to upload an image. Once you click on that, you are brought up to your folder section within Windows. You can double-click on the icon, and the information will auto-populate into the search bar.
Step 3: Scroll Down
Like before, you can scroll down on the image results and find pictures that are similar to the original file. Depending on the quality of your photo, you might get better results on the web then what you took! Here is my picture that I took that I want to see similar pictures of on Bing. I will reverse image this search with the steps that are above.
As you might have seen in step two, you can paste in a Bing URL on an image if you want to find similar pictures of it. With the new update, you can scroll down on any model, and it will do the same thing as before.
Gif Reverse Image Search
You can perform a reverse gif search that you found online too. It's the same steps as above, but we are going to use the settings within Bing to choose a gif setting. Here is an example of me searching for Kylo Ren from Star Wars. I want to use this gif of him on the SNL skit that he did, so I have a circle around it for you to see. Once the click happens on the picture, I am brought to the screen to the right of the all of the gifs. I can then pick on any of the related gifs and work with different lengths of gifs. This process is known as image search by image matching.
Reverse Image Search on Mobile
The app for iPhone and Android has this picture feature. Here are the steps below to do a visual search an android phone.
Search for an image
Click on that image you want to see
Click on the crop box feature
Outline the vision you want to check
See the results
Here is an example of a picture that I want to find similar images too.
You can edit a picture within the app. Just tap the image you want to check, and you will see adjustment, tone, effects, drawing, and add image show up. You can click on any of those settings, and you can change the way the picture looks right on your phone. This is a hidden gem within the app, and it allows anyone to quickly edit a picture to their liking.
Additional Image Settings
Bing image allows you to search for particular features for pictures on the web. Let's say you want to find images that are big enough for your wallpaper, or you want to see pictures that you can share and change. You can do a lot of these features within Bing.
Image Size Specifications
When you do an image search, you can click on any of these boxes above the pictures to change the specifications. The image sizes to choose from the start with all as the default, but you can specify if you want small, medium, large, extra-large, or even a specific size.
Here I chose medium as a size setting that I was looking for. Bing will show you sizes right in the search results for you. You can change the size specifications at anytime and the results will change.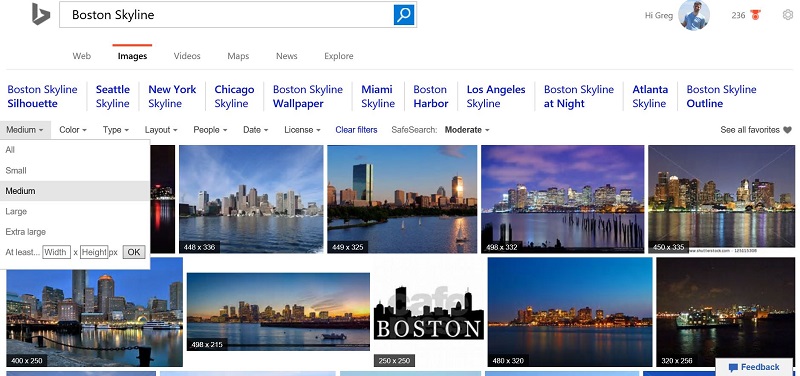 How to Combine Image Specifications
You can match multiple criteria points for your image search. With the picture above, I have the setting to look for images with a medium size. I can then click on the type button and click on the animate gif option. Now I can see pictures of my results that are a certain size and have an animation effect. Another cool thing is that you can hover over these images to see the moving image before you click on them. This is an excellent option if you want to preview something before you click on it.

License Search
The last criteria point I will point out is the license search. When you click on the license tab, you can search for images that you can use for the public domain. In a nutshell, you can use this search engine to find pictures that you can use on your website for free. This allows you to avoid any legal problems that might come into place if you use the wrong picture.