SEO requires dedication, determination, perseverance, and a ton of patience to see positive results. Successful SEO demands a robust set of skills like a technical understanding of the web, keyword research, embracing failures, and so much more. The question of how long it takes for SEO to work comes up frequently on sale calls, so I want to address it in a blog. Various factors make predicting results for all websites impossible, but I want to show what I did for my site to have success in six months. In this blog post, I'll share how to do good SEO for your website and business and how long does it take for SEO to work in general.
Here is  a video that explains what I did to see positive results.
Load Time Optimization


Google has made it clear that their algorithm will change from a desktop to a mobile-first index. That means that mobile factors like responsiveness on mobile devices, load time, readability, and more will directly impact keyword rankings for websites. Fast load times for my site create a fantastic user experience for my audience when they visit my domain since it loads fast, so I did this regardless if it will directly impact a rank.
I use a few tools for speed reports including GTMetrix which is in the video presentation. Minifying JavaScript was one area I spent time fixing to help decrease my page size and load time. I was able to reduce the load time by 1 second, or 55% which was incredible.
Log File Analysis
Log file analysis was new to me in 2017. The ability to see what pages Google and Bing crawl on my site gave me the insight that was always lacking from past SEO strategies. I conduct a lot of keyword research for blog posts and service pages, but I could not improve my ranks. Using Screaming Frog Log File Analysis, I saw that Google was experiencing 23% errors when they came to my domain. Fixing this error path for Google gave Google the precise way to find my most important pages each time they came to my site.
A Powerful Backlink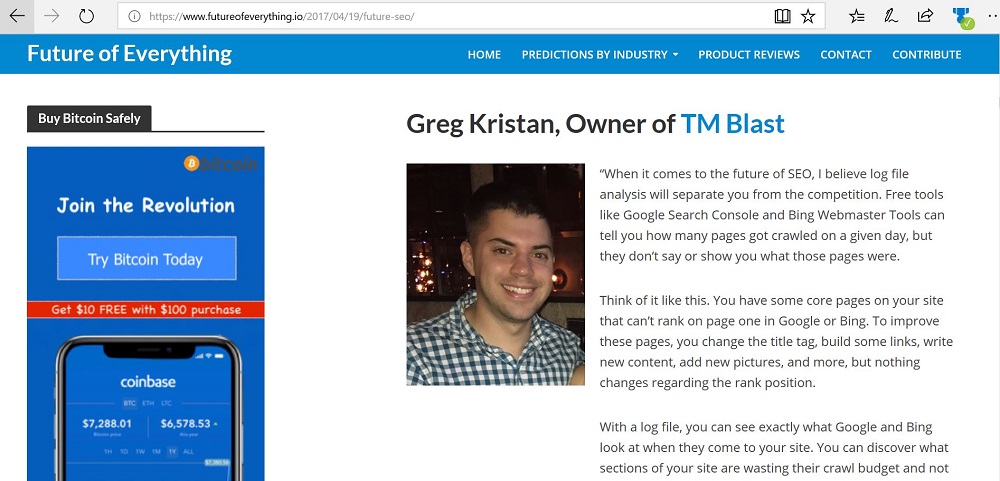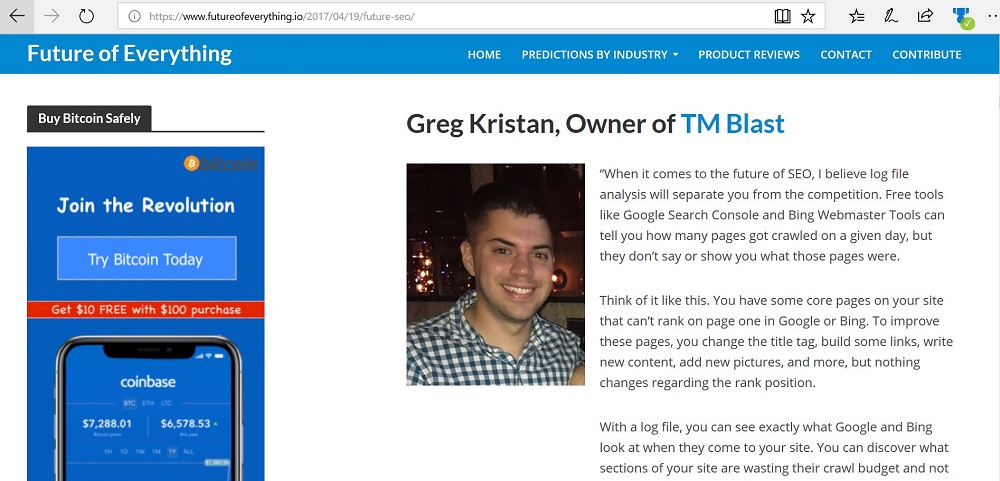 I will admit, I don't actively build links for my website. I've created backlinks in the past for other sites, but never for my own. After reading a few websites about the future trends of SEO, I came across one article that did not mention log file analysis. I sent the author an email to see if log file analysis could be part of the discussion in the post. The author asked me to write up a summary around that topic and gave me a top feature with a link back to my web address.
Changing the Sitemap File
Using the log files, I knew only a handful of pages on my site matter to drive business. I saw that my sitemap would be crawled by Google and Bing frequently, so I decided to include less URL's in the file and see what would come out of it. Not to my surprise, I saw Google and Bing continued to look at my sitemap but gave more attention to my main web pages. I see the sitemap as an underused strategy for SEO professionals, but I know something positive came out of this for my website.
Keyword Research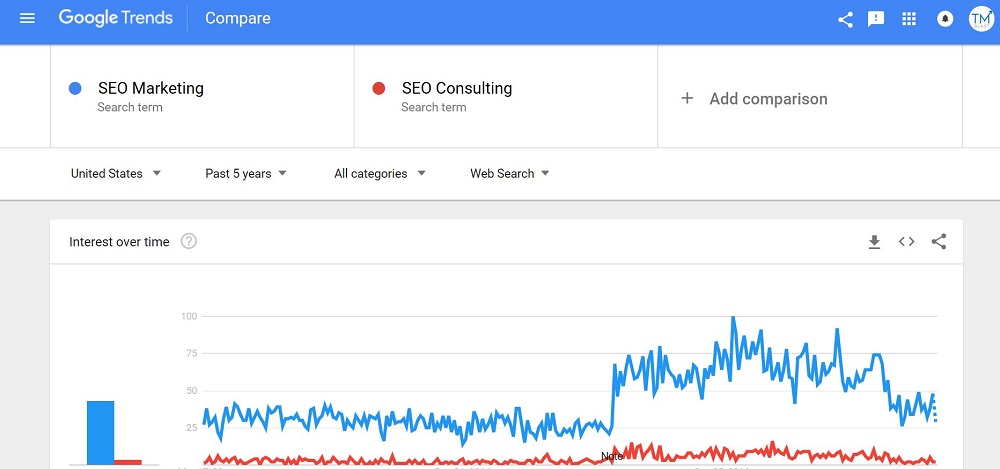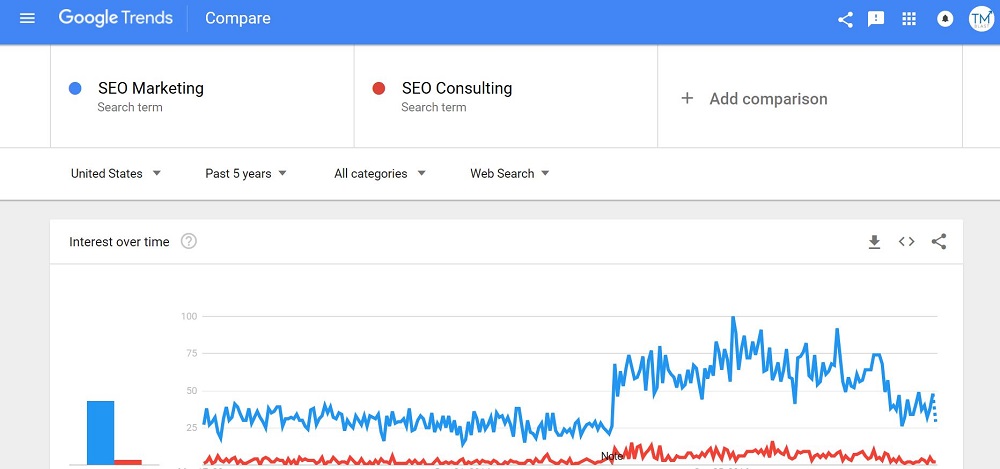 Performing keyword research is a staple strategy in SEO. Keyword research and planning revolves around a deep understanding of semantic topics to cover. For example, I write a blog post about how to earn Microsoft Reward point, but I can expand this blog to cover related issues to give an ultimate resource. Topics I include are how to sign up, how to earn more points, why you should check your email, how to link your mobile phone to your reward account, and so much more. Here is the blog post if you want to see what I did here.
Video Integration
There was a time on this website where I would record videos for a wide range of topics. Video integration on a site can yield more positives results than initially anticipated. A video on a website can lift conversion rate, lower bounce rate, increase time on page, and help with organic keyword ranks. While I am not a fan of using YouTube for videos on a website, I decided to put something up for the time being. I encourage clients to use a platform like Wistia because it is SEO friendly, but a video on a webpage is better than no video at all.
My OneNote Application
I am unsure when I began using OneNote, but boy do I use this application for all of my SEO and PPC strategies. I continuously screenshot before and after pictures of ideas or tests so I can always reference them at a later time. My notes usually consist of a few written lines just for direction if I come back at a page and can't figure out what I did, but the visuals help me a lot. I encourage everyone working on SEO (or anything really) to use something like OneNote to use as a reference point whenever you need it. Looking back and seeing all of the work that I did for months without any movement will discourage individuals who are new to SEO. When you document all of the ideas and results over time, you will see a brilliant view of your success.
Wrapping it Up
Search engine optimization is not for everyone. The thought of paying someone for months of work without seeing any results is scary for a lot of people. I feel like the return on investment has never been more heightened then today with digital marketing. Paying someone or something a thousand dollars should return two thousand dollars just like that. SEO is not that type of service, but investing in its ability to help your website will pay off down the road when done right.
If SEO is something that you would like to be part of your website and business strategy, I offer New York SEO Consulting services. I also provide a Free SEO Audit to help let you know what I see an opportunity for your business.