Google Analytics allows you to create annotations within your dashboard. These notes can really be anything you want. Perhaps you had a huge spike in traffic one day because your business got featured on TV. It might be helpful to remember that when you do your reporting a few months later and are trying to remember what that spike of traffic was. Maybe you worked internally on changing some Title Tags for keyword optimization and you wanted to remember what day you made those changes. Your website might of dropped the Google Analytics code for a day and was later re added to your website. That can certainly look odd in Google Analytics if you had a sudden drop in traffic in a thirty day summary. Regardless, you want to make sure to add those notes within GA so you can know exactly what happened during those days. Here are the steps to add annotations to your dashboard within Google Analytics. 
How Do I Add My Own Annotations to Google Analytics?


Step 1: Click on the link that says create new annotation
Don't worry about what view you are looking at within Google Analytics. Creating this note will follow you wherever you look within GA. So you can put this note when you are looking at landing pages, but the note will also show up when you look at the conversion tab too.
Step 2: Change the date
You can click right into that box to change the date for what you want the note to be about
Step 3: Write your message
This is completely up to you. Write whatever notes you want that makes sense for you.
Step 4: Click save
Once done, you will need to click on the saved tab
What is the Difference between Shared vs Private Annotations?
If you chose the shared setting, everyone with access to this GA account will be able to see the note that you made. This is good when you are working with a client or a team that needs to see changes being made to the website. On the flip side, you might want to keep a few notes only visible for yourself. This is important if you have a lot of people who have access to your account. Especially when you are writing notes about revenue, you might not want that information to be open for everyone to see. When you create an annotation and click on private, you are the only person who can see that note. That means only your email address associated with that account will be able to see that note.
What Do Annotations in Google Analytics Look Like?
Here is a snapshot of the annotations I have for my own site.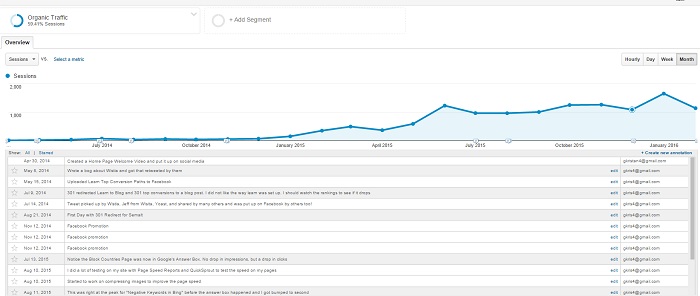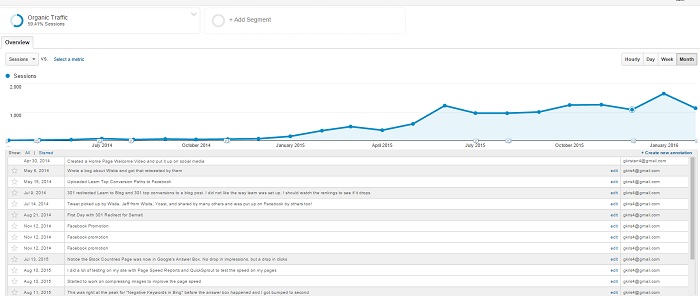 Right now I am looking at organic traffic, but I can still see all of the notes that I have added to my blog. Each note tells a story as to what happened to my site. In terms of SEO, we know that small changes are sometimes hard to see the direct impact for. Some of my notes are really interesting when you look at the upward trend my site has been on with organic traffic. When I messed around with steps to make my website load faster in WordPress, I can see the organic traffic improved later on. While not directly the reason for this organic traffic increase, I can still measure all of the small moments I have done for my site as small wins. Everything within SEO helps you rank higher within search engines. Even small technical changes to your site might not see a direct ranking change that same week, but overtime those changes help search engines in their ranking algorithm.