If you are wondering how to increase your Bing rankings, or how to improve my Bing Search results for my website, I have eight SEO tips to share. As an NY SEO expert, I analyze search results and search engines daily for my clients and my websites, and Bing is something I often review. I track Bing results is SPYSERP, which helps me see where keywords rank on Bing. Here are eight easy tips to consider if you want to rank better in Bing.
1. Search Analysis for Bing
My SEO Workshop session goes over search analysis completely, but I will go over the highlights below. If you are looking to rank better in Bing, you should perform Bing searches for the keywords you want to rank for in Bing directly. Like Google, Bing will illustrate the "People also Ask" Section, which shows questions for you to answer. If you take a look at those questions, you will find plenty of topics to cover. Below is a video of a brief glimpse into Google's search analysis, but the concept is similar to Bing.
Another tip regarding search analysis in Bing is to look at the SERP for your target keyword. If you notice that Quora, Reddit, Yahoo Answers, or some other forum ranks on page 1 of Bing, you have a great shot of ranking there too. The reason for this tip is that people on Bing could not find that answer already, so they had to go to a forum to see what others think. If you can answer their question entirely and use the search analysis strategy above, you can rank better on Bing.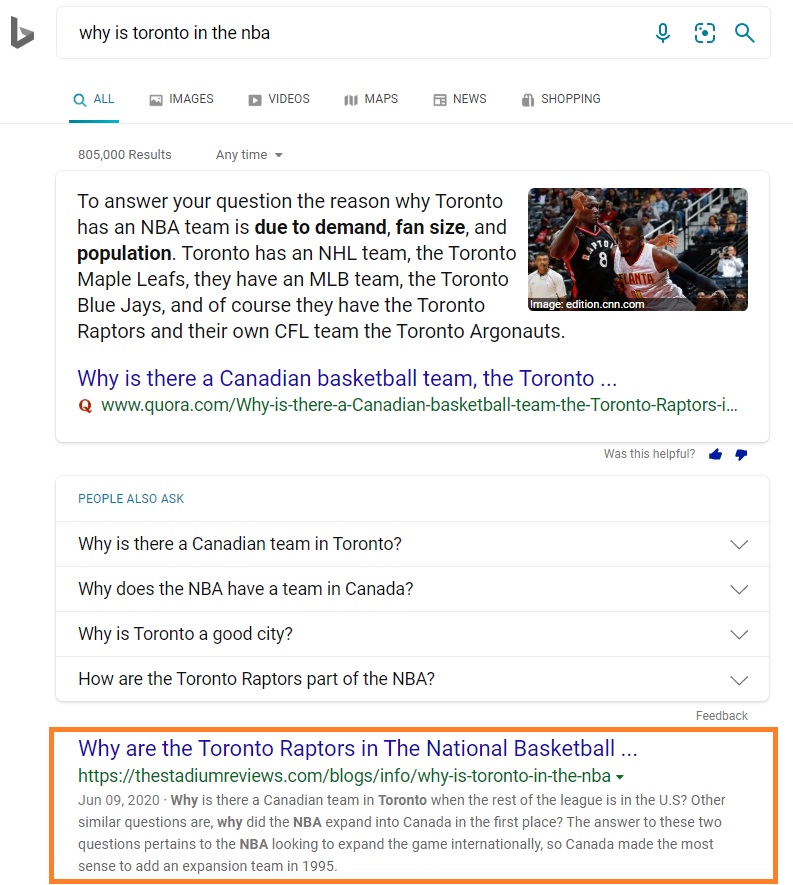 2. Title Tags+ Meta Name Descriptions
After performing the search analysis above, you should optimize your title tag and meta name description. Bing, like Google, will truncate your results, so make sure the title tag is less than 70 characters. If your title tag gets cut off, you should list the primary keyword at the start of the title tag so users can see what your page is.
The meta name description, while not a direct ranking factor, and indirectly influence a click. By making a compelling reason why someone should click on your results, your site can yield more traffic from that search. One tip is to use the primary keyword in the meta name description since Bing will bold that keyword for the user to see.
3. Header Tags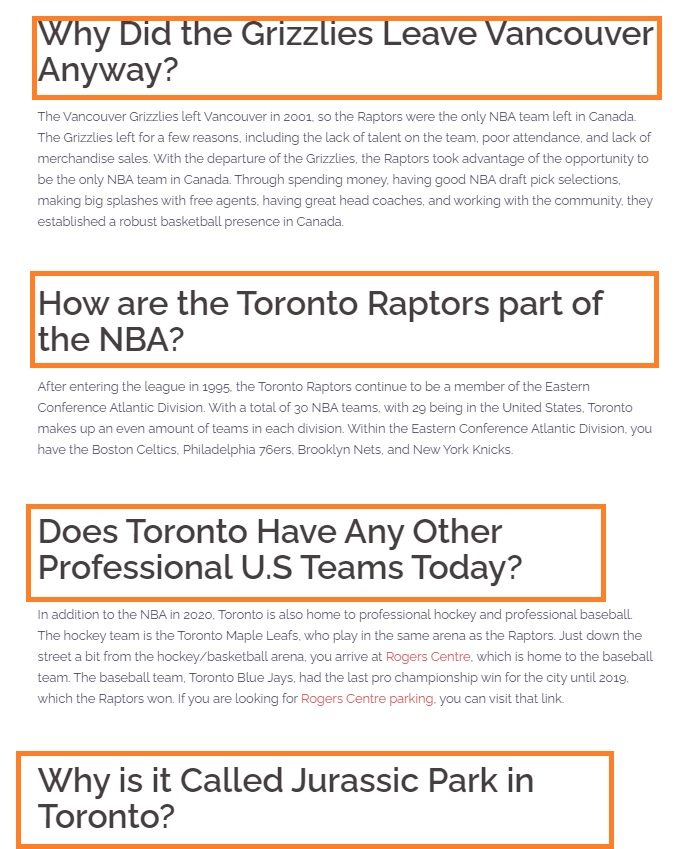 Once you lead off with your primary keyword in the title tag, you are ready for H2 tags on your page. You can ask and answer questions directly on your page if you take the information from the search analysis for Bing. One tip is to ask the question as an H2 tag and answer that immediately in that first sentence. Bing, like Google, will showcase results in the answer box with only so many characters, so don't bury the answer deep down the paragraph.
4. Images + ALT Tags + File Name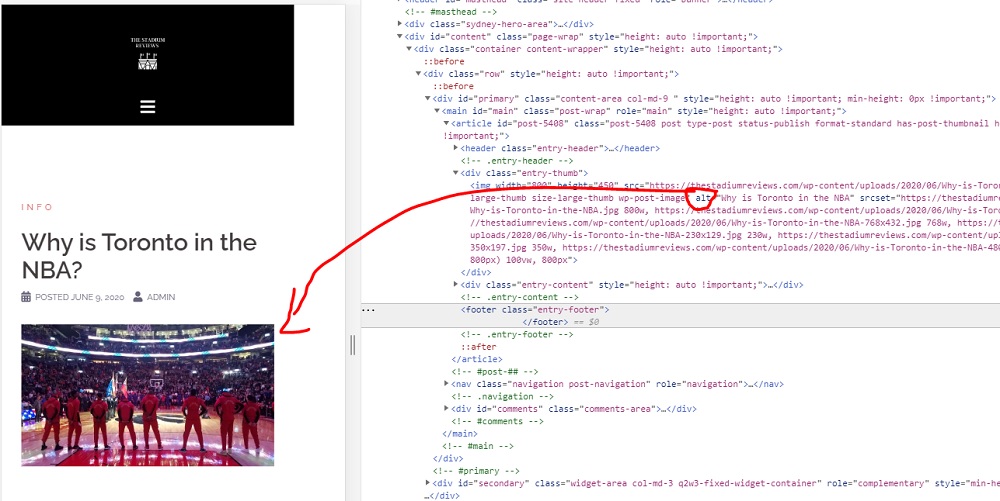 If you can take your own images and upload them to your site, Bing will reward you. One tip is to add an ALT tag to let Bing know what this image is about and make sure the file name matches the ALT tag. Too many times, I see sites that upload an image that has a file name that makes no sense, but the ALT tag is SEO ready. Having a different file name and ALT tag can look confusing to Bing, so make sure both the name and ALT tag line up perfectly.
5. Internal Links
Bing's bot needs to find your content to crawl and index, so add relevant internal links back to your content. Relevancy is critical when creating internal links back to your content, so don't overlook this step. For example, I would not link to my NBA Toronto piece of content from my Yankee Stadium page. There is no relevance with that link, so it looks artificial and does not provide a good user experience. Instead, I could link out to my NBA Toronto piece from my Rogers Centre page because the baseball venue sits near to the basketball venue.
6. Add External Links
When writing content on your website, you should link out to third-party sources. These third sources should fit the following criteria, if possible. First, you should only link to HTTPS content since that is secure, and you want to provide a safe internal journey for users. Second, you should try and diversify the links, if possible. Adding an organization link can help boost the credibility of your content. Third, you should add a descriptive anchor text that provides the content to your user. Don't say "click here" on a link, but instead, you should explain what clicking on this link will provide.
7. Add Your Content to the HTML + XML Sitemap
Bing uses the HTML and XML sitemap as a map to crawl and discover content on your website. At a minimum, you should at least have an HTML sitemap in your site's footer for users to find and use. An XML sitemap can give Bing more signals and clues on what to crawl and index, so be sure not to have a dirty sitemap. A dirty sitemap includes broken links and redirects, so don't waste Bing's crawl budget by crawling wasteful links. One last tip is to add your XML sitemap to your robots.txt file since Bing looks at that file often on your site.
8. Crawl Your Content Daily within Bing Webmaster Tools
Get in the habit of logging into Bing Webmaster Tools daily and submitting your URL's. Bing allows up to 1k URL submissions daily, so it speeds up Bing's understanding of your site. The idea behind this practice is that you are forcing Bing to crawl your site and index your content often. 
Bing U.S Statistics
Bing is more significant than you think, but I don't believe the 33% market share Microsoft claims on their site. They, Microsoft, references ComScore, which is accurate, but the way ComScore measures Bing searches is a stretch. ComScore uses MSN clicks as a Bing search, so I use a GS StatCounter as a baseline for market share.

According to GS Stat Counter, Bing makes up around 12% of the U.S search engine market share. The 12% represents desktop, which Bing holds close to 20% market share alone, mobile, tablet, and console. Microsoft Bing powers the search for Yahoo, DuckDuckGo, Ecosia, AOL, and MSN as well. In addition to powering those sources, Bing is the default search engine on Cortana and Microsoft Edge, which makes up over 1 billion devices as of June 2020.
Use Google Analytics to Confirm the Importance
Finally, I like to look at Google Analytics for my clients to see what Bing delivers for their goals. For some of my clients, Bing yields a similar or higher conversion rate than Google, but volume is low. If you only look at total conversions by source, you may dismiss Bing. Instead, look at Bing's conversion rate since that is scalable by driving more traffic from that source.
Conclusion
At TM Blast, I offer Bing SEO tracking for any clients who would like to see that. While I primarily focus on Google's traffic and rankings, I break out Bing traffic for specific clients as well. If you are looking for a Free SEO Audit in general, I provide that service too.