The content drilldown section within Google Analytics shows the taxonomy of your site, how it is organized (both good and bad), and where people interact well when visiting your site. Within this report, you can see how many page views a page gets, the bounce rate, the exit rate, and the time spent on the page. This report can help you see if there are sections on your site that are working or not if you have duplicate content on your site with the title tags, and if your structure on your site is a mess. You can break out the report by medium and source to see how your audience reacts when coming from a different source like email over organic search. This type of story can give you quick SEO technical wins just by doing a little investigation. Let's learn how to use this tool now!
What is Content Drilldown in Google Analytics Meaning?
Think of this as a high-level view of all of your content organized by categories that you created. In fact, you can even use this report to see where the flow of your site is confusing. For example, you can see where your audience as a whole responds better to page A and not page B that talks about the same topic. This report works very well if you've spent a lot of resources building out a guide section, but it is not resonating the way that you would like with your audience due to the navigation and how your audience finds it.
At a high level, this is the breakdown of my site so far for 2016. As you can see, the blog receives the most amount of traffic by design. Thus regarding the goal of the website, I am achieving my most primary goal which is great as a first step.

How to use Content Drilldown in Google Analytics
With the picture above, I am going to click on the blog section to expand this and see what pages are bringing in the page views. After I've clicked on that, I am brought to a level of all of my URL's. As you can see below, I am at the path level of my blog, but I can now look at a high level how all of my content lives and the page views that it has brought. As a note, you can include the full URL to see everything if that makes reading this report easier.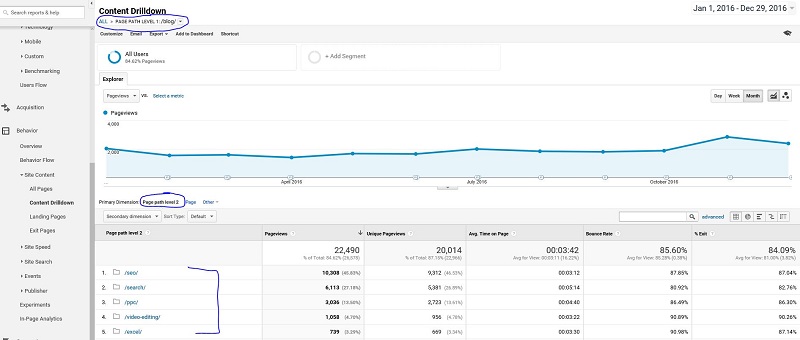 What you can do from here is click on the page path level 2 and explore the URL's that live under the page level 2 path.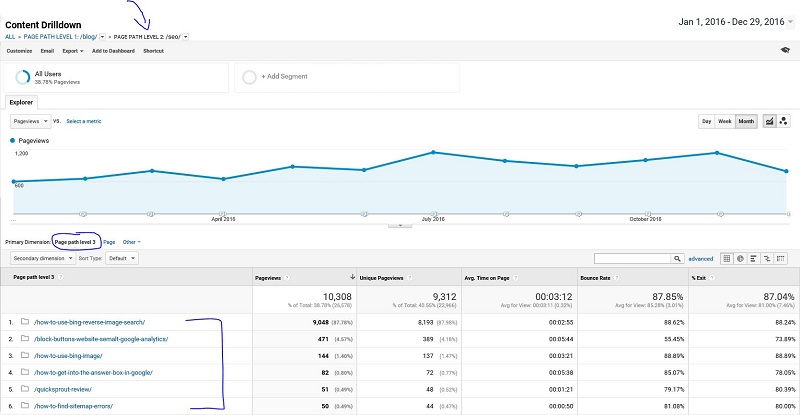 How to Spot Technical SEO Opportunities Using Google Analytics
Technical SEO opportunities are the key to SEO success. This report can give you high level insight into discovering thin content, duplicate content, or pages that are similar that are spreading your SEO efforts to vaguely. If you need a refresher on technical SEO, Rand Fishkin created a great whiteboard Friday video that explains why modern SEO requires technical aspects. This report can help you spot dead pages that are on your site that are bringing in page views. I would suggest downloading this story and using Screaming Frog to find 404 errors on your site. From there, you can create a VLOOKUP in excel and see if there are pages you need to clean up.
Regarding how to spot areas of opportunity is to change the second dimension of the page to include the title tag of the path. By doing this, you can see what pages have a similar title tag as another page. What is neat too is that you can see title tag changes that you have made in the past and even measure how they have performed. This is an example of how used this report and noticed I had two pages that mainly talked about the same thing. What I decided to do was create a 301 redirect and redirect users and Google and Bing to the stronger page. I used Open Site Explorer to confirm that the other page was stronger (regarding authority) and made that page even stronger by creating a 301 redirect to it.

This exercise can be used across the entire site in fact. You can use the advanced search section and search for a keyword contained in the title. You can then see how many pages cover the same (or similar) topic and then make the call on what you should do next. Some things you can think about is if one page is better than the others (like has more content, video, infographics, etc.), what page brings in the most traffic, what has the better conversion rate, lower bounce rate, has the stronger authority, and much more and make a call.
Conclusion
The Content Drilldown report in Google Analytics, in my opinion, is a hidden gem. Users will flow from a page to another page if the taxonomy of the site makes sense. The same can be said for search engine bots when they are crawling through a website. Making sure you have a clean place will have a positive impact on your audience and your SEO. I would even take this a step further and use the index explorer tool within Bing Webmaster Tools to see how Bing bot sees's the taxonomy of your site.
If you are looking for a more in-depth drive, you should look into log file analysis for SEO to see what Google and Bing look on your website.