Cortana for Android devices delivers more freedom than that on the iPhone. Here is the ultimate guide in using Cortana for your Android device!
What is Cortana?
Cortana is the name of Master Chief's artificial intelligence helper in the poplar Xbox game called Halo. While this is not Halo, Microsoft has brought this artificial intelligence to everyday people like you and me. Cortana acts the same way as Google Now and Siri by giving personalized results and by helping keep you productive.
One of the biggest strengths of Cortana is the cross-platform ability she can do to help you stay connected. This is one of the ways she is completely different from Siri and Google Now. She is built to be an artificial intelligent assistant to your daily life. Cortana can be found on Windows 10 computers, Microsoft Band, Xbox One, iPhone, Windows Phones, and Android devices. Today, I am going to show how to use Cortana on Android devices.
Where can I Download Cortana on Android?
Head over to the Play Store and search for Cortana. You will see a screen like this below. From here, you can simply download the app and you are good to go.
Home Screen
If you are familiar with Cortana on Windows 10, then you will be comfortable with the design here. Cortana takes many factors into consideration when showing you information on the home screen. If you save interests on Bing, you will find these interests on the home screen for Cortana. You can scroll up and down to see all the interest Cortana will pull for you. If you have any reminders or calendar events that you let Cortana know about, you will see them at the top of the screen. The home screen allows you to launch an internet web browser when clicking on the links too.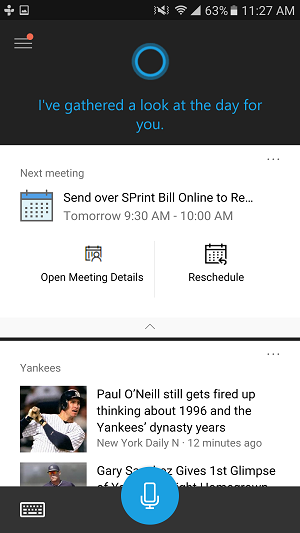 Notebook
This is where you can get Cortana to be personalized for you. For example, I put that I like Thai Food as a cuisine preference. When I am looking for restaurants near me, Cortana will remember that and see if any Thai restaurants are around my distance requirements. You can share other information like package numbers to track purchases on Amazon, or a flight number for your next trip. With this information shared, Cortana can alert you on things like your Amazon package has been deliver, to your flight is leaving early and you need to leave at a certain time to catch it.
Settings
Cortana on Android has more features than that of an iPhone. You can use "Hey Cortana" when the app is running to start a conversation and you can sync notifications to your PC. These are two unique features that you can't get on the iPhone right now.
How to Sync Cortana on Android to your Windows 10 computer
In the settings above, you simply need to click on that button that allows you to sync your phone to your computer. Syncing to your computer looks like this. You can even respond to text messages from your computer which is pretty cool. The other settings are pretty similar like language settings, auto report, and more. Once the message goes through, Cortana will send you an alert that she sent off the message.
Reminders
This is a way to have Cortana remind you of something. For example, I could be at work and I can tell Cortana on my PC to "get milk at WholeFoods" when I am heading home. With Cortana on my Android, Cortana will pop up with this reminder when I am heading home from work. A feature like this comes in handy because Cortana plays nicely across many different devices. This is truly what a personal assistant can do which is unlike what Siri  or Google Now can do at the moment.
How to Search with Cortana on Android
You can either type something, or you can use voice. To type, you want to click on the keyboard on the bottom left hand side of the app. This just works like any message app that you have. If you want to use your voice, you can click on the microphone button and fire away. You can also say "Hey Cortana" to get going as well. When the query is registered, Cortana will either show you a direct answer, or a Bing SERP listing. This greatly depends on the intent of your query. If you asked "who won the red sox game", Cortana will tell you without bringing you to a query page.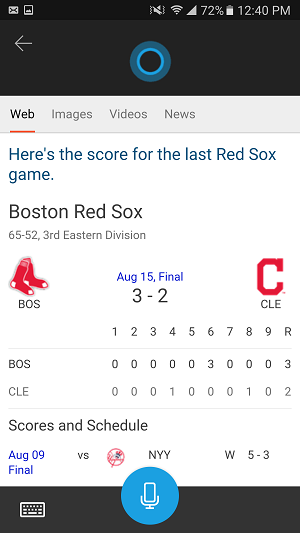 If you asked "show me news about the redsox", Cortana will display a Bing SERP page.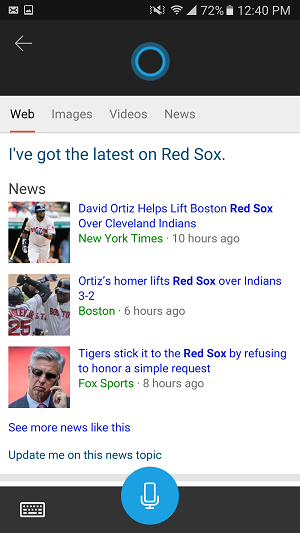 Here is a video on how to use Cortana on a PC if you are curious how voice search works.
How to Replace Google Now with Cortana on Your Android Home Screen
While you need to have the Cortana app opened to say "Hey Cortana", you can replace Google with Cortana to make this process even faster when you hold down the home button.
Go to Settings
Applications
Default Applications
Device Assistance App
Click on it and choose Cortana
Now with that enabled, you can hold the home button down to instantly launch the app and get going.
Conclusion
While not as built our like Windows Phone or a Windows 10 laptop, Cortana on Android is the step in the right direction of the same experience. Whether you use the app to search the web or create reminder, Cortana will sync all of that data across all of your devices where she lives on. With our world being mobile, we are always on the go. If I put an event in a calendar on my computer, I can see what my outlook is on my phone. If I tried to create a reminder on a certain day, Cortana can let me know if there is a conflict or not if I already had something before booked that day. This is very much like a true personal assistant. With each release, you can expect even more functions!
You also need to have a Microsoft account to have this information carry across all devices. If you have a Windows 10 computer or an Xbox, you can use that same login information to get started! If you don't have a Microsoft account, you will have to go through a few quick settings to get going like your name and what you are interested in.