Everyone wants free things. Everyone wants to be paid for doing minimal work. One way to earn on the web is searching through Bing. Bing Rewards (now known as Microsoft Rewards) is a free program from Bing that rewards you for using their search engine service. You can earn reward points by searching on a mobile device, on a desktop, on a surface tablet, Xbox, and more. This is effectively the same as being paid for searching the web.
The key is to be signed into your account across all of your devices. You can also earn more points for things like using Microsoft Edge if you have a Windows 10 device, taking surveys, opening up emails, taking quizzes and much more. The reward points can't be redeemed for real money, but they can be used for a range of rewards like free xbox live for 12 months, $10 Starbucks gift cards, contest to win prizes, and much more. In this blog post, I will show how to get paid to search the web from Microsoft through their rewards program.
How to Sign up for Microsoft Rewards Program
Here is the link to get started by signing up. From there, you put in your Microsoft Account email that you use, or you can put in an email address like Gmail, outlook, yahoo, or something else. Once you are signed in, you will be set to level one. There are only two levels in this program.
Level 1 vs Level 2 Microsoft Rewards Member
As mentioned above, you will automatically be given the status of a level 1 member when you sign up. The goal is to get to 500 points a month to get to level 2. The big benefit for being level two is that you are able to earn up to 250 points a day as compared to 50 points. You will be able to search on mobile to get points and you will get 10% off all rewards when you are a level two member. You have to keep this level every month to keep this membership. If you are looking for a more complete breakdown on the differences between the two, you can check out this picture below that explains in more detail what the two levels are.

How To Earn More Microsoft Rewards
There are many ways to earn reward points, but I want to breakdown how to get the most points per day. As a note, you will see a different amount of points to earn everyday, so it is hard to say how many points you will get each day. However, I have been a rewards member for a while and can say that if you do all of your searches everyday, you should be able to get 10,000 or more points per month. Some of the things I want to highlight in the picture below is how many points I am able to earn today. The number two reflects that I have earned all 150 points today for PC searching, but I can still earn more for Mobile searches. I also circled this interesting section about browse and earn. This is a Windows 10 exclusive thing, so I will get to that later. Let's begin with PC searching.
PC Search
For every two searches you do on a desktop (signed into your Microsoft Account), you will get ten points. These searches can be whatever you want. The topics on the bottom count as a search too, so you can click on them and it will count to your desktop searches. Desktop searches can also be used for image, video, and map search, so you can see how the points will quickly add up.
Browse and Earn with Microsoft Rewards Extension
This is a Windows 10 exclusive and only works with Microsoft Edge. See, Microsoft Edge is the new browser for Windows 10 and Microsoft really wants you to use this. Since that is the case, they will give you an extra amount of points every month for something that they call active browsing. If you want to learn more about the privacy concerns you can click here.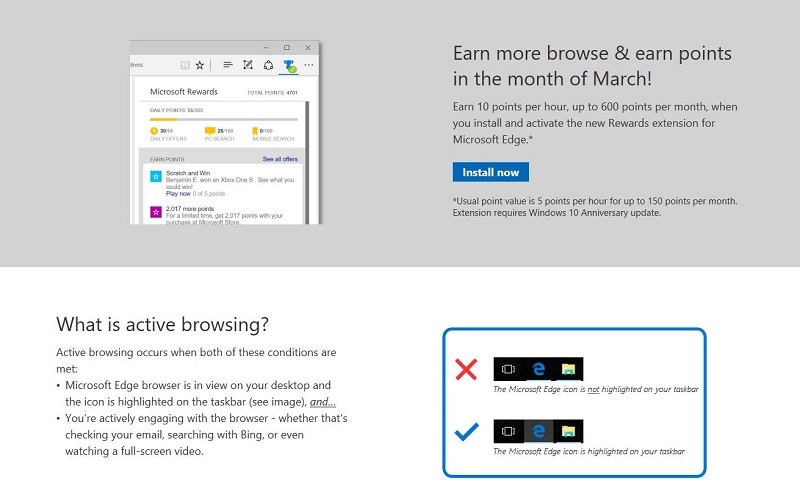 The big thing about this is that you will get extra points for just using Microsoft Edge (the blue E symbol), but you will earn even more points when you download the extension. The extension is running in that picture under the PC search and you will see a green check mark there. That is how you know that you are using active browsing. You have to be using your Windows 10 device and account to get these points, so you can't use someone else's account if they have the extension and got rewarded too. You have to download the extension. At one point the reward was 1,500 points, so this number will change all the time.
Mobile Search
Just like on a desktop, you can earn points by using your mobile phone. Same as before, you need to be signed into your Microsoft account. You can either use the Bing app for iPhone, Android, Windows Phone, or you can just use whatever browser you want and do your searches on it. If you use the Bing app, you can search simply by clicking on the titles without having to type anything out. This mobile experience is quite good and you will be surprised at how fast you will get to 100 points on mobile just by doing a few searches.
Checking Your Email
Once you sign up for Microsoft Rewards, you will start getting emails to your account. The emails that you get are actually important to check out because they contain links for you to click on to get more points. You will get a few of these each month, so make sure you check your emails for Microsoft Reward points. For example, we are in March 2017 and March Madness is about to start. In honor of this, Bing is making sure to let you learn more about this event and will reward you by clicking on the links. Here is an example email that has many ways for myself to earn. The total email actually had 50 points for me to earn, but I wanted to show what some of the things are.
In that email example above, I had a quiz that I had to take. Don't worry if you don't know the answer, you actually can guess until you get the right answer. You will know that you got the right answer when you see a screen like this.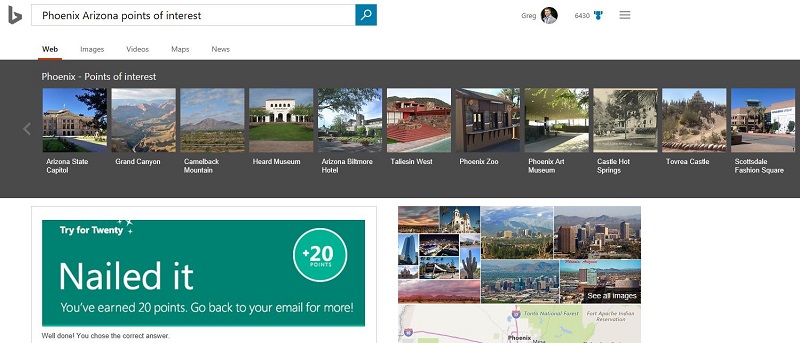 Daily Offers
Another way to earn even more points is to click on your rewards medal to see the daily offers. The offers are really simple to earn points for. You can do this on both desktop and mobile, but you simply click on the icon that says 0 out of 10 points and you will get rewarded ten points for clicking on that. Here is an example of thirty more points I can earn to my daily rewards by clicking on these offers.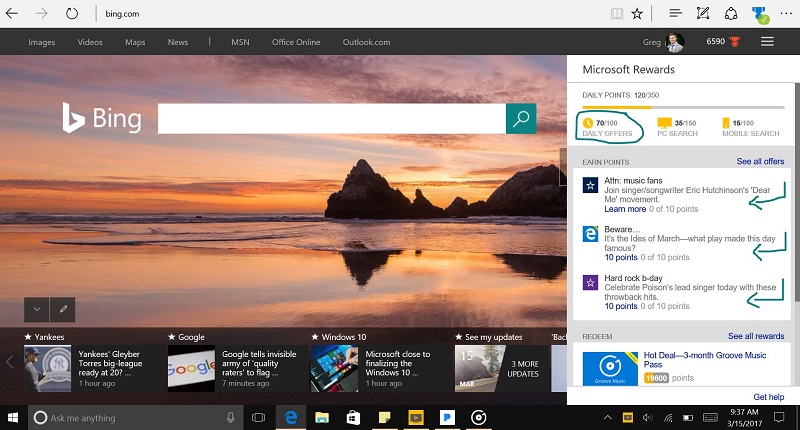 Shopping in the Windows Store
Every month, Microsoft will reset the counter down to zero and allow you to earn points for shopping on the Windows Store. It's basically their way to urge you to use their store to rent movies, rent music, pay for apps, or even buy bigger things like computers. Whatever it is, you will get points for whatever you buy. The exchange rate is for every $1 dollar you spend, you get 1 point. In my opinion it should be higher when you see how much the rewards actually cost, but at least it is something. One trick through is this. If you rent a lot of movies, you should use your reward points to get a Windows gift card that has credit on it. Then when you rent movies, you are using your points (so you are not paying) and then you are getting extra points for renting a movie or something.
What are the Prizes for Microsoft Rewards?
Now that you know what to do, I want to share what these points can be used for! Some of the rewards are things like Amazon, Starbucks, Xbox Live Membership Cards, Windows Store credit, Groove Music Pass, Skype Credit, Hulu one month pass, enter sweepstakes, and much more. Now, I have seen that new members don't have access to some of these rewards when they start, but Microsoft does say that some of these things like Amazon will be available eventually. Here is a screenshot of what the rewards look like
How Do you Redeem the Points for Rewards?
Let's say you finally have enough for that Microsoft Groove pass and you want to redeem your points. You just click on the redeem rewards section and you are presented a screen that says if you want to submit your points for this reward. Once you click OK, it is going to ask if you want the reward points to be submitted to that email address that you have on file. Once you click yes, you will get the rewards in under 24 hours. To be honest, I usually get these in less than ten minutes, but I can't speak for everyone though. Here is an example of an email that let's me know that my prize has arrived.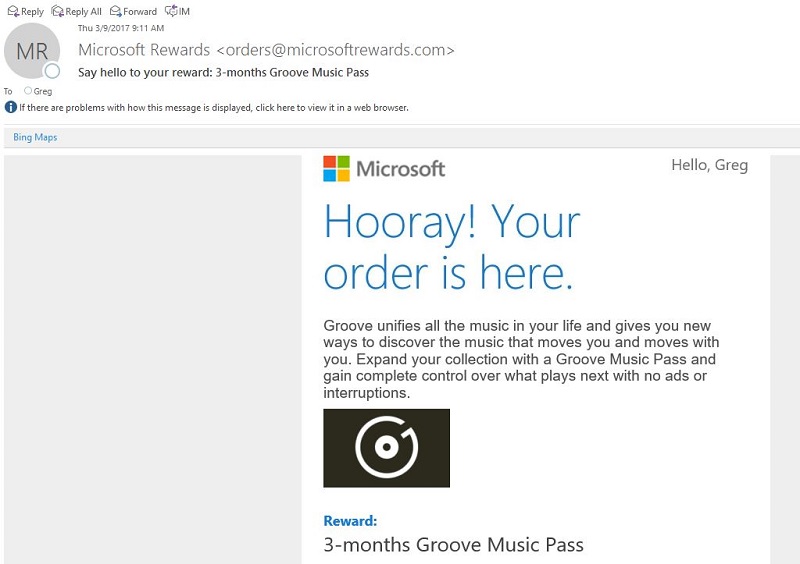 Conclusion
At this time, you can only sign up for Microsoft Rewards if you live in the United States. If you want to join and you are outside of the U.S, I would recommend living a comment at Bing Listens. If you do live in the U.S, I really do believe this is a great program. Depending on the rewards that I showed before, you might have seen something you like. Since most of us use Google, you might as well try out Bing for a few months to see how the experience is good enough for you to get free rewards for. I personally use my reward points for Groove and Xbox, but I do know people who get $120 dollars in amazon gift cards every year by using Microsoft Rewards, so it really comes down to taste and what you want.