A few months ago, I struggled when I tried to add the conversion tracking code from Bing Ads to WordPress. I am not a web developer, so I struggled when I tried to add the java script code (simply) to the <head> section on the thank you page. I wrote about how to track conversions using Bing Ads and WordPress, but right after I published that post, I got in contact with a developer from Bing Ads. In fact, I asked that exact question on the Bing Ads Listens section back in May which got completed. It got completed by that same developer who reached out to me, Jamie Chung. 
The Bing Ads UET Plugin
This is the WordPress plugin that Jamie created.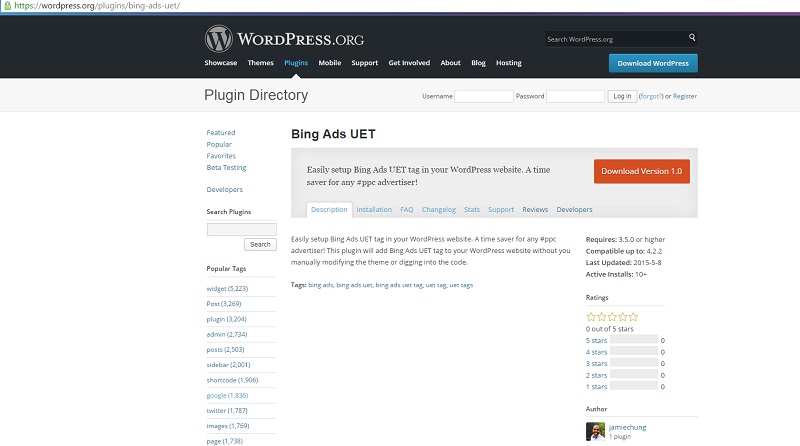 You can also search for this in the plugin section in WordPress. Once you have downloaded the plugin, you need to do two simple steps. We will get to those two steps later on in this post.
Setting up the Tracking in Bing Ads First
Before we get into the plugin, we need to head over to Bing Ads. You need to create the goal within Bing Ads that you want to track. In Bing Ads, you can set up whatever you like as a goal.  You can set the goal in Bing Ads for a destination URL like a thank you page, a duration like spending 3 minutes on some page, viewing a few pages on your site, an event like playing a video or clicking on the sign up button, or even a mobile app installation.
For what I wanted to track, I created a goal to track an ad click that ultimately got to my thank you page. This is how I set my goal up. I set the destination URL to the unique PPC thank you page, I set up a value of $400 as that is what a lead is roughly worth for me, and I set up a conversion period of 1 day. Once everything was the way I liked it, I went ahead and clicked the save button.
Once the goal is created, you need to view the tag to get the tracking code. You have to check off the box first and then click on view tag. Here is the code that I need to put into the plugin to track the conversions.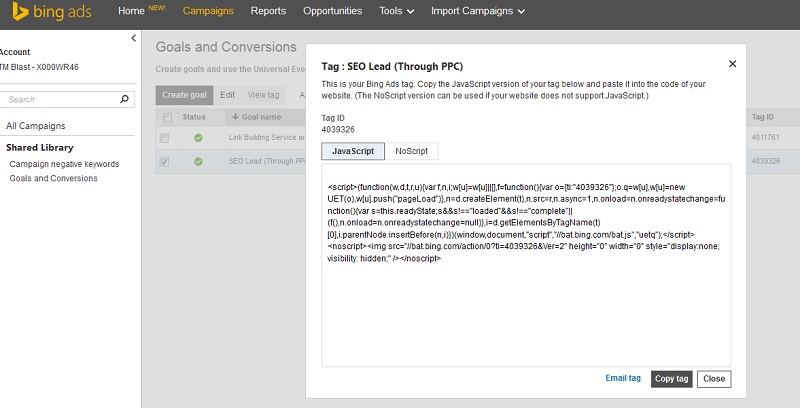 Let's Add The Code to the New Plugin
We just simply need to copy the entire code and head over to our newly downloaded plugin. In WordPress, you will see the plugin under the settings section. Next, we need to paste the code into the plugin and enable everything to track.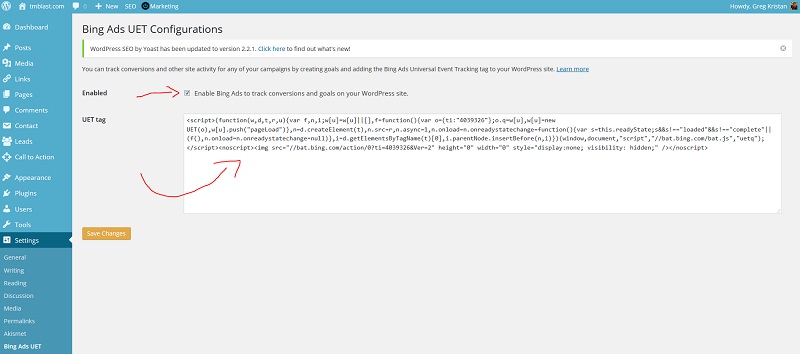 Conclusion
Again, I am not a developer, so I do struggle with code. I chose WordPress so I can do the least amount of coding as I can while having as much SEO and PPC control as possible.