Running paid ads in the Yahoo Bing Network is a lot of fun. Do you know what is not fun though? Paying for irrelevant clicks! Learn how to find these bad keywords and create negative keywords in Bing Ads now!
Go to the Report Section in Bing Ads

In the picture above, I have the section "search terms" selected. You will need to have this selected to  find exactly what someone searched to trigger your ad. If you just use "keyword", you will only see the keyword match type that you put into your ad. This does not help us for this tutorial.
Next, I chose the selected time and selected campaign I wanted to look at.
This is the report that I see in Bing Ads one I click run.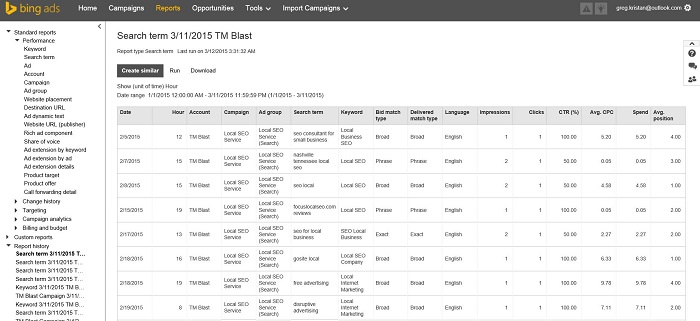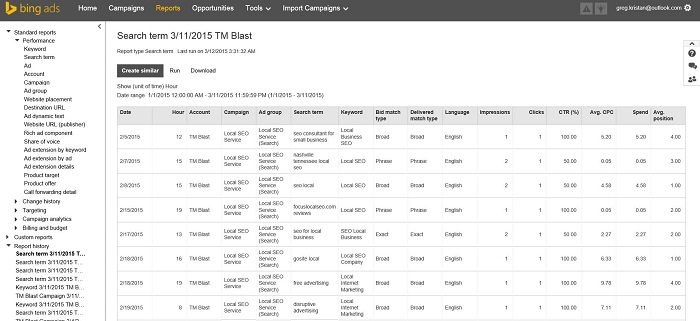 Since this is a Microsoft platform, Excel is incorporated heavily in the interface. I clicked on the download section at the top of the report to view everything in Excel. I do this because Excel makes this data easier to read.
Use Excel to Find Bad Keywords
Next, I want to head over to the average CPC section and filter the settings to largest to smallest. I am looking to find when I spent the most for completely irrelevant clicks. When I identify these words, I can use the negative keyword section to block them.


I immediately see the term "Free Advertising" on my list of triggered keywords. The reason why this was triggered was because I ran the term "Local Internet Marketing" as a broad match. Since it was set to broad, Bing showed my ad since advertising and marketing are similar. This term interestingly enough was triggered twice for my ad. The last click cost me almost $15! What a useless click! I am very stupid for not stopping this back in February, but lesson learned.
You can have some fun within excel if you wanted. I would recommend running a condition statement to see if the same keyword triggered multiple ads over multiple days. For this example, I am just going to keep this at a very basic level.
Add the Negative Keywords Easily in Bing Ads
For this example, I found the completely useless term "Free Advertising" in my Excel document. That term is costing me money, lowering my quality score, and taking my ads away from potential better clicks since I have a limited budget set everyday. For the sake of not wasting money, I want to easily add this to the negative keyword section in the Yahoo Bing Network.
You need to go to the campaign section and click on the campaign that you want to add this term too. Once you have clicked on this section, you need to click on keywords. Once you have clicked on keywords, you need to click on the keywords drop down section to add negative keywords.


Next, you want to click on Add Negative Keywords
Once you get into this section, you want to put the keywords (or keywords) into this section with quotes and brackets. Once you have added the negative keywords, you will see them added below.


In Conclusion
This process does not take a lot of time to complete. It does take a level of commitment to perfect though. Take me for an example. I ran my Bing Ads for ages without even checking this report. I was so blown away at the wasted money that I was throwing away, I decided to write this blog post at midnight 🙂
I also want to point out that you can block the term free as a phrase match negative in the example above. This will effectively stop any other variations of free advertising from showing up in Bing. A helpful hint would be to segement your campaigns out to target the match type that you are looking to serve, That will make negative keyword blocking much simplier and cleaner.
I go to a lot of meet ups and I like to talk with a lot of entrepreneurs who are running PPC campaigns. A lot of people that I talk to don't create these reports which is common, but very scary. When I explain how you can save money on clicks, people definitely perk up. There is a lot though that goes into creating these reports that I did not go over in this blog post. You should look at CPC (cost per conversion), the ad that triggered the keyword, the landing page itself, the match type, and more. This blog post was just designed for the basic PPC user.