Adding a sitelink to your Bing Ads is incredibly easy. The benefits are tremendous (more real estate, more areas for your users to click on, no additional cost, etc.) so let's create one now!
Here is a helpful video on Bing Ad Extensions and how to create these links
http://gkris4.wistia.com/medias/unofgxtegu?embedType=seo&videoFoam=true&videoWidth=475
Here is an example sitelink ad in a Bing search
I searched for Toll Free Numbers, and I got a few results. The third result I want to go over since it has this extension.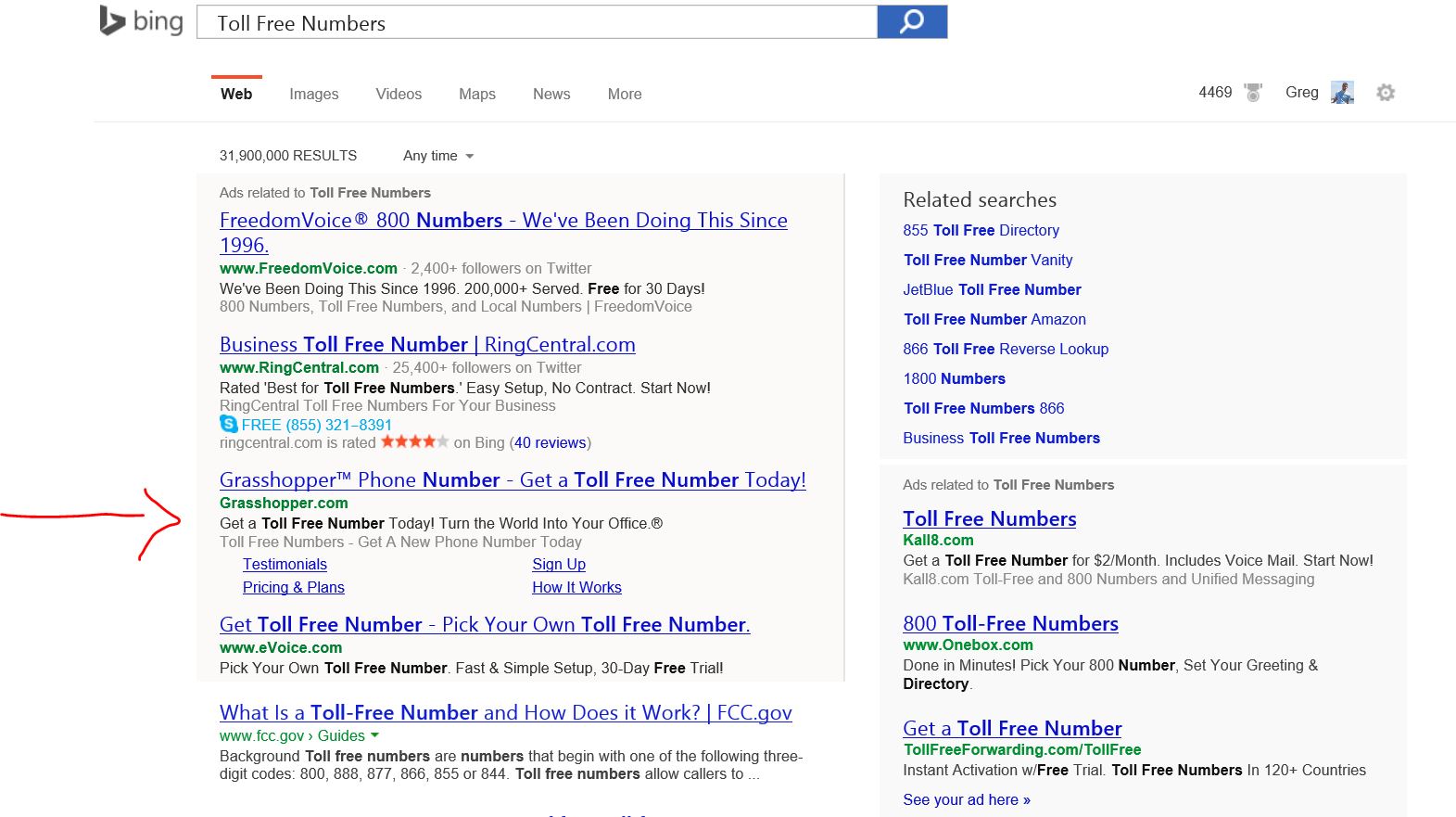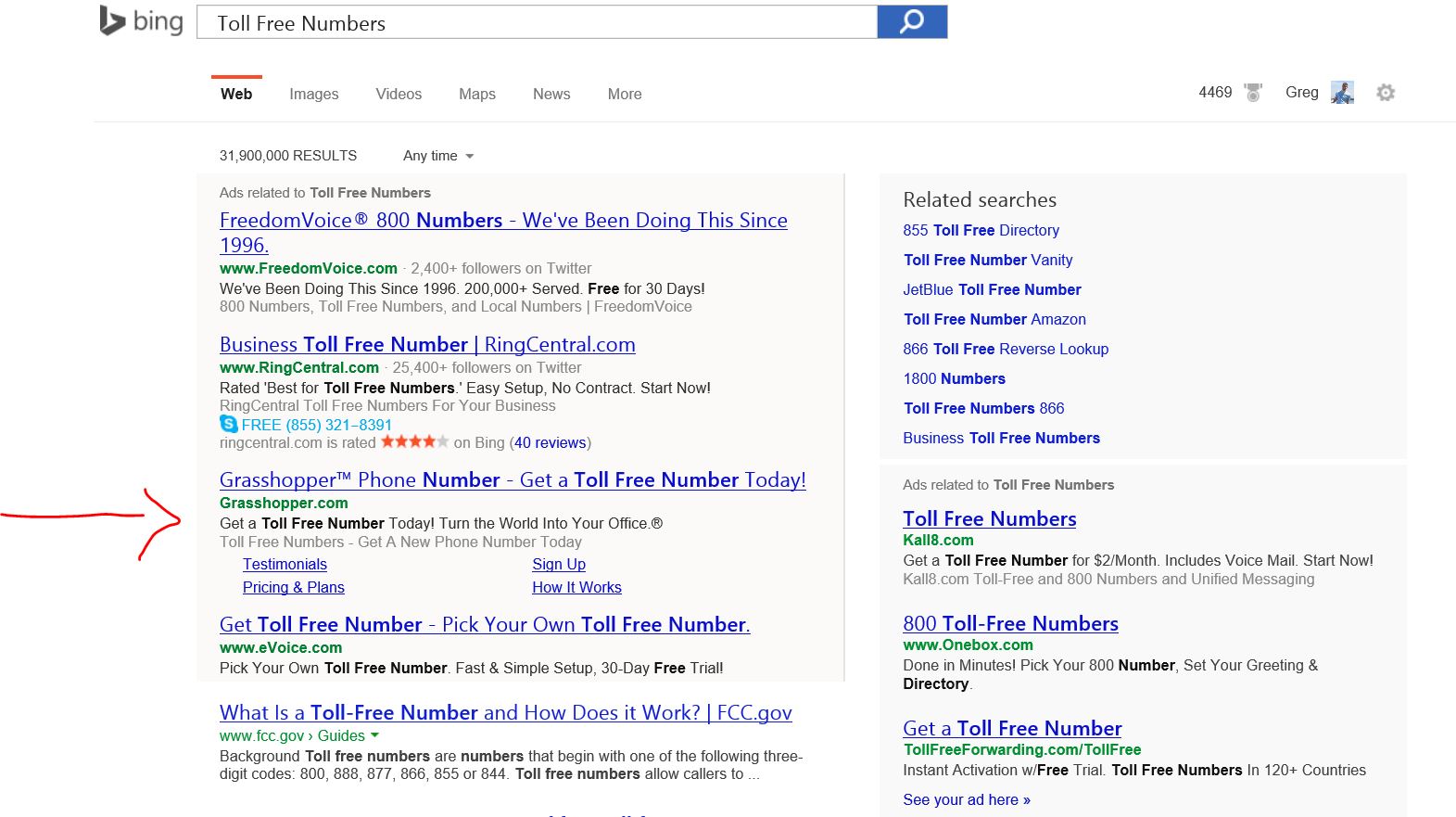 You will notice that this ad has a few other links that go to other places. There is a link for testimonials, pricing and plans, sign up, and how it works. As a side note, I work for that company, so that is why I chose them as someone who does this nicely 🙂
The reason why these sitelinks are great is for a few reasons
More real estate (your ad looks bigger and more enticing to click on)
The links are pages that users look at when they are learning about our service
The ad stands out against traditional ads without the extension added
There is no additional cost for running extensions
When you create your own extensions, I suggest using Google Analytics to see where users most often go to. I would use goal steps or other areas with Google Analytics to see the steps that users take to finally convert on your site.
Anyway, I want to show how easy it is to create this.
In Bing Ads, I go to the campaign and the ad group that I want to add the sitelink extension too. You can click right on create ad extension.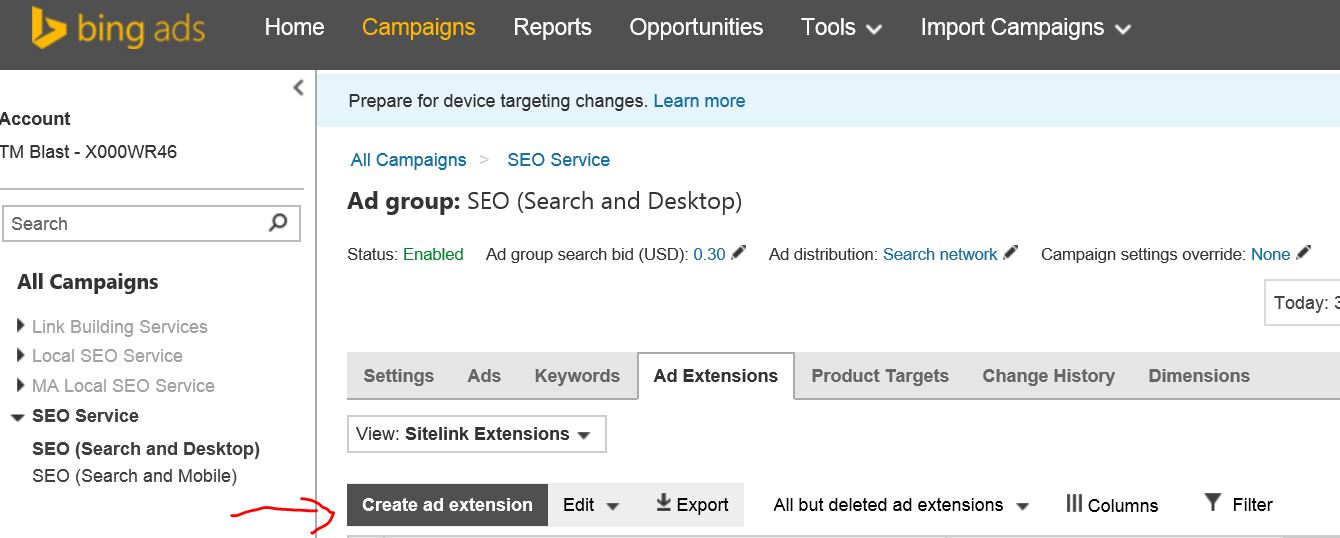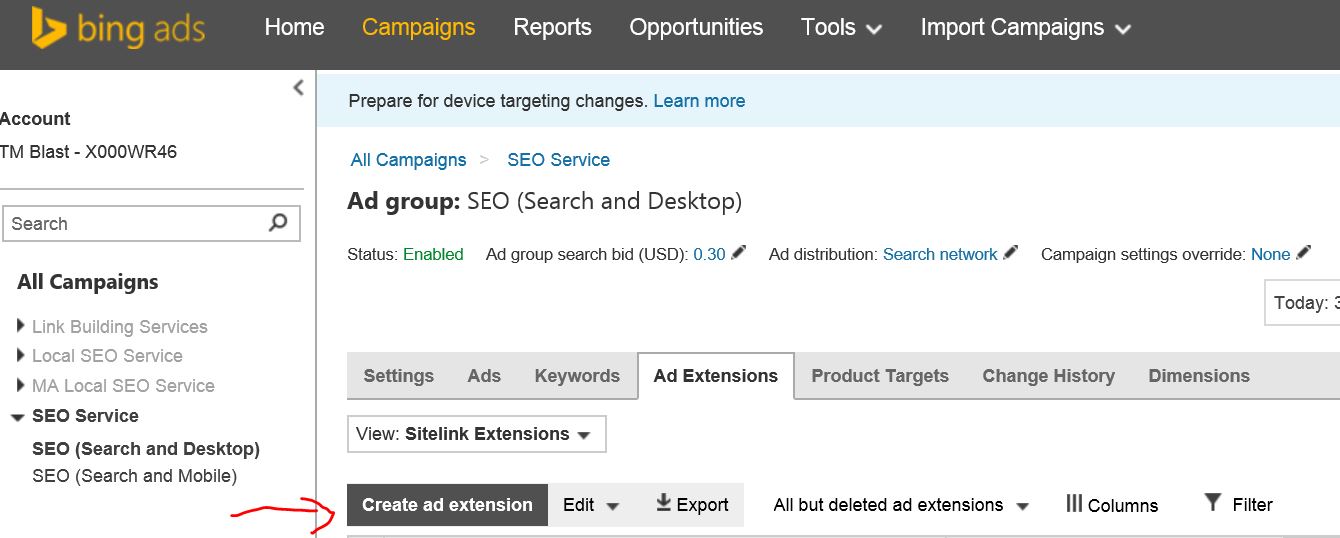 Here is what mine look like. I have more than four which is something I want to point out. By having more than four, I am not going to see more than four, but Bing and Yahoo will cycle though my extensions to show 4. I would recommend just having four when you create these extensions. I think it is better to add an additional four as a new sitelink extension and have that as it's own A.B test, but this is just a really basic example.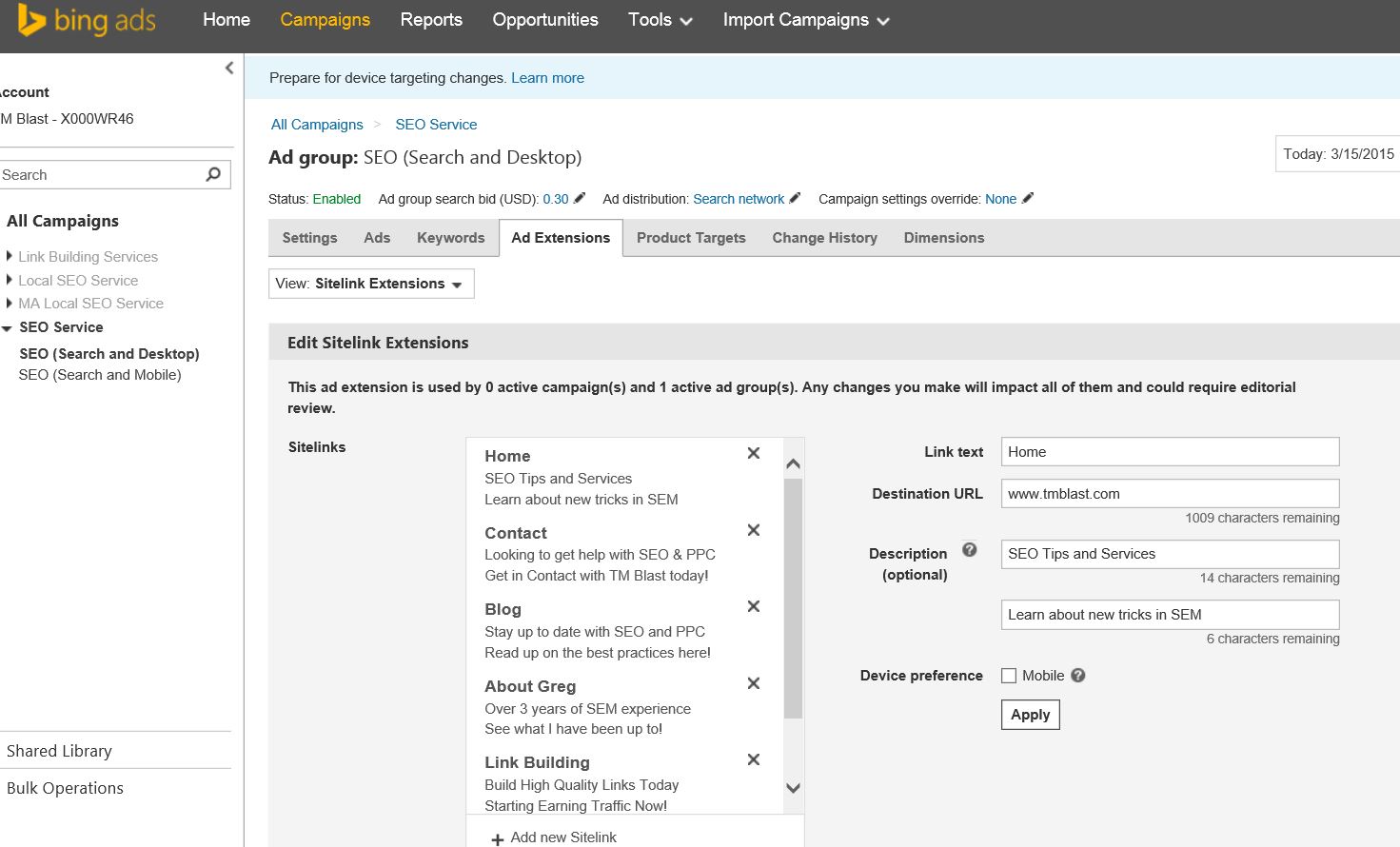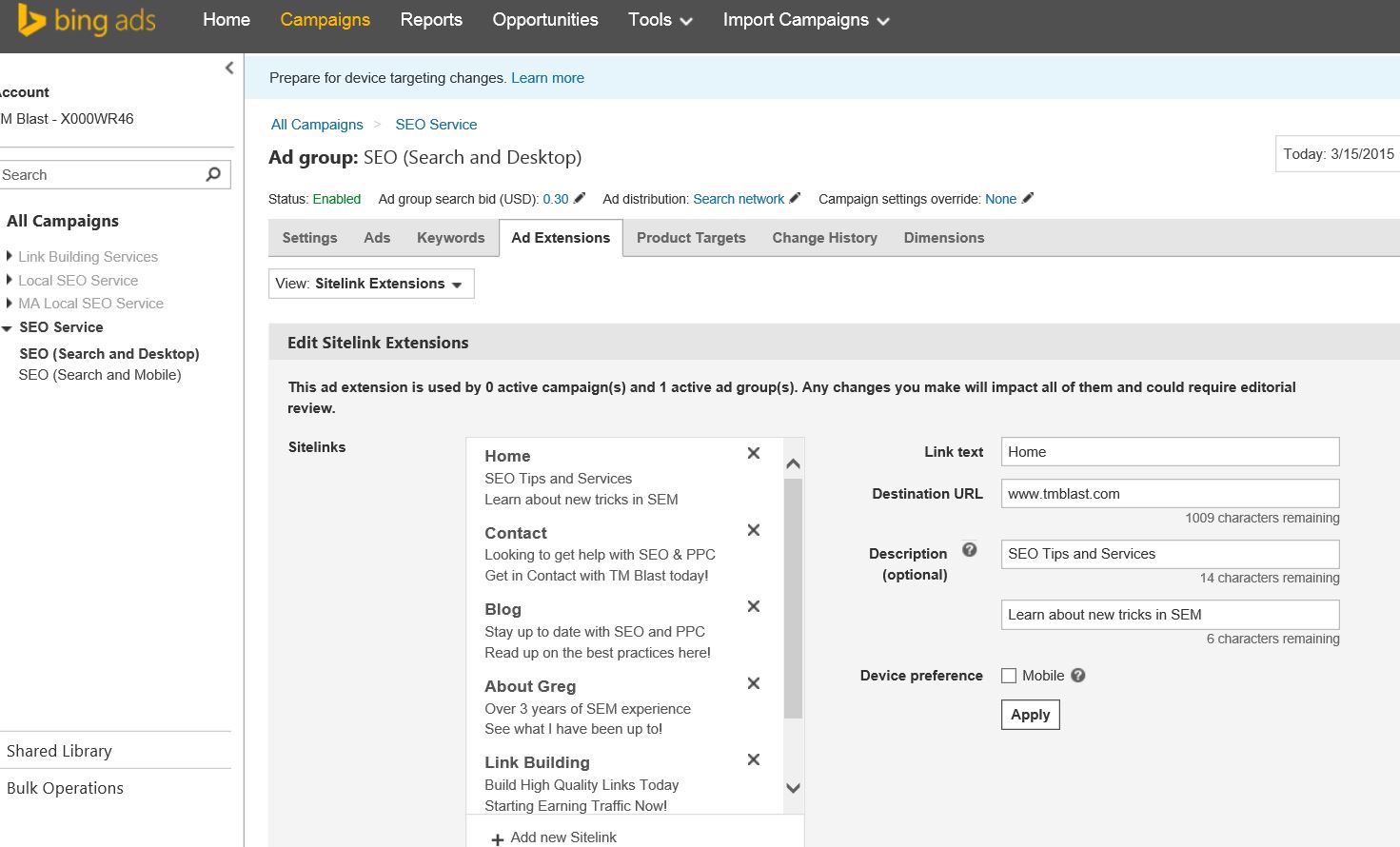 You can simply click on Add new Sitelink, and you can add the name, the URL, and the description of the sitelink. As a note, I did not see the description for Grasshopper when I did that search in Bing. The reason why I did not see this was because the ad was not the top ad on Bing. If it was, I would see a brief description about all of the links that they have on their site.
In Conclusion
Are sitelink extensions the only type of extension I can have in the Bing and Yahoo Network? The answer is a loud NO! I will go over some of these other extensions at a later date.
Thanks fore checking this out!
[social_share style="circle" align="horizontal" heading_align="inline" facebook="1″ twitter="1″ google_plus="1″ linkedin="1″ pinterest="0″ /]