Today we are going to learn how to create an amazing bokeh effect by using adobe Photoshop during this tutorial!
Step 1: The Background Image
This was the image that I used below. You can use the same image too!
Step 2: Make a Copy
Like all photoshop tutorials you want to create a copy. This works well if you went too far in a few places. Also that is a direct quote from a very famous director. Bonus points if you know what movie he said that in the behind the scenes. "I might of gone too far in a few places". As a hint, it is a Star Wars movie…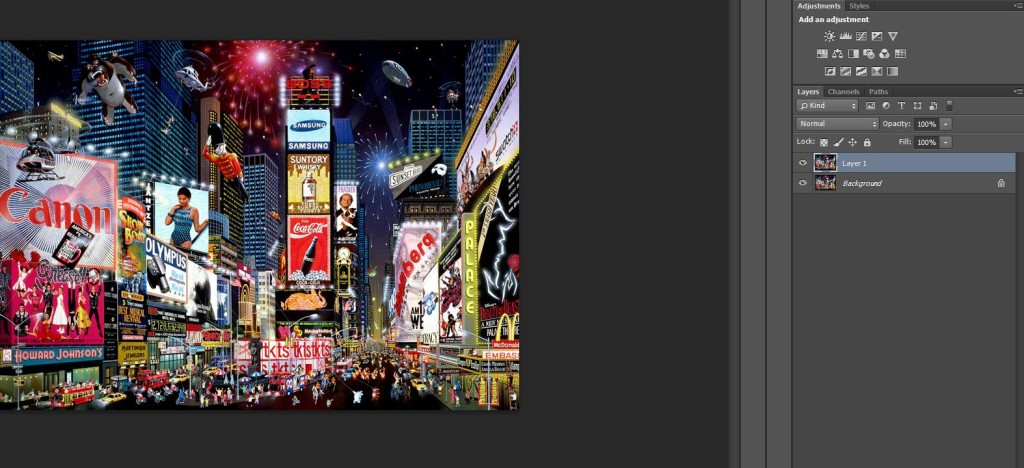 Step 3: Blur the Layer 1 Image
With the new layer that we have created (called layer 1) we want to head over to the filter menu on the top of our workspace. Go to filter –> blur –> Gaussian Blur. Once that is selected you want to choose a high number to blend the image. For this image I went around 190. It can be a little more or a little less.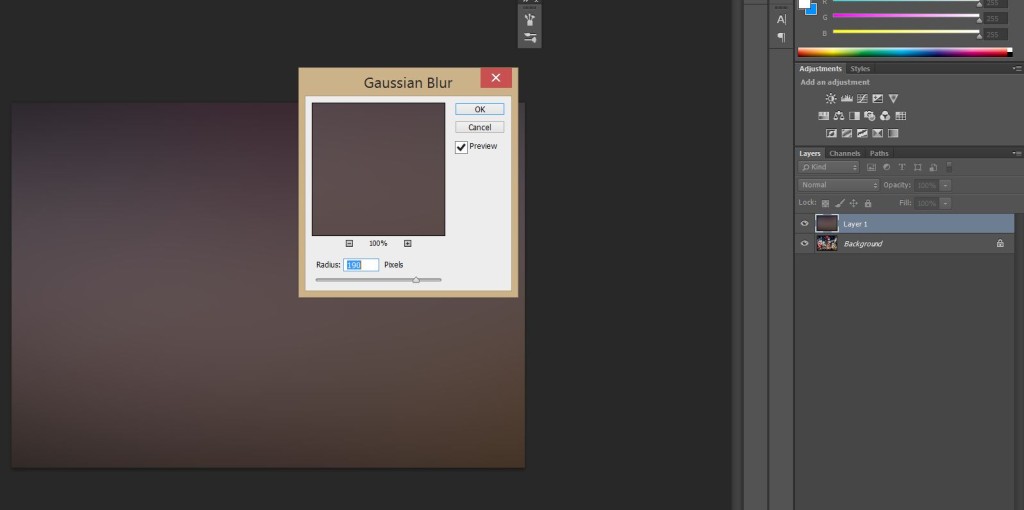 Step 4: Choose the Color Range
Once we have blurred our image (see the picture above) we want to add a bit of color to this. What you want to do is bring up the color balance section. This is located on the bottom of our workspace. It is called create new fill or adjustment layer. I set mine to a setting that looks like this below. I would encourage you to try your own settings, moving forward just because this becomes personal taste at this point.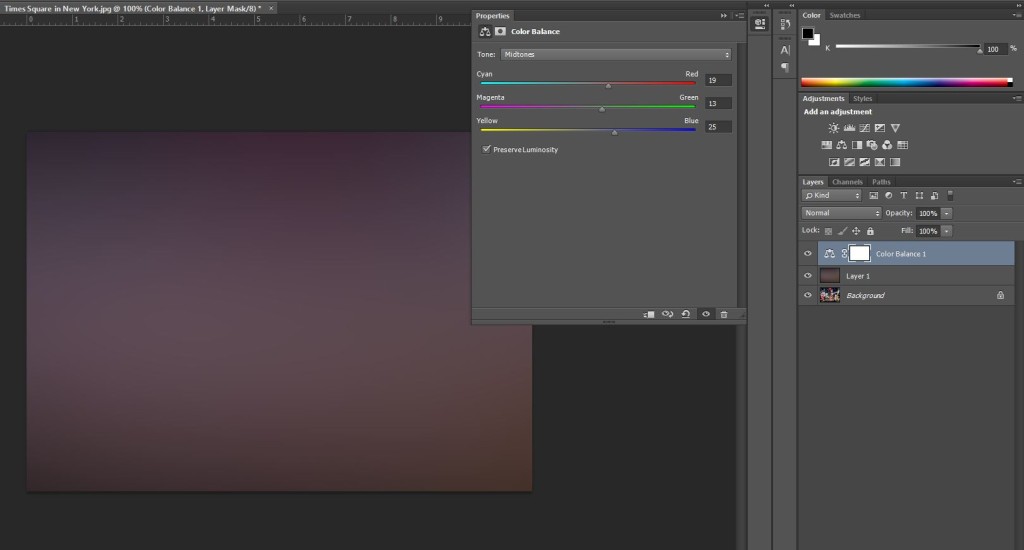 Step 5: Play around with the Curves Tool
Next we want to mess around with the curves tool. In the same place that we went in the step before we want to click on curves. This is another judgment call section where you can choose the settings. This is what I chose below. I would suggest for you to make it your own number.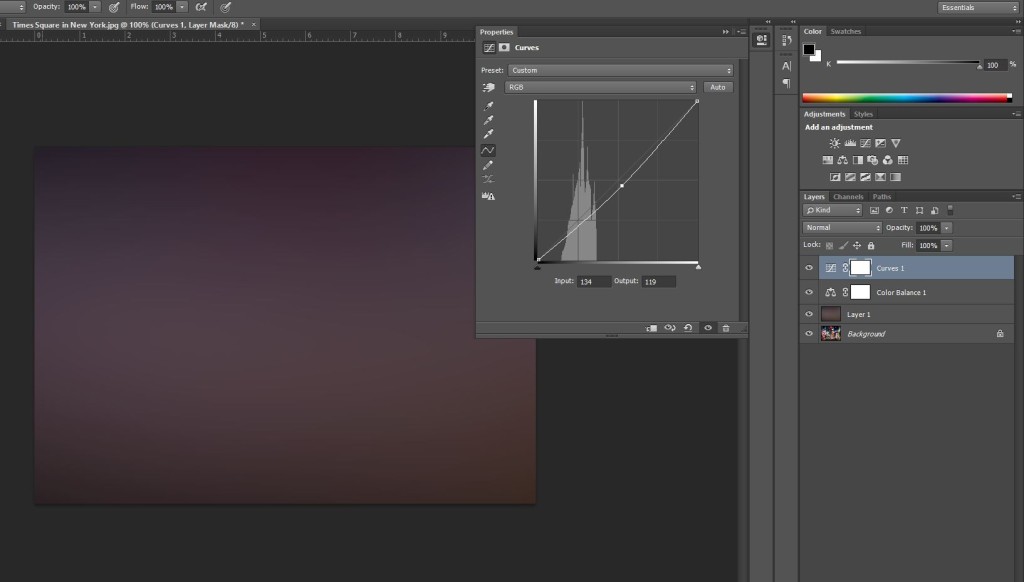 Step 6: Bring out the Brush and add some Dynamics
A simple way to do this step is just to press the "B" button your keyboard. Now we want to click on this section that I circled in yellow below.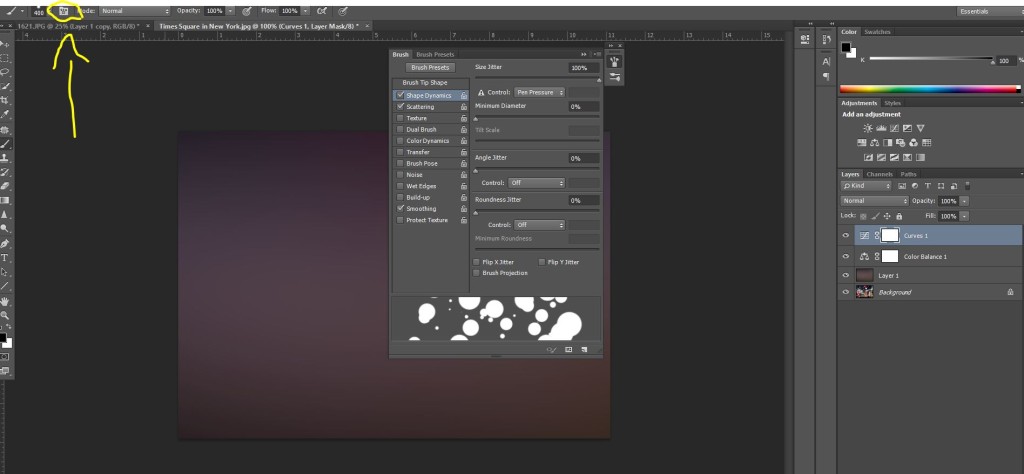 This box will appear (see above). These are my settings that I have for shape dynamics. Below are the settings that I used for the scattering section. This is another section where I encourage you to use the settings that work best for you or what you are working on.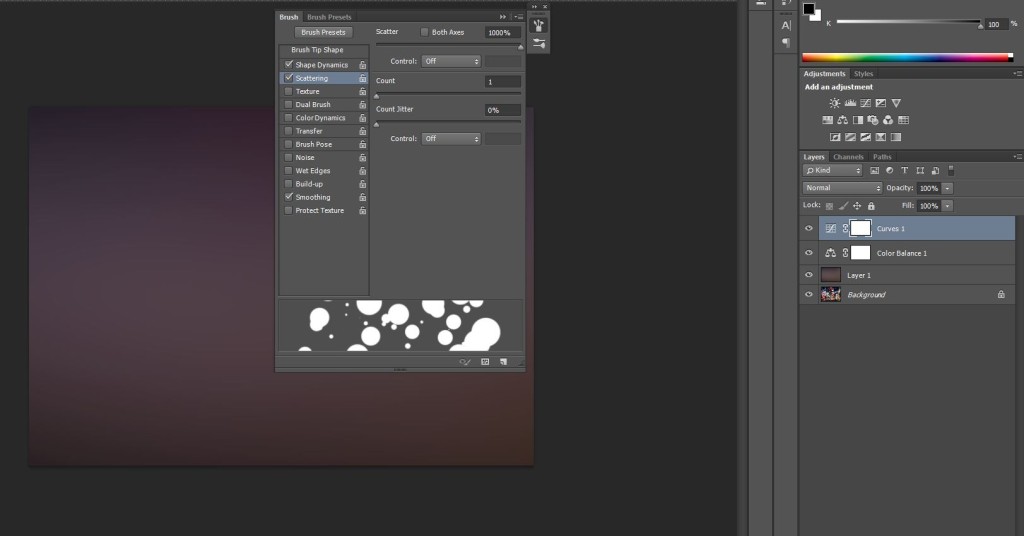 Step 7: Create a New Layer and Let's Start
This step and every step moving forward will be very similar. The key is just to start off by having the brush set to a smaller size and having the Gaussian blur at a higher level. Then every new layer you will make will be a bigger circle with less of a blur effect. Let's walk through the first one together
With our new layer created we want to drag our mouse over the layer. We should have an effect that looks like this below.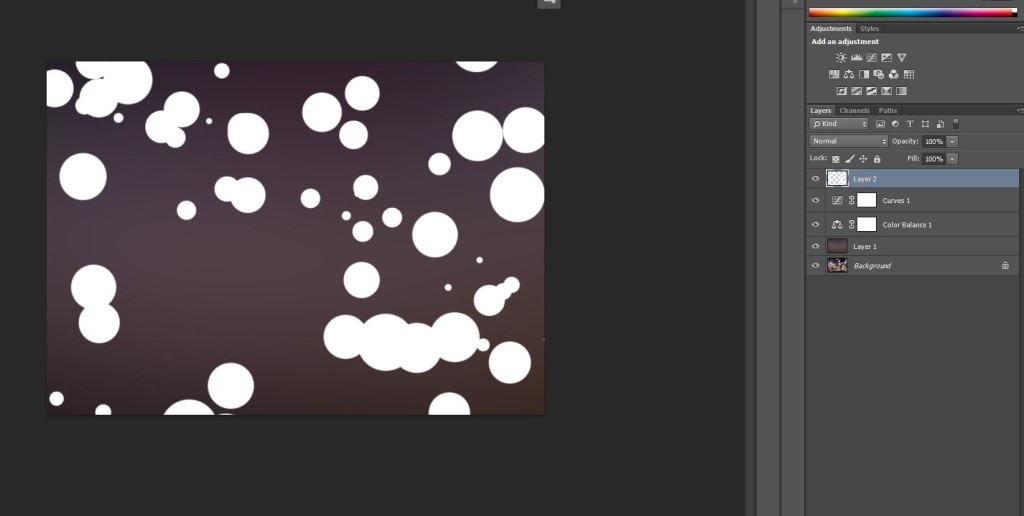 Now we want to change the settings to overlay. We want to change the opacity to a level around 50%. You will notice that by doing this the effect looks like this below.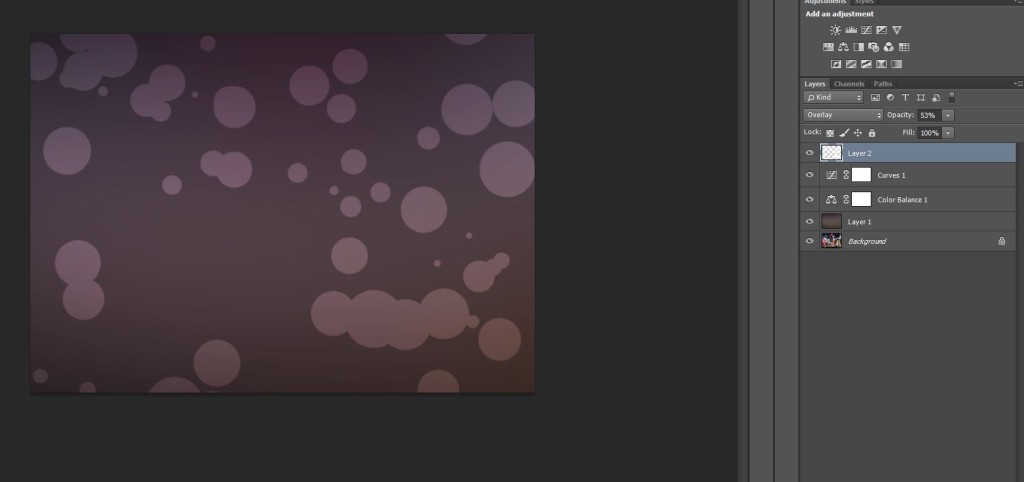 The next thing you want to do is to go to the filter –>blur–>Gaussian blur section. For the first layer I try and keep the setting to a high 30 or so. The image will be something like this below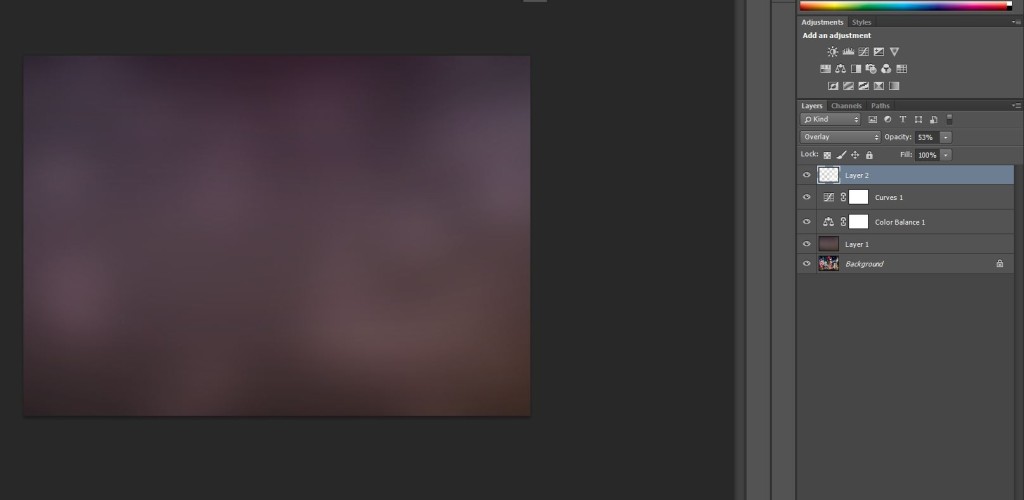 The next steps going forward with this Bokeh Effect
The big thing now is just to keep repeating this last step, but by making a few changes. The first change is of course making a new layer and then making the brush a little bigger. Then you again, what to change the setting to overlay and you want to have the setting set to 50%. The big change however is the Gaussian blur section. We want to have this closer to 0 so for the next layer aim for high 20's. Then for the next layer around 15-19 and the next layer around 5-8. This section is something I encourage everyone to mess around with and find a setting that works best for them.
The finished Bokeh Effect in Photoshop
Here is the image below.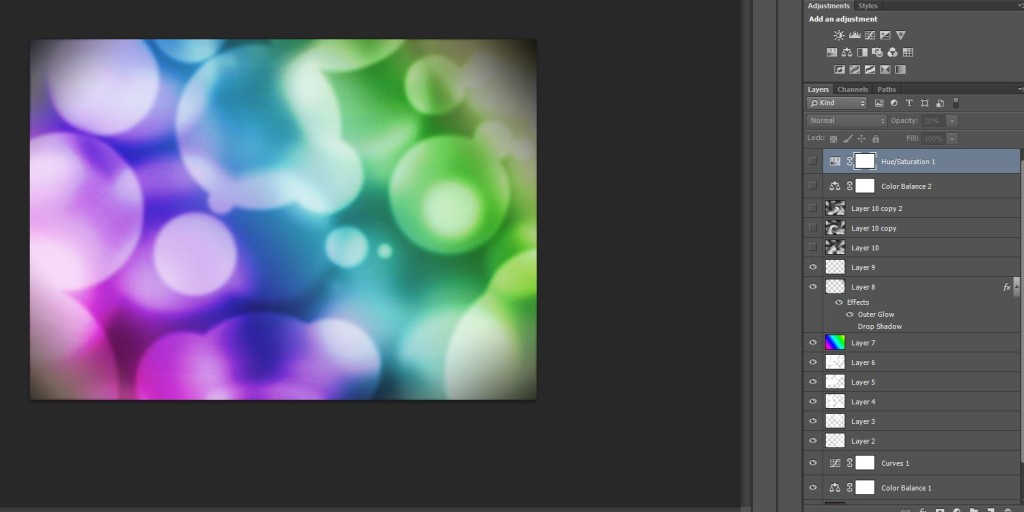 As a note, I really took my time to personalize this effect. I messed around with many settings in photoshop. My first thought was to add a starburst effect into the effect, but it actually came out really bad afterwards. My next ideas was to add some sort of border around the image, but again that looked too strange. My next idea was to add some sort of pictures inside the bubbles, but that was taking too much time. Finally, I decided to create a new layer above layer 7 and add an outer glow effect to the image. There is a very subtle yellow image that circles around the image.