By: Greg Kristan
Wistia is a pretty cool program that allows you to control your videos on the web. This program gives you the ability to show that the video you create is associated with your website rather than being shown on YouTube or another platform where the credit usually goes towards. Now you still can put your videos on YouTube as that is the second largest search engine, but if you are able to drive more of those visits to your site rather than your YouTube channel wouldn't you? Wistia allows this to happen and for you to still keep your YouTube marketing plans!
Here are my two early thoughts.
1) Literally 30 seconds or less after I posted my tweet (and I forgot to do the hashtag) Wisita was already there to like the tweet and to even respond to my message about my video. Here is the conversation below!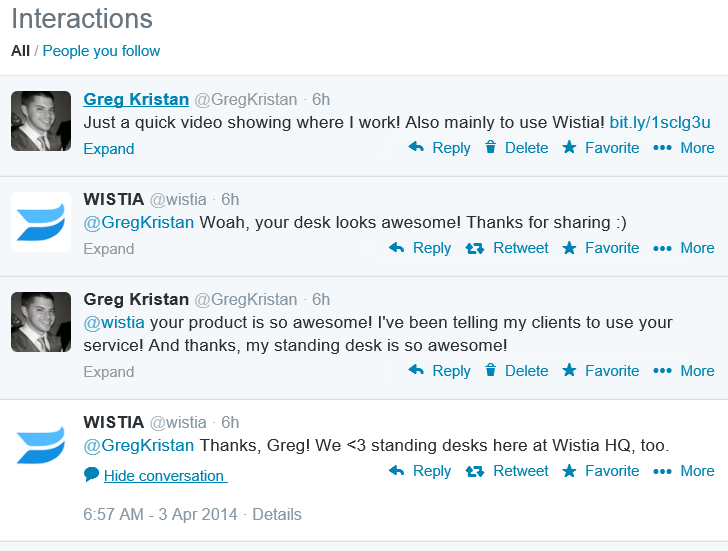 Now, yes I am sure they have some platform or software that will notify Wistia about tweets but still. Here I am as a FREE subscriber (yes, I am defiantly planning on paying for more videos) and yet they still took the time to talk with me. Huge RCS for this company.
Please check out the link to that page as you will see Will Reynolds explain what this is all about. The real shit that companies do is something that makes me want their service! I am a huge supporter of stuff like this!
2) The customization of everything in this platform is killer. I can't code and in fact I am awful at technical conversations. You would be surprised that I am in this field, but that is why platforms like this are so amazing. They can make people like me who have an idea what they want, but are not able to hard code it the chance to achieve what they set out to complete! They give you options to add all the social bars, customize the still picture and color, add CC's to the videos, call to action, and more! Also another awesome thing is the ability to make the video into a responsive design format to fit on all devices!