[social_share style="circle" align="horizontal" heading_align="inline" facebook="1″ twitter="1″ google_plus="1″ linkedin="1″ pinterest="1″ /]
By: Greg Kristan

TM Blast is 1 month old (or roughly) and I would like to share the data that I have been tracking from Bing / Yahoo, enjoy!
The next post will show the data from Google.
Here is the snapshot from Bing Webmaster Tools. All webmasters should be using this along with Google Webmaster Tools to see how both are crawling your site.
My thoughts are these numbers are generally fine. The one area that I really like is the appeared in search. Don't confuse the clicks from search as low. While I do have Ads running in Bing / Yahoo, I have them set so low that I will probably never get a click from. That means everything here is organic. Not too bad for a brand new website! My goal is for month 8 to start to show some serious impressions (my goal is to have close to 750 impressions per 30 days). That is a big jump, but I think I can do that with high quality content.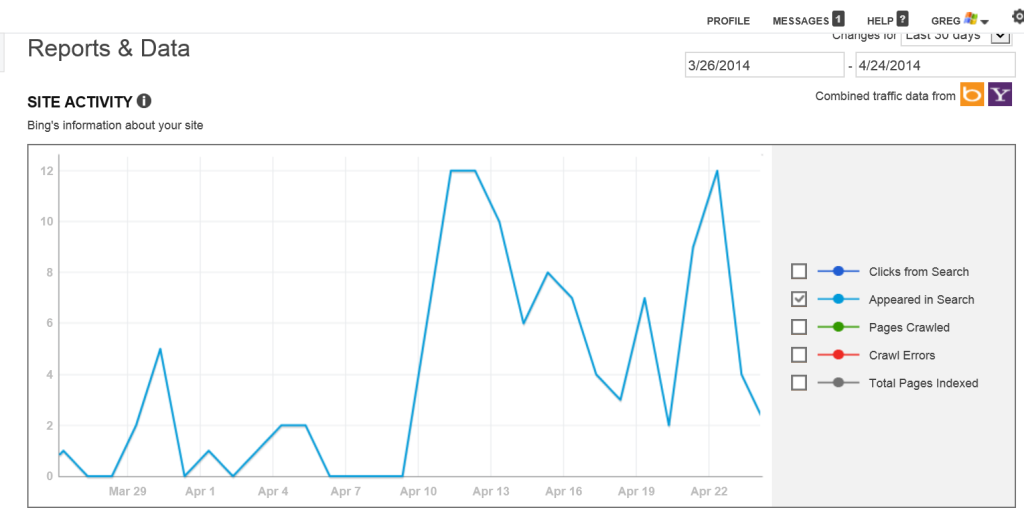 This is a more detailed look at the impressions for the site the last 30 days. What this tells me is that the highest quality content that I produce, the faster search engine spiders will be able to crawl through my site and start to show me higher up in the organic listings.
Here are the Bing and Yahoo Ad Network. I am currently doing the less than the bare minimum on this. I just want to set this up to attract some data. Maybe one day I will put a real effort into this, but it won't be for next month I can tell you that.
What is good about doing this is that you are able to find more true data for keywords that you are looking to rank for. I have had this run for about a week, but I have seen a lot of impressions for some keywords that I am interested in. Again, I am not bidding for clicks, but essentially willing to bid for data. At this point on this site there is no call to action (besides the contact us page) so there really is no reason for me to pay.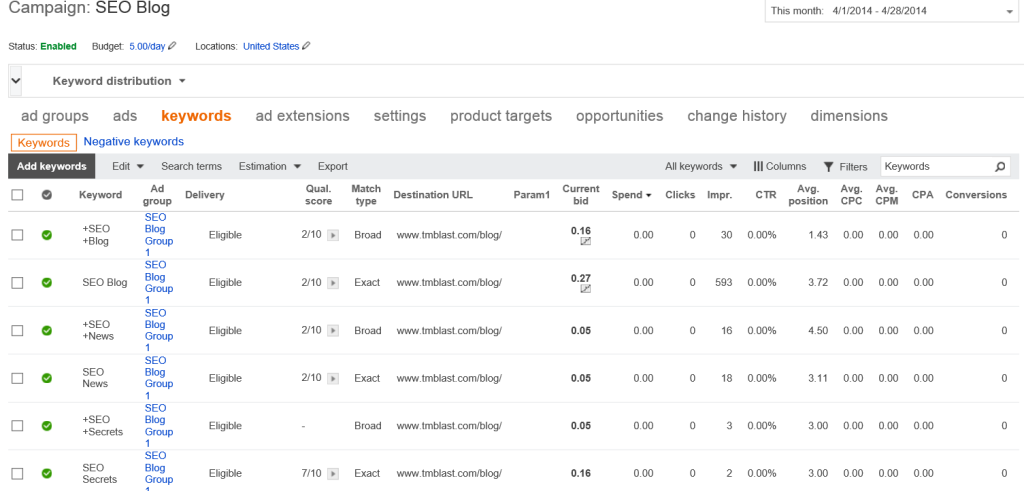 Right, so there we go. Just a quick one month look in to TM Blast on Bing and Yahoo.
Overall My Grade for Bing / Yahoo is a C-
Also, don't take a C- as anything bad. On the contrary. I like where I am going with this site on both search engines but I am constantly trying out new things all the time. That is why I give myself a C rating as I think things have been good, but I have not been able to really take full advantage of Bing and Yahoo. I also failed a bit at this new markup (called knowledge widget) where it made my site incredibly slow!