My last blog post on TM Blast was on June 6th, 2021. However, since then, I've published around 20 blogs and ten or so additional monthly pages across my niche websites, The Stadium Reviews, and Plant Legend. Outside of providing SEO consulting for clients, I've been hard at work on those two other sites.
Here is a look into what I've been doing.
I Left my Corporate Job at the End of December 2021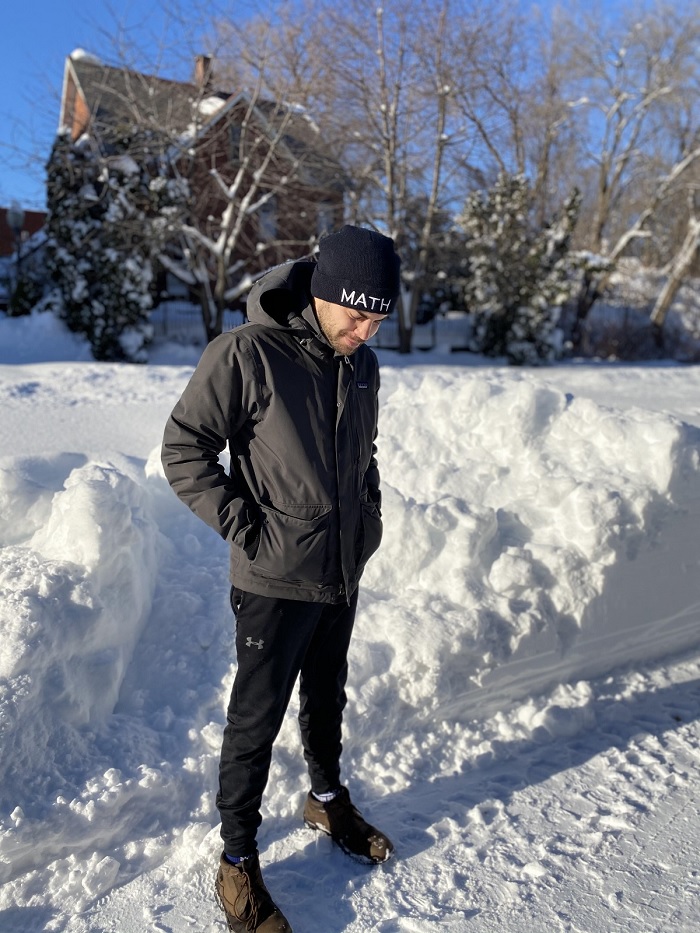 I always wanted to be my own boss. When I started TM Blast as a business in 2017, it was a way to earn a bit more money and do something good with my time outside of video games and going out to bars and games. However, as the years went by, TM Blast began to earn more, which allowed me to invest in myself with niche sites.
Niche sites were something I began in 2019 with The Stadium Reviews, with no clear idea of how to monetize the traffic. However, I took a course from Income School called Project 24, which changed my life. I switched my SEO strategy for the site once I understood things like RPM and affiliate marketing and how that tied into SEO.
As 2021 was entering October, I promised myself I would again take a chance and invest in myself by leaving my corporate job. I will dedicate 100% of my focus to TM Blast clients and my niche sites without the safety net of a corporate job. Instead of working at night and on weekends, I would dedicate my time to these niche sites to grow them.
The Stadium Reviews Traffic Growth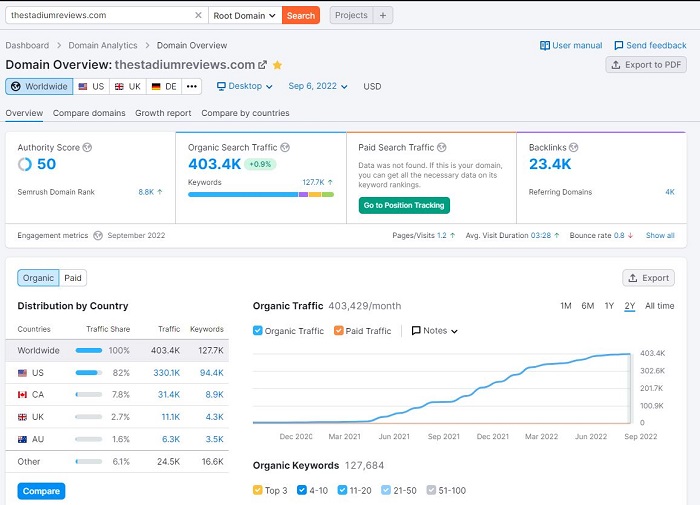 SEO growth has been critical in making The Stadium Reviews into a business. The site is quickly approaching 300k monthly sessions, with plenty of more growth coming down the road. In 2021, I drove just under one million SEO sessions to the site. For 2022, I forecast that the number will be around 2.5 million.
The traffic growth of the site comes from two main reasons. First, the site is now a few years old, meaning that Google and Bing have a good idea of my site. With that being the case, new blog content I write today tends to rank in a matter of days, unlike new sites, which can take weeks or even months.
Second, I utilize myself and additional writers to help cover content quickly. Instead of pocketing any profits the site gets, I'm reinvesting almost everything into content and pictures. I have a laundry list of content I want to cover monthly, so it's just a question of how much I can cover.
Plant Legend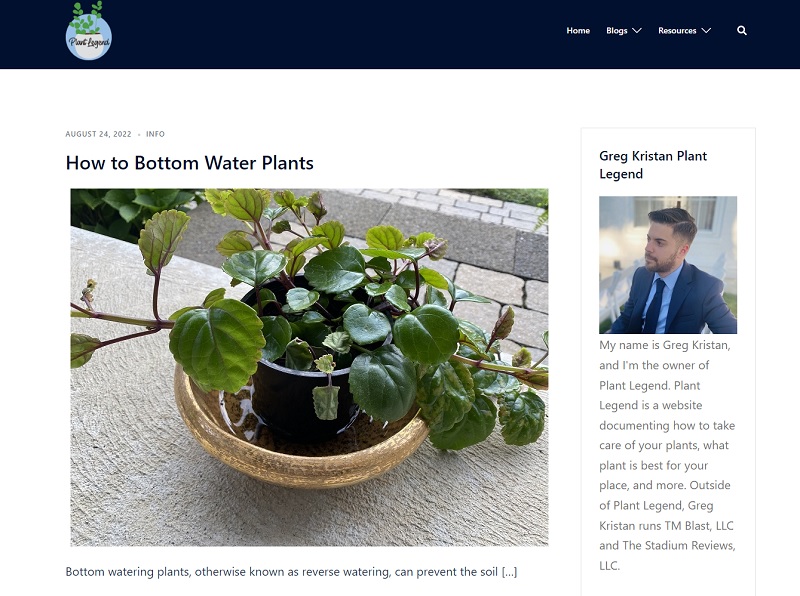 Plant Legend is both a blessing and a curse. On the one hand, it is a blessing because it reminds me just how hard it is to grow a site to reach hundreds of thousands of monthly users. The Stadium Reviews is at that mark, but Plant Legend, at best, can only muster 10k monthly sessions. Seeing that it has been a year and I'm still battling to pass this threshold reminds me that what I do is complex and is not as simple as just writing content.
On the other hand, sometimes I have frustrations with how much money and time I've spent trying to build this site. From hiring writers to incorporating Plant Legend into The Stadium Reviews deluxe hosting and security plan, the site is easily $10k in the wrong direction. I would be lying if I hadn't thought how much better off The Stadium Reviews would be today if I invested half that amount into more writing, knowing that project is working well. It is easy to see that I tend to recoup my money for The Stadium Reviews in a few months, but for Plant Legend, there is no timetable.
However, I'm optimistic that one day this site will hit 50k monthly sessions from SEO, and I can join Mediavine. In a way, I'm about 20% there, so it's going to happen. I must stay patient, write content, and allow Google to work its magic in ranking my content. I'm in no particular rush since I have clients and The Stadium Reviews that are 100% financing this project, but I would like to have it run on its own without those two constantly pouring money into it.
Clients
I have a handful of clients in my portfolio that I manage daily. One thing that helps separate me from other SEO experts is that what I recommend to my clients is what I'm doing on The Stadium Reviews and Plant Legend. Whether it comes to finding blog topics, incorporating email captures, fixing load time issues, and more, all stems from that is what I'm working on for my sites.
Also, at this time, I'm no longer offering the Free SEO Audit. I'm choosing not to offer this because I want to maintain my current client list and not take on additional clients.
Next Post?
Writing this blog post doesn't do anything for me financially. For instance, I know what writing a blog post or parking page for The Stadium Reviews is worth for me, so I know where I should be spending my time.
Still, I think updating this site with a blog post is essential to let people know I'm still working on it. However, I'm not actively working on it as I did back in 2017-2019. TM Blast has taken a back seat from me working on keyword ranking wins. Instead, I'm focusing on keeping my existing clients and spending the rest of my time growing my niche websites.