I'm listening to an audiobook called "The $100 Startup" by Chris Guillebeau which I find incredible. One quote that stands out to me as I write this piece today is "As you begin to think like an entrepreneur, you'll notice that business ideas can come from anywhere." I feel like my new website project perfectly embodies this spirit, so I would like to share this with you today.
How this All Happened
I love baseball. I enjoy going to different ballparks and seeing new teams play. Visiting ballparks is a passion of mine, and one of my goals in life is to visit every MLB stadium. As I was reading a post about the Rogers Centre (a ballpark I want to visit in 2019 with my brother), I put their domain into SEMrush to see how much traffic they get through Google. The number that came back through daily Google visits opened up my eyes. When I began forecasting how much they make per year through Google AdSense, I was already in the cart checkout on GoDaddy buying a new website. I want to write about baseball ballparks and turn this into another revenue stream for TM Blast.
With my domain name purchased, I spent a small amount of time reviewing competitors through SEMRush. I don't spend a lot of time writing a business plan, but I began jotting down notes here and there on my Surface Pro. When I was building out my SWOT analysis, I felt like I could do a better job at SEO than the competition. It's a bold prediction, but I believe that I can have this site ranking for some competitive keywords in the next six months.
Plan "Some" Things Out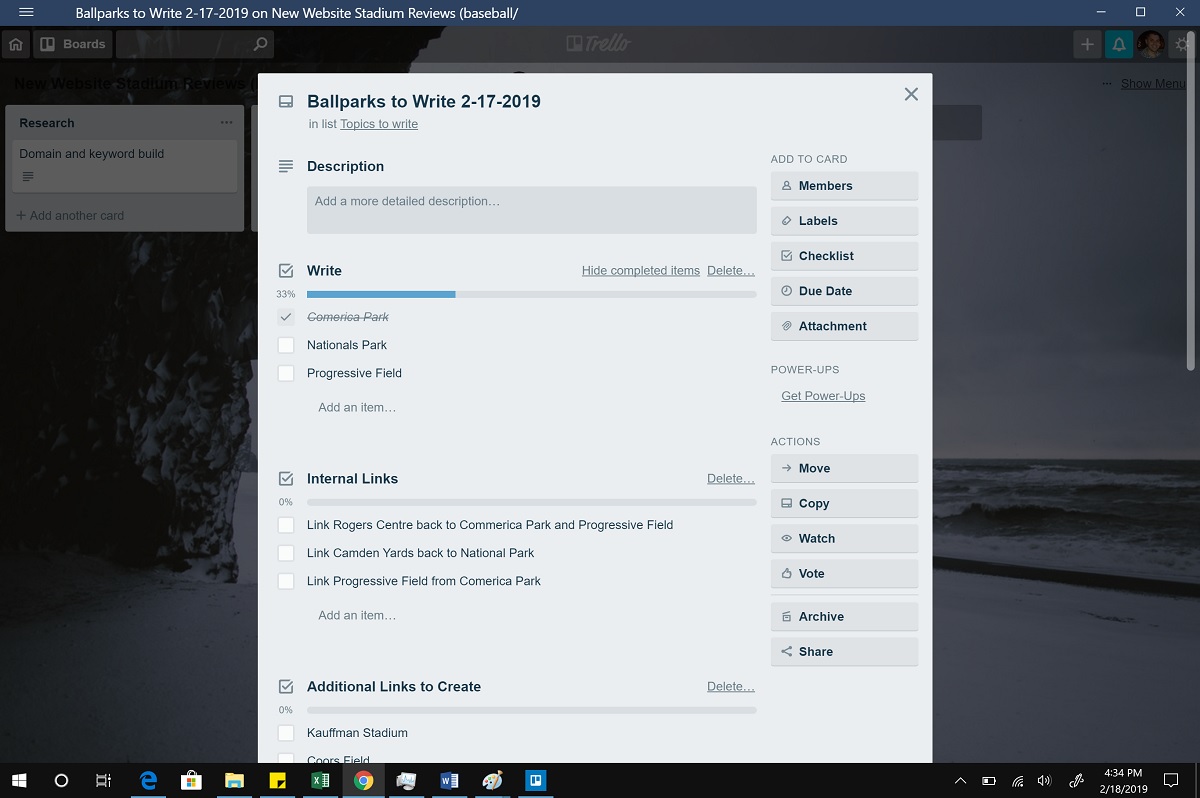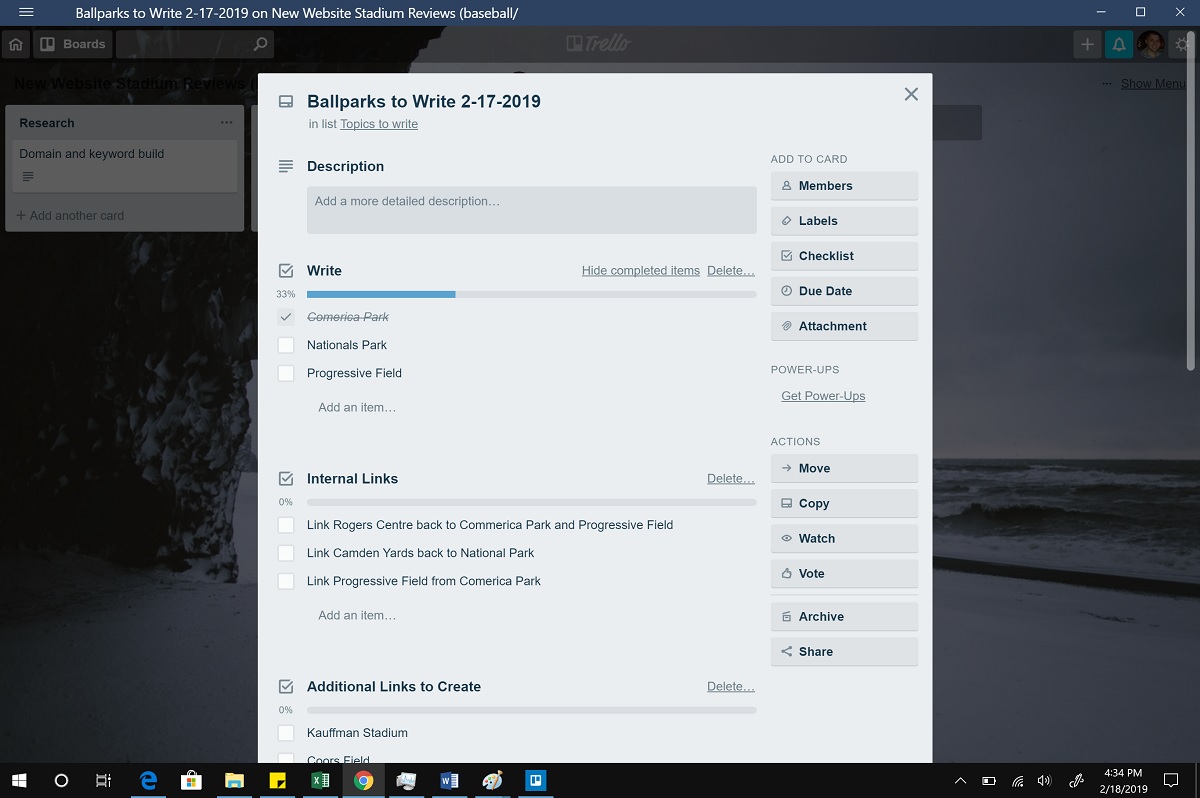 I use Trello to build out my plans for my website, The Stadium Reviews. My day job, client work, and TM Blast projects (like writing this blog) can restrict my focus on this new project. To help with my focus, I utilize Trello to understand what needs to be done. Above is a screenshot from my Trello Board where I can see what I need to do for the 17th of February. My notes are basic, but I'm a visual learner, and I need to see things checked off to feel like I'm doing something productive.
Treating this as an Investment
I invested around $2k into this website project from TM Blast's revenue in 2018. This $2k amount includes website security, firewall protection, a domain email name, and more for five years. My conservative goal for 2019 is to make $3k off this website through Google AdSense. My aggressive goal is to make $6k in my first year. Regardless, I'm holding myself accountable for the money I invested in this project. I remind myself of my promise to my "Fake" investors whenever I slack off on this project. It's not to say that I can't take a break, but I remind myself that the only way this website will grow is from what I provide. I set so many Cortana reminders for me to work on specific parts of the website, so when I play Xbox, I see a nice reminder telling me to get back to work. Fun!
SEO First
As a New York SEO Expert, I have the skills when it comes to SEO and building out plans. My time researching title tags, keywords, ALT tags, URL structures, and more are going to put me ahead of other websites that are similar to mine. When I made my SWOT analysis, I felt like I could do a better job than 95% of the other websites. That percentage may be overly confident, but I'm treating this as my value proposition to my "fake" investors. One way that I can separate from the pack is not by web design, but through SEO.
Over the past two years of being a real entrepreneur, I've seen my most successful clients obsess about SEO which makes my consulting job easier. It's great being on the same page with clients that understand that SEO is an investment and it will pay off, but you have to be patient. I'm confident this investment will pay off, so I'm making sure everything I do has SEO in mind. That's not to say I don't think about my audience, but right now I don't have an audience, so it's SEO first for every decision.
Measuring Progress


Starting a new website is pretty exciting. TM Blast has been around for a few years now, so I've forgotten what it's like to receive zero traffic daily from search engines for a property I own. To help measure my progress, I use SEMRush, Google Search Console, and Bing Webmaster Tools to track daily progress. With this site being barely one month old, I'm using impression growth as my KPI (key performance indicator) to validate if my strategy is working or not. The picture above tells me I'm growing, so I'm taking that to the bank.
Reading up on Google AdSense
I'll be honest, I have no idea how to "make" Google AdSense work. Sure, I've read some blog posts about slapping on the code on your site and then it becomes a numbers game. A numbers game will be critical for my new website to make money. My competitors in the space are driving thousands of clicks each day from Google to their site, so I know I have to drive similar traffic to make money. For now, I'm not going to have any Google Ads on my site until I hit a certain threshold of daily page views.
My hope is by the summer of 2019, I can drive 100 organic visits each day to the site. Driving 100 organic visits to the site is similar to what TM Blast does today, but the search volume is different for my new site. With baseball season around the corner, my focus needs to be on writing content before driving revenue.
Continue Plugging Away
When I meet with clients, I feel like I give a similar speech regarding results. Results will vary and the time it takes to rank in Google will depend on many factors, but what's critical is never stopping. I'm using a medley of SEO tools on this project that costs me hundreds of dollars each month, but I know SEO can pay off down the road. It's February 2019, so I know I'm racing against the clock before the season starts in April. My goal is to have all 32 ballparks written before the start of the season.
Future Plans
As I build out this site and grow, I'll share more updates with you here. While I plan out many elements, I also leave additional optimizations up in the air. I'm not sure of every move I want to make, but I think that is fine. I encourage everyone who is reading this post to plan less and do more. Having a plan in place is good, but don't put all your resources into this. Here is to the future!