SEO reports for clients and customers are something I provide on a regular basis. Reporting SEO results in a clean and concise matter make the relationship easier to manage from my perspective. In this blog post, I'm going to share an example SEO custom report that I send to clients and how I create baseline search traffic metrics to illustrate my results.
Example SEO Report
Above is a link to my SlideShare account where I showcase an example online SEO report that I made for a client. Each analysis that I build is unique to the customer, so there is no exact template that I use. However, I try and make the story easy to understand by providing as many visuals as I can. Some common elements in the SEO analysis report include before and after screenshots, keyword rankings, a summary of changes that I did, and more. As a note, I do include screenshots from Google Analytics reports, but this account is too new to see any difference in traffic since we are one month into the contract. I don't report on user experience because I do not use any tools like Crazy Egg to perform heat tracking.
SEO Baseline Report Sample
My baseline report is in PowerPoint where I take current snapshots of their SEO Campaign organic presence in SEMRush. SEMRush is a tool I pay for where I conduct the majority of my SEO analysis for my clients. Within this tool, I primarily focus on Google, but I do look at other search engines with other tools that I have. I tend to look for yearly summaries of traffic, amount of ranking keywords, and top keyword positions. I also run a health check of their website to see how Google and Bing would potentially understand their site as of today. SEMRush does a great job in documenting a lot of these factors for me, so I tend to rely on that service for my initial analysis and reporting.
Within the baseline report, I do perform competitive analysis if the client gives me a few websites to review. If a client does not provide competitors, I will take the top ranking keywords for my client and match them against top Google ranking domains to come up with a competitor list. SEO checker reports in SEMRush will give me insight into who might be a competitor to track our progress against.
Making my Approach Clear from the Start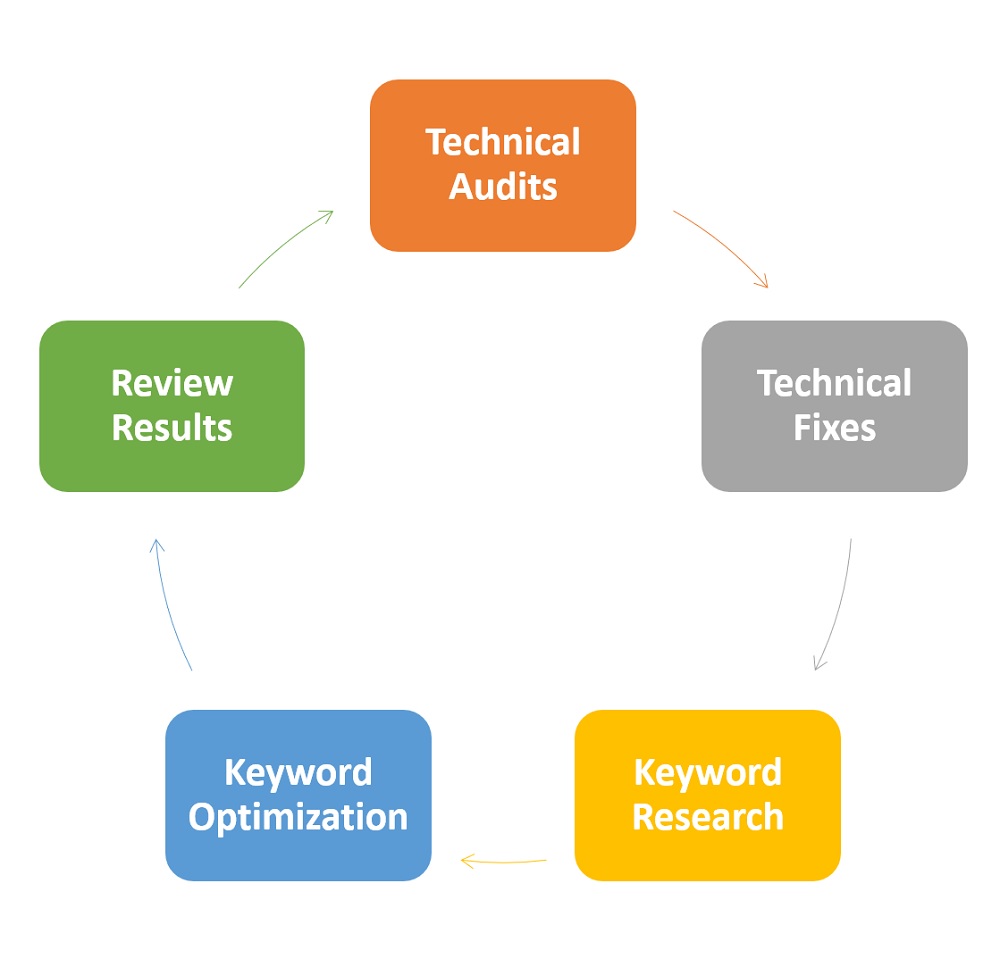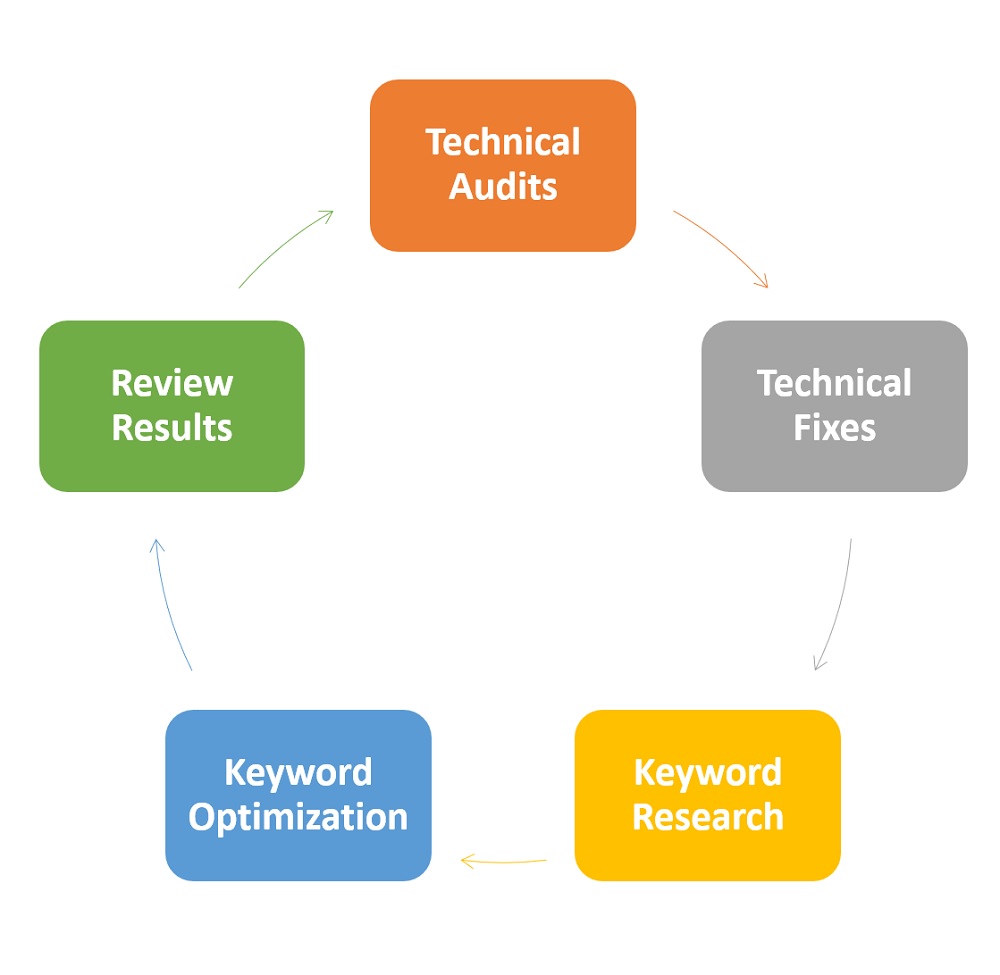 The baseline SEO analysis keeps my approach as transparent as possible to potential and current clients. For example, I took on a new client a month and created a Free SEO Audit for them. When I completed the report, I noticed they had many technical restrictions on their site. I made my approach clear to them, in the beginning, I would focus on cleaning up the technical limits first. The way I explained my thought process was that they were competing against themselves in Google, so it's best to fix that.
I try and use as many analogies when describing the importance of technical SEO. Technical SEO generally does not produce hockey stick SEO effects with keyword rankings, but it's the foundations that set up following strategies for success. Think of technical SEO as the engine underneath the hood of your car. Sure, you might be more interested in the look and feel of the car, but if your engine is falling apart, your car won't perform well regardless of all the cosmetic changes you perform to it.
Where SEO agencies get in trouble is not creating a clear path or reason to their optimizations or suggestions. Asking people to write better meta name descriptions, or making their meta descriptions shorter does not say why it's essential. If your SEO says it's because it's a best SEO practice, I would encourage you to push back and figure out the why and what is the value.
Document Every Change
OneNote and Excel are my two most used tools for documentation in SEO. OneNote I use more for pictures while Excel I use as a diary in chronological order with links to OneNote. Every time I work on optimization for a client, I document when I began the project and when it became implemented. Some clients choose to have me make all changes while others prefer to have control on this. Documenting the dates is important to help tell the story of what was worked on in the month. When I create my client SEO report, I go back through my optimizations to see if I can call out something in particular.
I primarily use Office 365 as that is what I'm most comfortable using, but I do use Google docs if a client wants to see documentation in real time. If we are working on a content piece together, I will use Office 365 or Google so we have a record of the track changes. Making sure there is a paper trail of work is a great way to keep everyone engaged and involve with the process.
Celebrate the Small Wins Often
Everyone wants to hear and see good SEO results. If you are paying me to perform a service, you've probably completed a cost-analysis report showing that you expect (x) in return for paying me. SEO takes a long time, so I decide to track specific keywords on a daily basis in SEMRush.
Daily keyword tracking is one of many ways I document how the SEO is working on a client's website. If I spot a keyword with high search volume moving to page 2, I record it for myself to watch. Depending on who the client is, I may even email them that result. If a keyword with high search volume got to page one, I'd email the customer the success.
Talk about the Struggles
Reporting on success sometimes does not tell the entire story for a client. Sometimes you have to mention what is not working or something that did not work out the way you thought. Being transparent about your skills is important to keep trust with the client. If I pushed an optimization and it did not work out, I will report on it. Sometimes I will remind the client that a few technical assignments have not been completed by the client's team, so that holds up future optimizations because they need to build off each other. Keeping the dialogue between good and bad results is a good way to build a true strategy going forward.
Always Educate
Outside of directly working on client websites, I spend my time educating others on SEO. For example, I'm writing this post at my laundry mat on a Saturday morning because I want to give insight into how I perform this service. In 2018, I spoke at three live events, was a guest on a podcast, recorded countless YouTube tutorial videos,  and got featured in a chapter in an SEO book. Some of my clients have found me from these avenues outside of a Google search and chose to contact me because of my transparency.
My goal is to educate my clients on what SEO can do for their business and what I'm able to provide. When I create reports, I tend to break down what all of the elements are in the story to give them a key to understand how to view and read the report.
SEO Reporting Tools Use
I use a handful of tools to help with my SEO Analytics reporting for my clients. Some standard tools that I rely on include Google Analytics, Google Search Console, and Bing Webmaster Tools. These three tools I share directly with clients, so they always have a pulse on what is happening with their site. Other tools that I use to help me include SEMRush, Keywords Everywhere, Screaming Frog, and more.
Conclusion
Reporting on SEO results is necessary to keep clients engaged and understand where their money is going. As I've stated in this blog post, I think it's critical to create a baseline report to showcase the before and after for every optimization you do. Having clear pictures illustrating the changes is my recommendation because it makes the story easy to understand for all levels reading the report.
If you have any questions, I'm an SEO Expert who can help grow your business!