Building a niche website can generate passive income through various methods. Methods include using AdSense ads, affiliate links, or something else to monetize your efforts can drive supplemental income to your hard work. The key is to discover a topic that will produce consistent web traffic and passive income.  In this post, I'll share my site, how I use tools for research, forecasting tips, and my results.
If you are looking for Monthly SEO Services, or a Free SEO Audit, you can check out those two links. If you are looking for an SEO Workshop, you can visit that resource as well.
Evolving my Niche Site
The Stadium Reviews is a website I'm continually building. What began as a baseball stadium review site now is now an evergreen stadium parking site hub. Seasonality contributed to my expansion to all four professional sports, so I'll share that pivot below.
Seasonality Plays a Role
The MLB All-Star game took place over the summer in 2019, and I saw a dip in organic traffic. It turns out when baseball games are not happening; people don't search for baseball stadiums.  Go figure, right?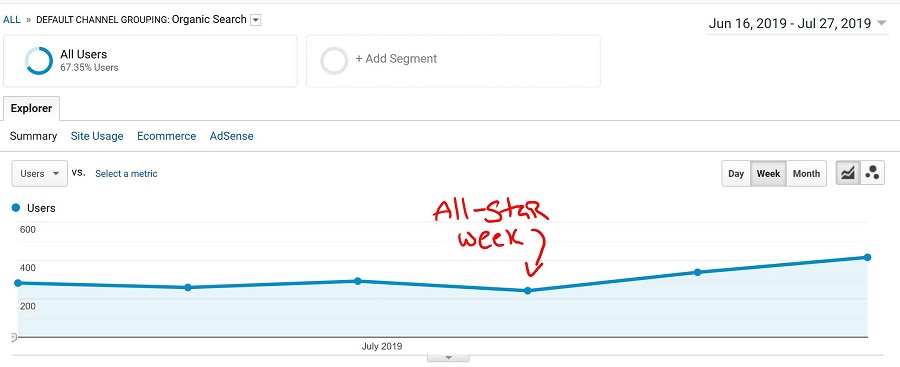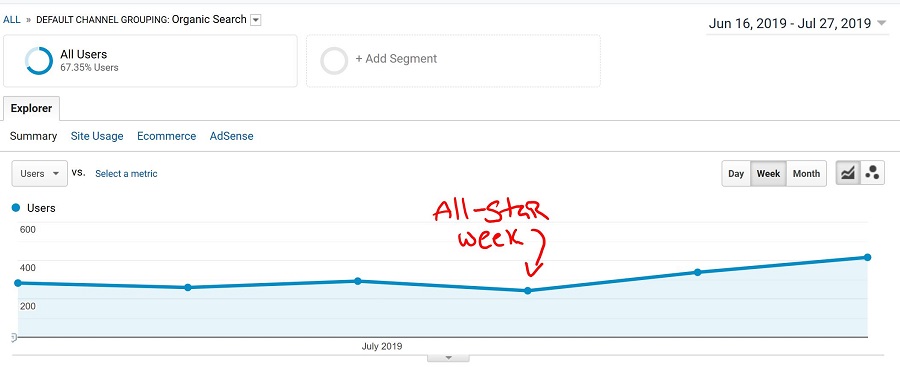 Google Trends confirmed this drop over the summer by illustrating that the All-Star break and cold months of the year have less baseball search interest. To illustrate this drop, I chose to use Yankee Stadium to show this decline in search interest. To have consistent traffic and revenue, I would need a year-round evergreen topic.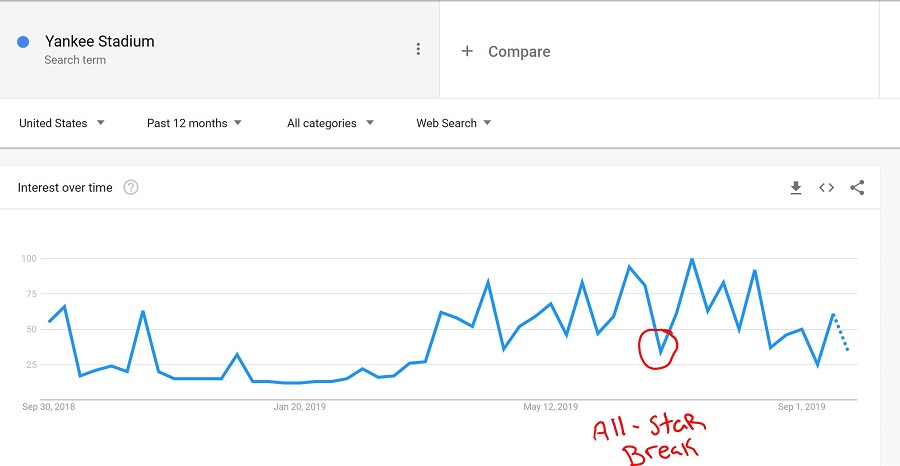 Using Google Trends to Find an Opportunity
Using the baseball stadium example, you can see the drop during the off season for the MLB. April through September will have more interest than November through February naturally. By overlapping the chart with the NFL, you can see that the charts vary in interest. Discovering this opportunity, I began expanding my reach from baseball to football. I also used this data to expand to the NHL and NBA too.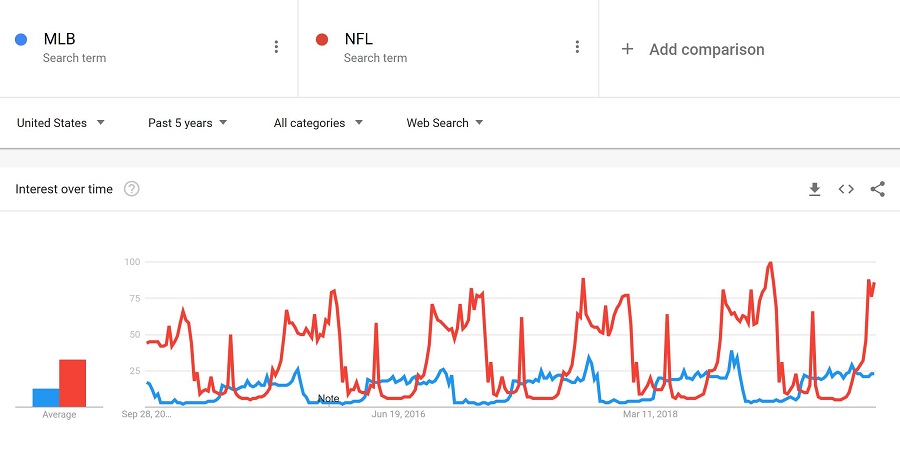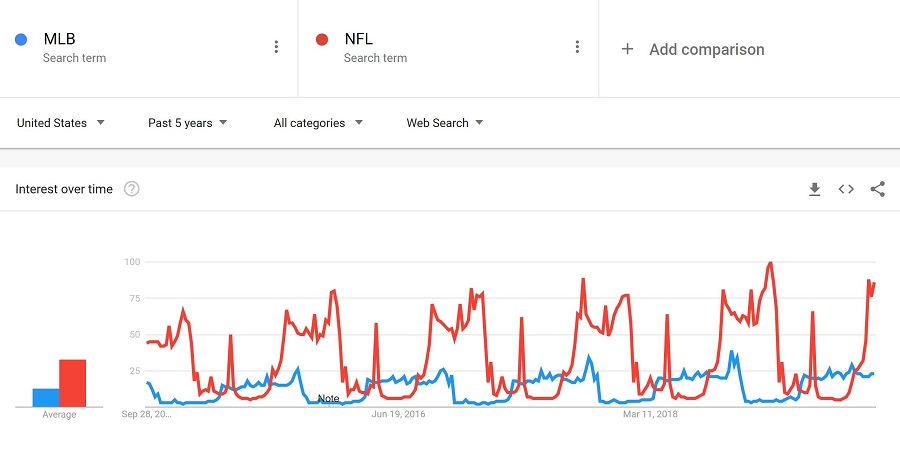 Competitor Research
Using SEMRush, or any third-party tool, you can compile the organic search volume for keywords. You can arrange a spreadsheet with what's achievable for your website to rank for and what the traffic potential could be. SEMRush is a third-party tool, so you should use this for estimations. Below is a picture from a competitor that illustrates their topic about a stadium's parking yields thousands of visits each month.
Here is a free 7-day link to SEMRush for you to use.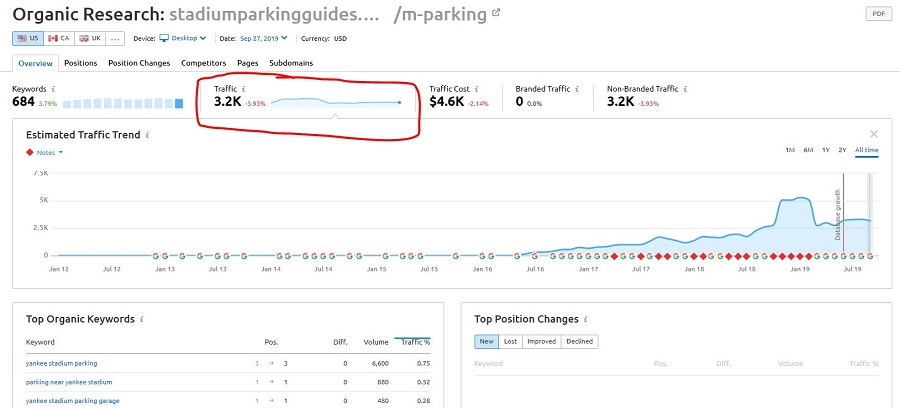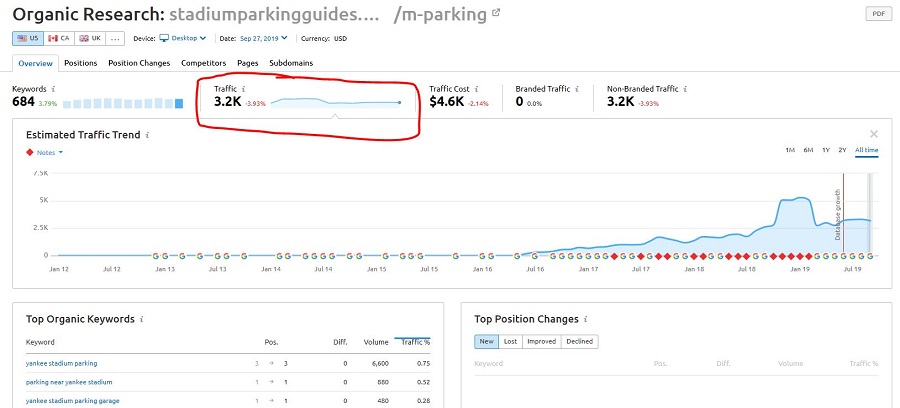 How to Measure Opportunities
It's best to measure traffic opportunities by forecasting what click-through-rate percentage you can yield. A top position in Google can achieve 20-30% of the total monthly search volume, so you should have a range on what traffic you can make.
The Math Behind SEO
For example, you might have one hundred keywords that all have 1,000 searches each month. Assuming that you can get thirty of those one hundred words to page one of Google, you will see traffic gains. Ranking towards the bottom of page 1 yields a 5% CTR (click-through-rate) on average, so you can use this as the lowest baseline number to understand the traffic opportunity.
SVO (Search Volume Opportunity) = (.05 (CTR)*1000 (SV)) * 30 (Keywords)
This math formula above would get you to 1.5k monthly visits to your site, but many people confuse this with a 100k opportunity. Instead, look at ranking those thirty keywords at position one in Google with a 30% CTR. The math below illustrates what percentage market share you are capturing for a conservative CTR, so this equation comes out to 9000.
SVO =(.30*1000)*30
In this example, you can assume that ranking thirty words at a 5% CTR will drive in 1.5k visits with the opportunity to drive close to 9k in monthly volume by getting to position 1 in Google. Understanding this math can help you prioritize which words to optimize your content on based on the traffic opportunity to your website. Below is a picture for how I've forecasted the organic traffic increase in Google and Bing for moving keywords from page 2 to page 1.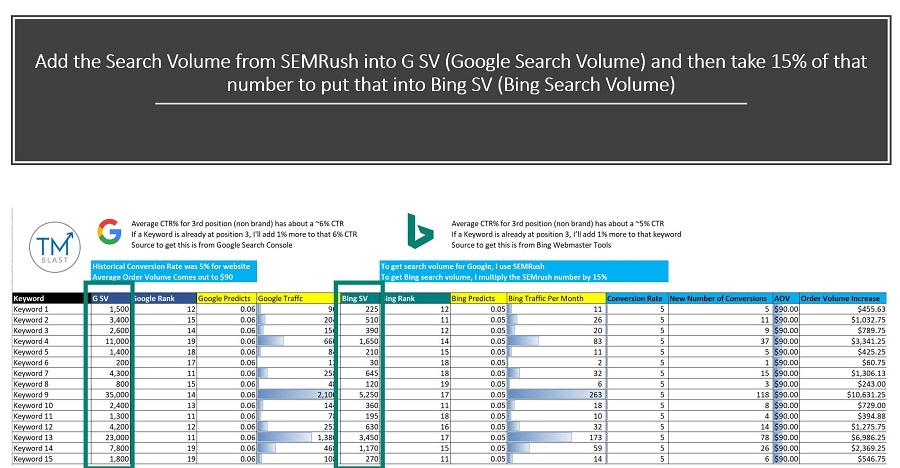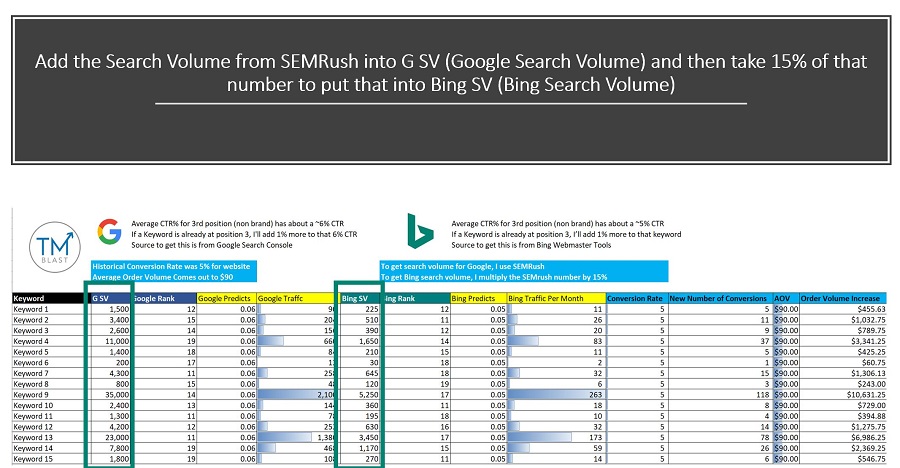 AdSense + Partnerships
Google AdSense is excellent to monetize traffic, but don't put all your eggs in one basket. Depending on your niche website, you should examine using Amazon affiliate links, third-party websites, and more to monetize your efforts. Search traffic volume can increase your total earnings, so you should focus on partnerships once you start driving a consistent amount of traffic to your site.
How to Forecast AdSense or Affiliate Earnings?
Forecasting what an affiliate can mean for your website is tricky. It's best to measure your direct competitor's traffic using SEMRush or another third-party tool. Consider using conservative estimates and give a low, medium, and high-range forecast. What would a .25%, .5%, and a 1% CTR mean out of total traffic? Then take those AdSense or Affiliate clicks and multiply that by another range of $.25, $., and $1 per click.
Your numbers will significantly depend on your niche, but these can be starting points via forecasting.
My Results


After the first month of the website, The Stadium Reviews averages a 46% growth in monthly traffic. August was the first month where the site had over 2k visitors, so the website is still tiny in comparison to other websites. Ad revenue, which I won't share exact figures, along with partnerships, is growing monthly too. The numbers appear wonky, but revenue growth builds upon additional sessions each month.
Plans
Driving traffic to the website is my primary goal. Recently, I drove one hundred visitors to the site in one day, which was a milestone. One hundred visitors a day may seem low, but that puts me on pace for 3k (not including weekend traffic dips) monthly visits, ora 50% increase in traffic. That growth continues the 46% increase in traffic that I'm witnessing so far in 2019, so everything is lining up well.