My last official blog on TM Blast came on December 30th, 2020. Between December and April 1st, I've been working on maintaining and obtaining new SEO clients for TM Blast. NY SEO clients come first via all work I do, but there is another project I work on outside of TM Blast. That project is The Stadium Reviews, where I published 17 blog posts in March. Here is where I am with that project and where I want to get to with the website.
Growth of the Website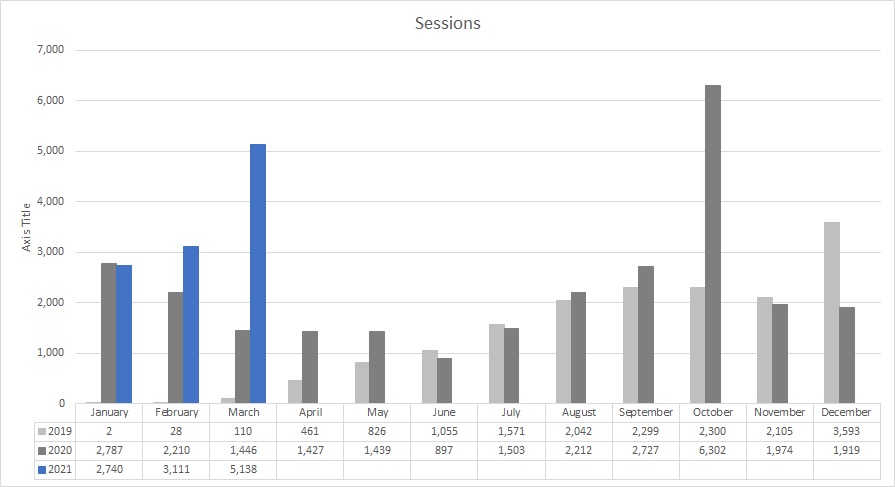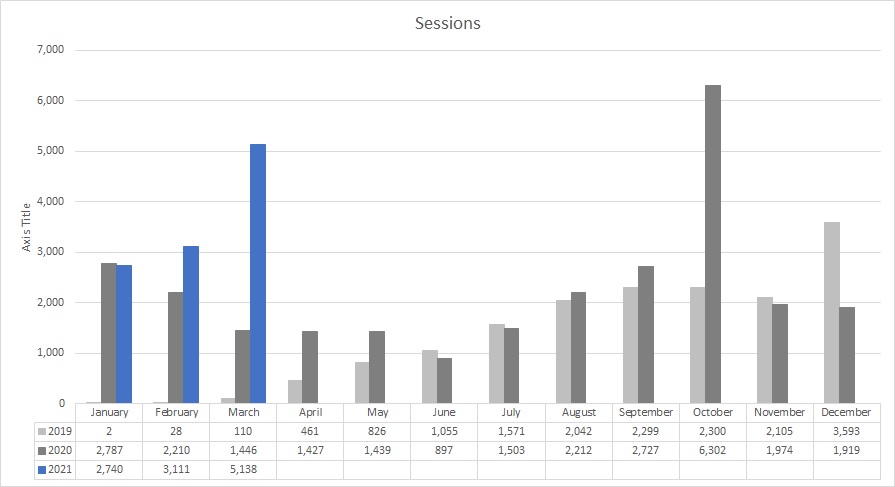 Not to bury my numbers in this blog post, I want to share how the website is going. As of April 1st, 2020, my site is averaging 200 organic visits daily. While I had one month where I got 6k monthly visits, that virtually came from one blog post, and it took place during the World Series. The growth of 200 organic visits came towards the last week of March.
New Growth in April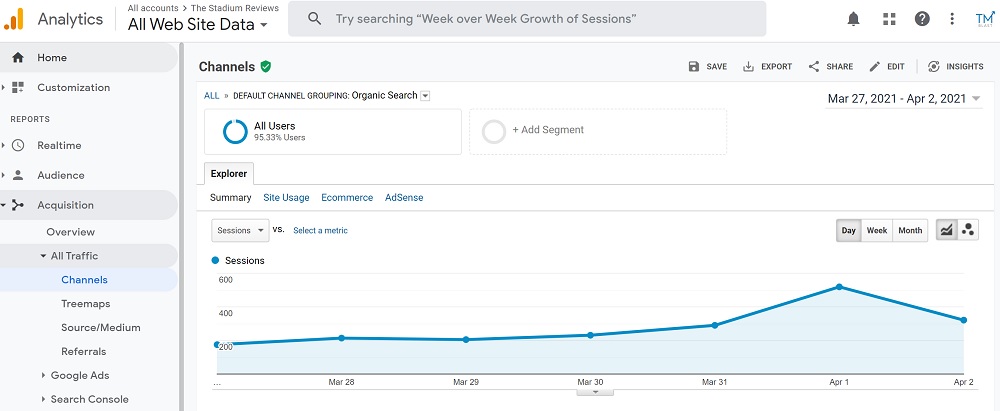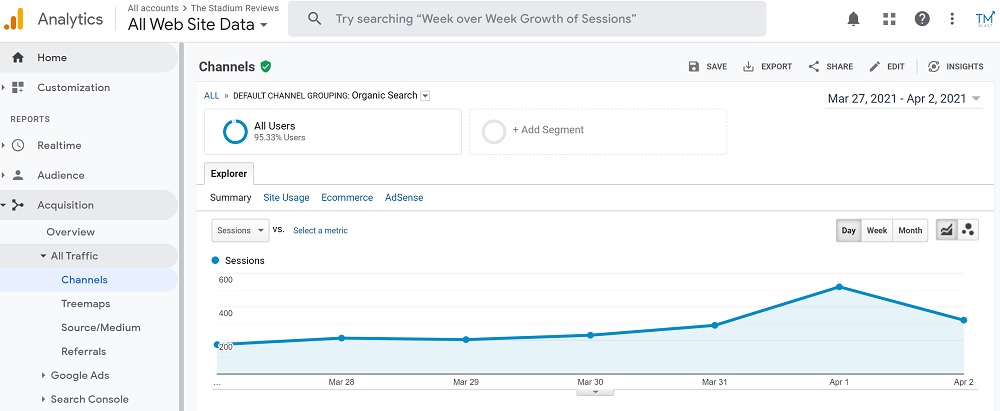 Baseball is back, baby! I'm a huge baseball fan and have been waiting for April 2021 for many reasons. One reason is that some fans will be back in the stands with the vaccine rollout to battle Covid-19. Allowing fans back would add additional interest in sports searching, and that is what I see with the website's traffic.
On opening day in baseball, my site received over 500 organic visits in one day. More importantly, my site continues to drive over 200+ organic visits daily, which puts me on pace for my best month in traffic ever.
17 Blog Posts Published in March
I contracted out 2/3 of the 17 blog posts to content writers starting in February 2021. TM Blast's profits went directly into financing this project by paying content writers to write blogs. Since I focus on clients first, I wanted to make sure someone else was working on The Stadium Reviews.
There is no real reason why I chose 17 blog posts, but my goal was to write as much as I could. Search analysis is something I'm good at, so I'm going all-in with content creation. With sports allowing fans back into stadiums in 2021, I'm banking that these blog posts will rank within 3-6 months and receive search visits due to the interest in sports searching.
What are the Goals of the Website?
Sometime in 2021, I want the website to get consistently 10k monthly organic visits. It isn't easy to forecast 10k monthly visits due to a few reasons.
Covid-19 continues to shake up everything, and sports interest was dramatically down in 2020

Hitting 10k monthly visits would come within 3-6 months from April, which puts that into September or October. Since October 2020 had 6k monthly visits, I'm expecting a +60%+ increase in traffic.
Year 3 out of 5
2020 with Covid-19 shook up everything, including sports. I had lofty goals for year two of this website, but everything crashed with search interest, making forecasting challenging. With the website being in year 3, I initially thought this site would be close to breaking even via the costs of running the site + paying content writers. However, I don't see this site breaking even until the end of 2022 at the earliest, making it year 4.
The five-year plan is nothing more than a plan. I won't be shutting down the site if it is not profitable by year five since I finance it through TM Blast. While it would be nice to have this website be a stand-alone, I'm willing to invest in this site's success.
Future Goals after 10k Monthly Visits
I want this site to generate passive income, period. While I take on new clients to make money, taking on clients comes at a time cost. Ideally, I want The Stadium Reviews to generate equal to or more than what one paying client pays me per month sometime in the future. If I can make this website work, I will create another niche website to expand my portfolio.
Stay tuned for another check-in!