[social_share style="circle" align="horizontal" heading_align="inline" facebook="1″ twitter="1″ google_plus="1″ linkedin="1″ pinterest="1″ /]
I have been running an experiment so far in the month of September that I would like to be a little transparent about today. The test is to look at anyone filling out a contact form.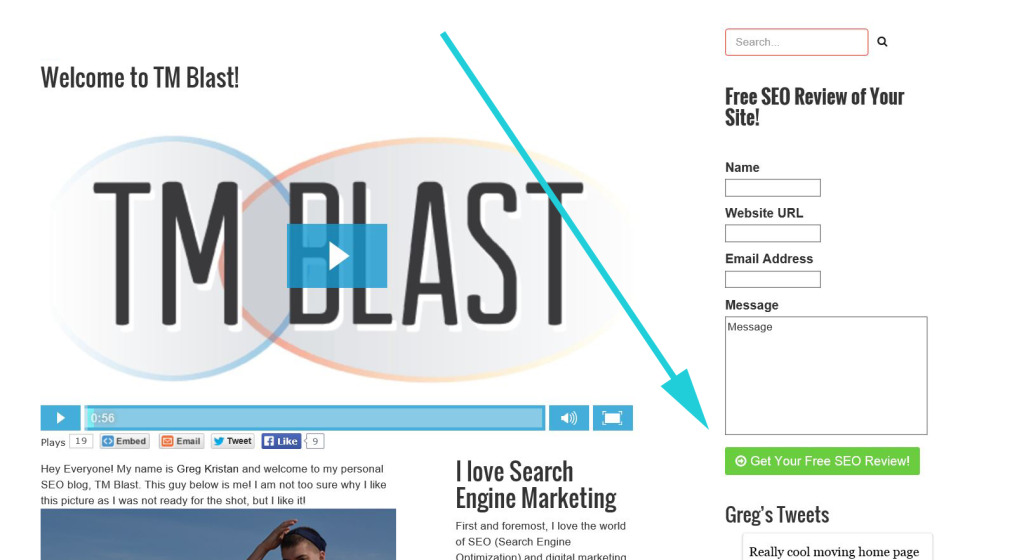 This is just step 1 of this entire process.
Overview
Today I am going to go over some of the positives, the areas I would like to improve by looking at the data, and the lessons learned during this test.
This picture below is just a real quick snapshot of the overview of the site from Google Analytics.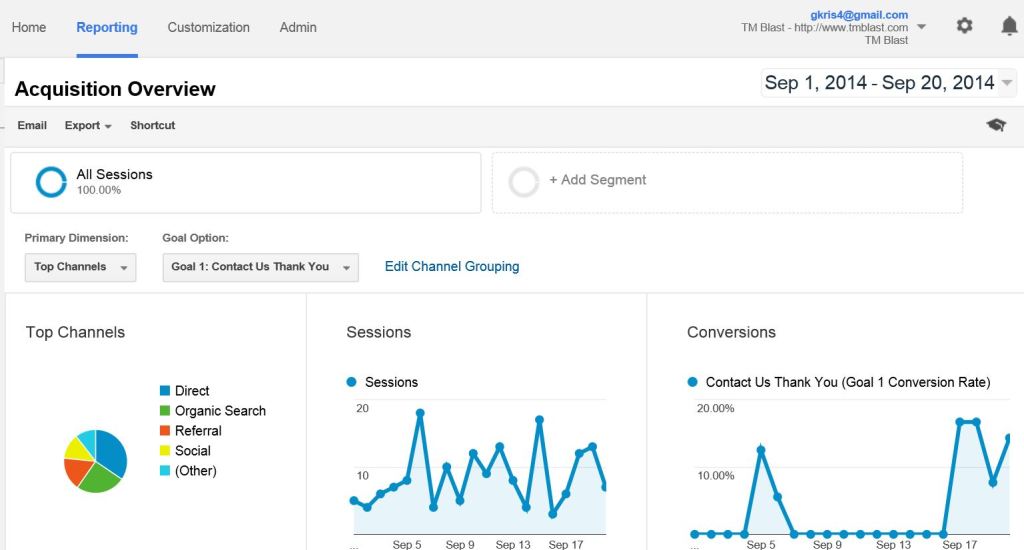 Positives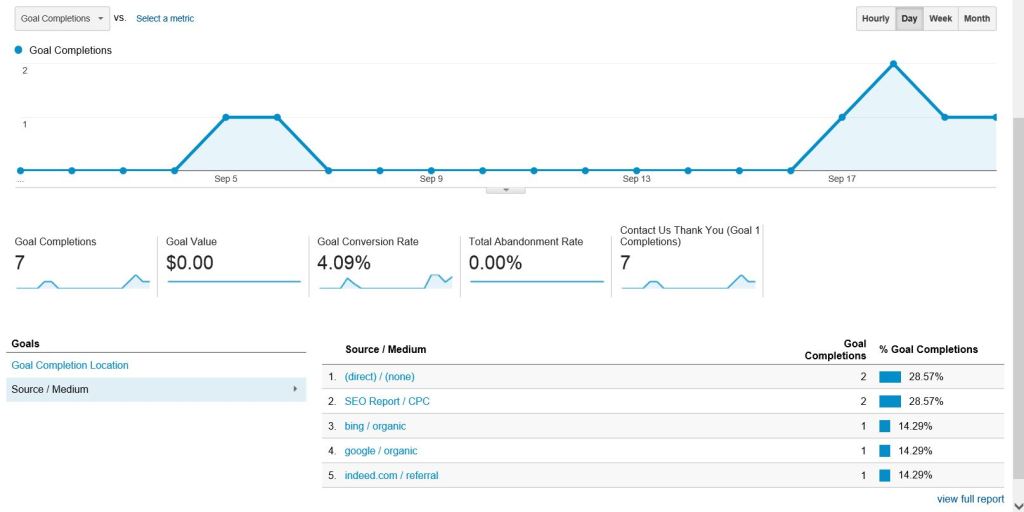 Above we are looking at Google Analytics for tmblast. We are specifically looking at goals completed. Here we see our goal conversion rate a little over 4%. Not too bad,  this was roughly where I thought this was going to be. Let's look at each medium a little more specific. To do this, just click on the bottom right on your Google Analytics that says "view full report".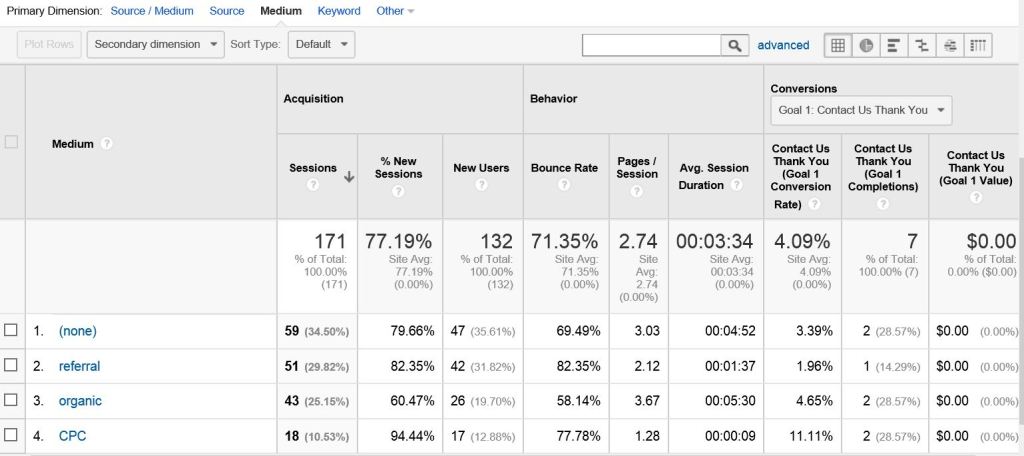 So just looking at this data you are saying, Greg Kristan, CPC has a 11.11% conversion rate, this has to be the best medium? Is it?
As much as I would love to say this is I have to admit that the data is skewed. CPC makes up only 10.5% of all of the visits and has just as many conversions as the other mediums. Also the reason why the CPC data will not match up with the Bing Ads data is that I forgot to put the Bing tracking code on the site until last week. Click here to learn how to add this tracking code to your site! The data is too small to even imagine the conversion rate will stay at 11.11%.
Multi Level Channels
Finally, let's take a look to see if there were any assisted conversions of our top conversion paths.

When we look at the above example a few things stand out to me. First, paid search never assisted another conversion, paid search just closed when someone visited two times. Second, organic search and referral never closed a conversion themselves, they only assisted with a conversion.
When we dive a little deeper into our conversion funnel we look to see what happened with some of those assisted conversions. What this tells me is that the majority of visitors that come to this website need at least 2 visits to convert. There are even some visitors that need more than that but let's keep this basic for a second. I would be curious to test out down the road to see if this stays true and if it does I would love to test out some remarketing ads.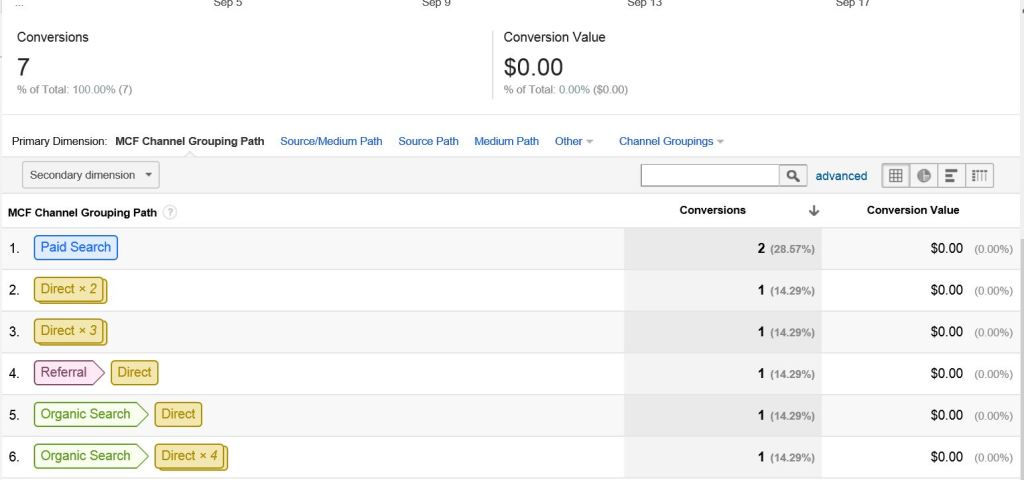 Remarketing ads just in general are ads that will follow a visitor (who came to your website and left) who visits a different website. The remarketing code drops a cookie on your computer and will follow you for (x) amount of days after you visit a website. The banner ad will add branding and potentially clicks back to your website.
The areas I would like to Improve
I wanted to see how accurate Bing was with their keyword planner. Second, I wanted to see what words gathered high impressions and high clicks to the website. Third, I wanted to see what Ad that I ran yielded a better click through rate. This will allow me to specifically design an actual PPC landing page which I hope will do the following.
1. Improve or maintain a high quality score for those keywords.
2. Test out a real A.B test to see if users prefer an actual landing page with less text (or more specific test) to what they searched for or the homepage. My honest thought is that it will be the homepage. However, I am going to take my bias out of this test and let the numbers speak for themselves.
3. I want to create specific PPC landing page thank you pages so I can start to really test PPC visits for actual website visits.
Below is the snapshot of Bing Ads for my site. The reason why there is only one conversion is because I did not have the tracking set up for the site. Luckily, Google Analytics tells me that in fact there were two conversions. Also on a completely side note, the new Bing Ads look so much cleaner than their old version.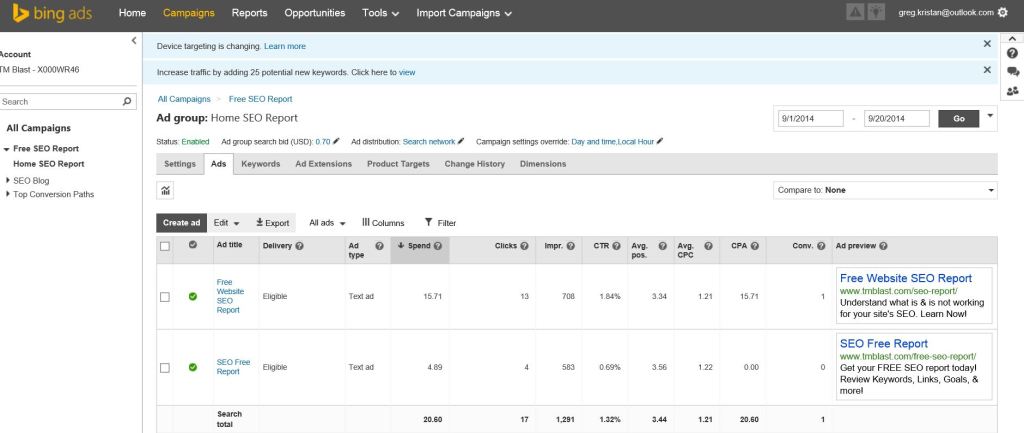 Lessons Learned
I completely forgot to add the custom tracking in Bing Ads until a few days ago. Whoops! (See the picture above with only 1 conversion)
That is alright though, I will write a future blog on how to add this code. Bing made it a little different than Google so I think it is important to show how to actually add this line of code on your site.
Moving Forward
Here are some things that I want to work.
1. Continue to monitor the data both in Google Analytics and in Bing Ads.
2. Develop a kick ass landing page. (I recently bought a headset with a microphone so I want to record a video that shows what this report will look like for potential conversions. My thought process is that a voice over with myself showing a montage of things that I look at to review websites could be an awesome start and a lead bump).
3. Add the custom landing page and thank you page in Bing Ads. Also add the custom tracking code in Bing for Google Analytics so I don't lose out on that data.
4. If these tests continue to look good or if I am able to learn more about this data I would like to go very specific with my Ads. I would like to set up another campaign that is Boston specific. Then for the first time in my life I want to create my own remarketing ad just to look at that data. I know how to use Adobe Photoshop to a degree, so I should just try this out for the heck of it.
5. I would like to start a Google AdWords campaign again. I think running both Bing and Google will be great because I can then blog about which platform performed better with (more conversions, higher quality score, less cost per conversion, and more!