How to Use Bing Reverse Image Match Search
In this blog post, I will cover how to perform a bing reverse image search both on desktop and on mobile. Key reasons to want to do this is to find similar images on other website, related images, and similar images to what you are looking for. Bing also gives you the option on choosing the size, color, type, layout, date, and so much more on a desktop. You can also change the way a picture looks like the tone and color right into the app on your phone. Let's get started on desktop and mobile now!
Bing Image Match on Desktop
The steps to do this are very simple. Head over to the image search at the top of the search bar, or type in what you want to fine. In this example below, I choose to look up pictures of a sunny Miami beach. Once I found the picture that I liked, I can click on it to bring up a few images. You can save the picture to OneNote, view the original source, save the image, and much more. For this example, I am going to click on it to save the picture as a file. As a note, you can also save the image location if you are using a browser like Mozilla FireFox.
This next step is depended on the first step. If you chose to copy the URL, you can paste the URL into the image match section within Bing. If you decided to save the actual image, you can upload that image into the image match section. Either way, you will then be presented with where else on the web this image lives on. To get to this section, you need to go to the image section and look for image search next to the search icon.
One thing you might of seen in the first picture is that Bing's technology has gotten a lot better, so you can just scroll down on the picture to perform a reverse image search.
Use Bing to Reverse Image Search on a Picture You Already Have
Let's say you have a picture saved on your computer, but you want to find a larger picture of it to make for your desktop background. You can follow the same steps as before.
You go to the image match section and click on upload picture instead of paste the image URL. Once you have done that, you press enter and you are presented all the images hat match that in Bing.
How to Bing Image Match Search on Mobile
The app for iPhone and Android has this picture feature. Here are the steps below to do a visual search using the Bing app with an android phone.
Search for an image
Click on that image you want to see
Click on the crop box feature
Make an outline around the image you want to check
See the results
Here is an example of an image that I want to find related images to.
Here are the results
You actually have even more range to edit a picture within the app. Simply tap the image you want to check and you will see adjustment, tone, effects, drawing, and add image show up. You can click on any of those settings and you can change the way the picture looks right in your phone. This is a hidden gem within the app and it allows anyone to quickly change a picture without having to use another app on their phone.
Additional Bing Image Settings
Bing image allows you to search for very specific features for images on the web. Let's say you want to find images that are big enough for your wallpaper, or you want to find images that you are able to share and change. You can do a lot of these features within Bing.
Image Size Specifications
When you do an image search, you can click on any of these boxes above the pictures to change the specifications. The image sizes to choose from start with all as the default, but then you can specific if you want small, medium, large, extra-large, or even a certain size.
For example, I chose medium as a size setting that I was looking for. Bing will show you sizes right in the search results for you to choose. With the medium setting checked off, you are filtering any images that do not meet that criteria.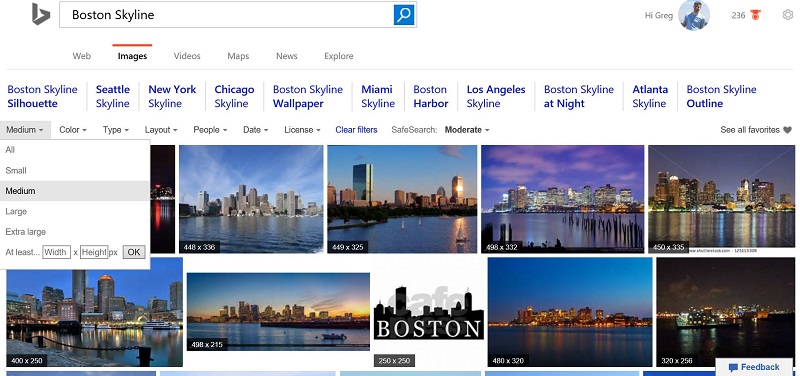 How to Combine Image Specifications
You can match multiple criteria points for your image search. With the picture above, I have the setting to look for images with a medium size. I can then click on the type button and click on animated gif. Now I can see images within my results that are a certain size and that are animated. Another cool thing is that you can hover over these images to see the moving image before you click on them.

License Search
The last criteria point I am going to point out is the license search. When you click on the license tab, you can search for images that you can use for free and for public domain. In a nutshell, you can use this search engine to find images that you can use on your website for free. This allows you to avoid and legal problems that might come into place if you use an image for a blog post or a news article.
If you liked this article, you might be interested in video search. Check out bing video search tips and tricks here.